Welcome to Carmel Valley Rotary
President Jason Griffin
2021-2022
"Where others say why, Rotarians says why Not
Another successful year driving at the Pure Insurance Golf Tournament at Pebble Beach
August 24th's guest speaker was former Carmel-by-the-Sea Mayor and icon of community service Ken White! Always humorous but insightful, Ken addressed local issues concerning the "park-lets" in Carmel, a possible solution to Joe Mora's Father Serra statue, beach fires, and the traffic and parking issues within Carmel. He also discussed how to enlighten a City Council on projects that initially have no hope of passing with a majority - a politics 101 lesson!
Thank you Ken!
Another fun day at the races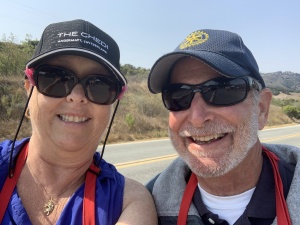 Daniel Carmichael
Bear Flag Robotics
On Tuesday August 1, Daniel Carmichael, club member and a partner in Bear Flag Robotics, provided a talk on how his company has developed and uses a fully robotic driving system for farming tractors. Daniel also told us his company had just recently been acquired by the JohnDeere Company. Congratulations Daniel!
Daniel told us about how the system works and that these tractors can be operated remotely as they are internet enabled. So all you need now is someone to fuel the system and change out the attachments.

Dean Flippo
former Monterey County District Attorney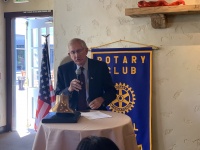 At today's meeting Dean Flippo discussed the difference between national partisan elections and local nonpartisan elections. The big difference is local elections are nonpartisan and reflect the local issues and remove the influence of political parties. These elections reflect who local voters think are the best for the job. These nonpartisan positions include county supervisors, mayors, council person judges, school boards, water districts and the sheriff to identify a few of these. Dean identified some nonpartisan elections where outside influences from both parties are starting to affect local elections in some not so positive way.

The train is running again at
Carmel Valley Fiesta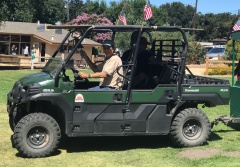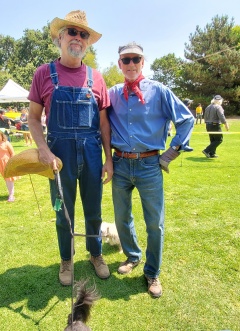 come see us again at Santa's Fly-in
December 2021
Supervisor Mary Adams

Supervisor Adam's provided the group with an overview of the spending plans and priorities for the $84 million federal Recovery Funds received by the county. The county's plan is to use these funds "to get us back to normal". Supervisor Adam's stated the funds would be used over three years and not just one. The plan is to establish an economic recovery committee with $4.5 million and to have members from the county's major employers and nonprofit services. The idea is this central committee would be able to identify and fund core issues and not shotgun approach to spread around funds hoping for significant progress. There is also significant funds for addressing water supply issues and broadband. Supervisor Adam's identified the Highway 1 cellphone access as one of her major issues to be addressed with the recovery funds.