Welcome to Carmel Valley Rotary
President Jason Griffin
2021-2022
"Where others say why, Rotarians says why not!"
August 24th's guest speaker was former Carmel-by-the-Sea Mayor and icon of community service Ken White! Always humorous but insightful, Ken addressed local issues concerning the "park-lets" in Carmel, a possible solution to Joe Mora's Father Serra statue, beach fires, and the traffic and parking issues within Carmel. He also discussed how to enlighten a City Council on projects that initially have no hope of passing with a majority - a politics 101 lesson!
Thank you Ken!
Another fun day at the races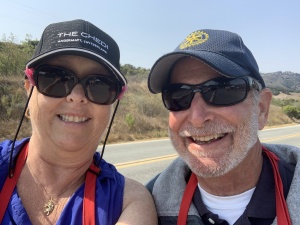 Daniel Carmichael
Bear Flag Robotics
On Tuesday August 1, Daniel Carmichael, club member and a partner in Bear Flag Robotics, provided a talk on how his company has developed and uses a fully robotic driving system for farming tractors. Daniel also told us his company had just recently been acquired by the JohnDeere Company. Congratulations Daniel!
Daniel told us about how the system works and that these tractors can be operated remotely as they are internet enabled. So all you need now is someone to fuel the system and change out the attachments.

Dean Flippo
former Monterey County District Attorney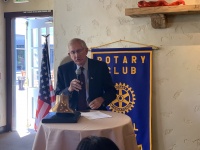 At today's meeting Dean Flippo discussed the difference between national partisan elections and local nonpartisan elections. The big difference is local elections are nonpartisan and reflect the local issues and remove the influence of political parties. These elections reflect who local voters think are the best for the job. These nonpartisan positions include county supervisors, mayors, council person judges, school boards, water districts and the sheriff to identify a few of these. Dean identified some nonpartisan elections where outside influences from both parties are starting to affect local elections in some not so positive way.

The train is running again at
Carmel Valley Fiesta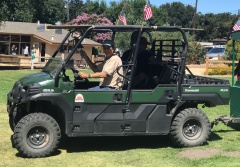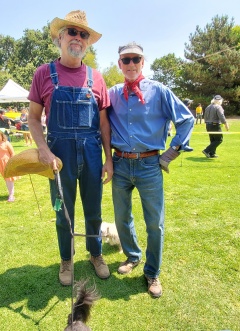 come see us again at Santa's Fly-in
December 2021
Supervisor Mary Adams

Supervisor Adam's provided the group with an overview of the spending plans and priorities for the $84 million federal Recovery Funds received by the county. The county's plan is to use these funds "to get us back to normal". Supervisor Adam's stated the funds would be used over three years and not just one. The plan is to establish an economic recovery committee with $4.5 million and to have members from the county's major employers and nonprofit services. The idea is this central committee would be able to identify and fund core issues and not shotgun approach to spread around funds hoping for significant progress. There is also significant funds for addressing water supply issues and broadband. Supervisor Adam's identified the Highway 1 cellphone access as one of her major issues to be addressed with the recovery funds.
The July 27 meeting at Rio Grill was a presentation by Christine Sandin who is the artistic director of the Sunset Cultural Center in Carmel-by-the Sea. Her presentation gave us a background into the development of the agreements for the management of the ongoing operations of the center and their plans for the future.
DOUBLE DEMOTION
ALL HAD A GREAT TIME
CELEBRATING THE DAY
Carmel Valley Trail and Saddle Club!
Sunday Jul-25-2021
The end of King Corona's Pandemic reign
and
the beginning of a healthy year
with Lord Griffin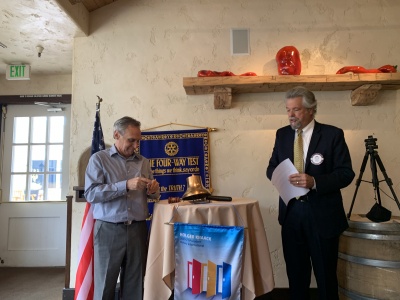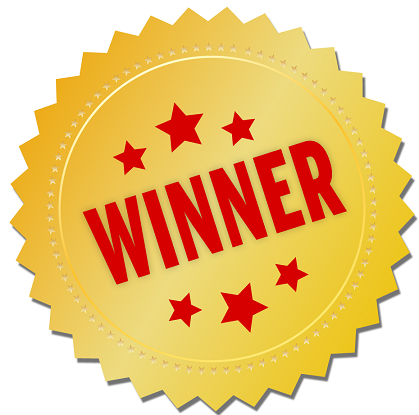 Carmel Valley Rotary Club
District "Rotary Club of the Year Award"!
2020-2021
Congratulations club members!

* * * * * * * * * * * * * * * * * * * * * * * * *
Carmel Sunset Rotary Club
"Best Small Club of the Year Award"!
Congratulations!!
* * * * * * * * * * * * * * * * * * * * * * * *
President Mike's, "King & Lord Corona", last meeting on June 29th was a most creative and fun "awards" meeting!
Rotarian of the Year is Kevin Kenoyer!
Left to right: District Governor Joy Anderson, Rotarian of the Year Kevin Kenoyer, President Mike Holl, and Steinbeck Rotary Club President-Elect Kim Lawson standing with the District Rotary Club of the Year banner!
"Super Hero" District Governor Joy Anderson
presented King Corona with the
District's Club of the Year Award 2020 - 2021!
Congratulations to all the awardees and club members for making the District Award possible for our club!
Carmel Valley Rotary President
Mike Holl
2020-2021
Kīnāʻole!
June 15th's speaker was Chuck Krpata, Physical Therapist, who had an office in Carmel for years - "Carmel Sports Medicine". After his graduation from USC with a Masters Degree as a Physical Therapist, Chuck was hired first at Stanford then by the 49ers. He enjoyed working with the players but mostly enjoyed getting to know the players as individuals - not just ball players. However, with a growing family, and not wanting to be on the road with the 49ers any longer, Chuck opened his first Physical Therapy office in Cupertino later moving to Carmel in 1998. He retired in 2014 because his doctor gave him an ultimatum - Chuck had Stage 5 kidney disease and needed a transplant. He spoke of his journey in finding a kidney - California at the time had 120,000 people waiting for a kidney which translated to a 8 to 10 year wait - Chuck didn't have that luxury of time. Using the internet he found that Iowa had the shortest wait list. One major issue was that Chuck had to be within 6 hours of Iowa's Methodist Hospital where he might get the call for the kidney transplant. Chuck and his wife decided to move temporarily to Iowa to be in the best possible position if they got called. As luck would have it within 2 weeks of their move the call came and the surgery was performed. The kidney came from a 20 year old boy who had been in a fatal car accident. Because the young man had "donner" on his driver's license 10 people benefited from his death. Chuck stressed the importance of advocating for yourself when medical issues develop! Chuck has had his gifted kidney for over five years and enjoys every moment of renewed life!

Monterey Regional Airport (MRY)
Michael La Pier is the Executive Director with the Monterey Regional Airport and began his presentation on June 1st with - "Monterey Airport is for all of Monterey County". Beginning his 7th year at MRY Michael briefed the club on a wide range of topics. Direct destinations from MRY currently includes SFO, SEA, LAX, San Diego, Las Vegas, Denver, Portland, and Dallas served by United Airlines, American Airlines, Allegiant, Alaska Airlines, and a new service by JSX to Burbank and Orange County. Begun in 1946 MRY is a "District" airport with an elected Board. The airport receives no property tax funds. Their budget is $9.6M. Pre 2020 and Covid 400,000 passengers passed through MRY annually. The airport has its own Fire and Police Department on site. The airport administrative staff is 22 with over 200 people employed at the airport through two FBOs and various other businesses. The county economic benefit of the airport is over $320M with visitor spending alone estimated at $98M. The airport Master Plan required by the FAA projects out 20 years and includes safety related issues, sustainability, self sufficiency, and preparation and planning for future air travel demands. Michael also advised that MRY now has its own "app" with Apple and Google for real time flight tracking!
Memorial Day - least we forget!
Remember and honor!
May 25th's speaker was retired Carmel-by-the-Sea Fire Chief Bill Hill. Bill is a 3rd generation Carmel resident and served 37 years with the Carmel Fire Department. Bill shared his passion for bird watching and bird photography. He discussed the various excellent bird watching areas around Monterey County, the marvelous diversity of bird species, and the best type of photography equipment and techniques to produce great bird photos. Bill also shared some of his favorite bird photographs from humming birds to hawks from Robins to ducks. Bill stated that digital cameras have made the greatest impact on quality bird photos, whether in flight or still moments, by allowing multiple quick shots that can be visually checked immediately after the shot was taken for quality and completeness. Bill believes he has over 20,000 images of birds taken since 1992 when he started bird watching and bird photography!

Richard Kezirian, Ph.D., Professor and Program Director of the Panetta Institute, spoke on "
The Dismantling of a Democracy" at our May 18th zoom meeting. By drawing parallels with Germany's loss of Democracy to the Nazi cult, Kezirian addressed five areas that contributed to that loss and ultimately the destruction of Germany. A charismatic leader who becomes a cult through half truths, intolerance, manipulation of the media, and a focused hatred of a group by either race or politics is the starting point. An ideology of obsession with no common sense or compromise, the roll of myth and rhetoric, economy insecurity building disenchantment and lost self security, a perceived general cultural decline, and the ultra extreme nationalist views driven by a mix of the above issues that also demands party loyalty and toxic dialogue was the downfall of Germany. Truth and common sense above all other issues, is the greatest asset for a Democracy. The inability to find compromise because of polarized attitudes based on half truths and rumor and ignoring facts because the outcome doesn't fit the current "dialogue" will only continue the extremes of rhetoric - finding no solutions to maintaining and supporting a Democratic society. The challenge is to recognize truth and not succumb to rhetoric.

Jerome Veil, from Italy to Carmel Valley!
Recently made a Carmel Valley Rotary Honorary Member in part because of his active community involvement - particularly during the Carmel and River fires in 2020!
Stop by his market in the Village and "thank" Jerome for being an excellent community partner - service above self!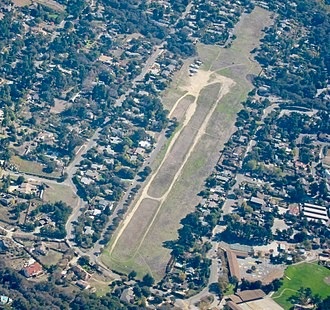 Carmel Valley Airport
The Carmel Valley Association (CVA) has been formed for over 70 years and Pris Walton has been President for the last 7 years. Pris was our guest speaker at our April 27th zoom meeting. Raised in Peru and speaking Spanish Pris joined the Peace Core in 1962. Later she earned her Masters Degree in Latin American Studies. She defined the purpose of the CVA as protecting, preserving, and defending the rural nature of the valley through Grand Jury decisions, county planning meetings, and law suites filed against projects not following the county ordinances and/or the community Master Plan. CVA also deals with individual issues within the valley from noise complaints to zoning problems. Issues she touched on were vacation home rentals, the planned Dog Park at Quail now going to be at Palo Corona Regional Park, the planned new communities at Rancho Canada and September Ranch, the problems developing at Saddle Mountain, affordable housing for employees working in the valley, Mid-Valley Shopping Center's new ownership and planned business changes, the Carmel Valley Ranch equestrian center vs 12 new homes, and the recent sale of Carmel Valley Airport and its planned uses. Traffic, the variable speed limits along CV Road, parking at Garland Park and in the Village, water resources, economic prosperity for the valley, fire mitigation and emergency evacuation planning, and maintaining open spaces are also part of the many issues CVA deals with. CVA issues a quarterly newsletter and weekly emails. Check their website for further information at: carmelvalleyassociation.org
April 20th's guest speaker was club member Lewis Leader speaking on "Leadership". Giving examples of international and national personalities who demonstrated positive and effective leadership included Gandhi, Lincoln, Washington, Mandela, Eleanor Roosevelt, and Churchill, among others. He also discussed how everyday people are leaders within their families and friends, their careers, their community, and Rotary. Qualities of character, which includes integrity and ethics, also includes the ability to admit personal flaws. Keeping an open mind, active communications, motivating by example, not abusing power, encouraging and mentoring, and treating people as valued participates are all keys to effective leadership. Lewis gave great credit to our Club President Mike Holl for the extraordinary job he has done during this unusual year despite Covid and the new "zoom" meeting format, keeping the club meetings active and fun, motivating the club through community disasters and community service, and even growing the club with new members! Leadership takes many forms but the measure is effective and successful outcomes!
Baseball was the topic both by the guest speaker and "Show & Tell" at our April 13th zoom meeting. Beginning the meeting club member Lewis Leader shared photos of old baseball cards and other memorabilia that he has collected over the many years as a Dodger fan.
The guest speaker was Devin Pearson a Boston Red Sox Assistant Director of Amateur Scouting. A Carmel High School and U.C. Berkeley graduate and baseball player, he had started as a Little Leaguer working and practicing his way towards the big leagues. Injuries curtailed his big league opportunities but because of his passion and dedication found an exciting job in the roll of scouting for future Red Sox players. He stated that besides talent, skill, and attitude, scouts are looking for players that really enjoy the game, are respectful, proficient at their game, and not braggarts - "putting the best product on the field". There are 18 area scouts throughout the U.S. and Puerto Rico. Then there are regional scouts who supervise the area scouts with 3 or 4 national scouts at the very top of the organization. On average 700 players a year are scouted and interviewed. Character is important as well as willingness, drive, and commitment. Determining those traits are through observation, psychological interviews, background checks, and interviews with coaches and team mates. College experience definitely matures players for the workload and stress of the minor leagues and then on to the majors. When asked why less players of color are playing the game he stated that the opportunities and cost of baseball limits exposure and development. He said there were presently 3 or 4 local high school players that have the potential for the big leagues! We'll watch with interest!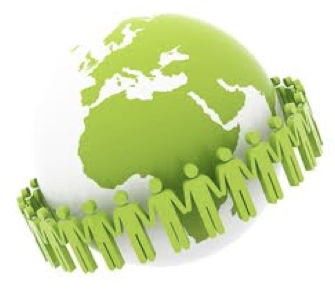 April 6th's guest speaker was Dr. Michael Hogan, CEO of Lumina Technologies Atmospheric Conditions and Energy Solutions. A Physicist, Dr. Hogan has a PhD from Stanford, conducts independent research in the fields of atmospheric composition, worldwide forest ecology, and endangered species - all under the title of the Environmental Science Field. Dr. Hogan outlined his environmental presentation through four categories: world history, greenhouse gases, recent experiences both with U.S. and world conditions, and realistic solutions. Greenhouse gases were defined in two categories - one being "natural" as carbon dioxide (primarily from deforestation), water vapor, and methane gas. The second as "man made" as nitrous oxide, sulfur trichloride, and nitrogen trifluoride, these three chemicals having much longer and serious consequences for our environment. He stated that in general wind power, though injurious to birds, is a good long term source. Solar is too unstable (night/day weather), the production of solar panels are a high carbon producer, and it takes acres of land for a solar farm. He does see nuclear fusion, currently being developed in France, as potentially viable and would be clean and efficient. Natural gas is clean burning, economical, accessible, and reliable. One caution Dr. Hogan emphasized was the over mining of ground water both is the U.S. and world wide.
March 30th's guest speaker was Kathleen Lee, Executive Director of the Point Lobos Foundation (PLF). With a year of Covid restrictions it has become very apparent on how important "open space" is for people to walk and enjoy nature and all the beauty of Point Lobos. An important part of the Point Lobos Reserve experience is the appreciation of its history and environmental protection activities to preserve its integrity for the future! The PLF is the sole source for funding projects that State Parks has no budget to support. Considered the "Jewel" of the State Parks system (of 280 Parks) securing the 550 acres of land and 9,907 acres of underwater environs is a priority to protect and preserve Point Lobos while still allowing visitors without "loving" it to death. With the support of 250 docents visitors are enriched and inspired by their experience while still protecting the vital habitat. PLF is funded through donations and grants from the Monterey County Foundation, Pebble Beach Foundation, "MCGIVES", and sales of merchandize and maps. Visit www.pointlobos.org for details and membership information. Enjoy our "Parks" responsibly and courteously - protect our unique and beautiful inheritance for generations to come!

Local Carmel Valley Village Business owners are honored by The Rotary Club of Carmel Valley as Honorary Members of Rotary! Jeffrey Andrews of the Carmel Valley Business Center and Jerome Viel of Jerome's Carmel Valley Market were selected by the Board of Directors of CV Rotary for their generous support assisting with aid to victims of last summer's Carmel Valley fires. We are truly blessed to have Jeffery and Jerome as members of our community and as part of The Rotary Club of Carmel Valley!
Jeffery Andrews, center, holding his Honorary Certificate!
Jerome Viel, second from right, holds his Honorary Rotarian Certificate with CV Rotary President Mike Holl!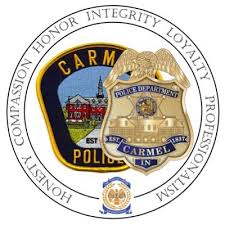 March 23rd's guest speaker was Carmel Police Chief and Public Safety Director Paul Tomasi who shared the challenge of law enforcement while dealing with the Covid pandemic. It was a year that also included the wild fires that surrounded the Monterey peninsula during the summer of 2020, the George Floyd and "Black Lives Matter" demonstrations, budget issues requiring some personnel layoffs, the growing lack of trust in law enforcement, the on going homeless problem, and a very contentious election. Confusion from the national and state level started in February and March 2020 on what was going to be required from law enforcement concerning enforcing Covid mask wearing, social distancing, and the business restrictions. Issues of officers being contaminated and how to de-contaminate them and their equipment to protect their fellow staff members and their families to controlling crowds who insisted on populating Carmel Beach were two examples of the range of challenges facing Paul and the city. Dealing with the home town population also had to include all the tourists and potential demonstrators coming from unknown population centers - combined with all the fire fighters coming from all parts of California and the western U.S. - required innovative communications, affective leadership guidance, and the cooperation from everyone. Communicating with such diverse groups while building trust was critical for providing the "service" of public safety to the community by keeping it safe from so many diverse challenges. Building a trusting relationship between the public and media is a primary goal of Paul's while still providing the required law enforcement action and safety service for the city.
Thank you Chief Tomasi and your department for your service!
March 16th the club welcomed two new members:
Daniel Carmichael of Carmel Valley
Danielle DeeAnn Carlson also of Carmel Valley
Both new members joined "to give back to our community"!
* * * * * * * * * * * * * * * * * * * * * *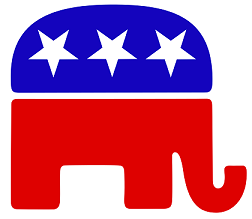 Jeff Gorman was the guest speaker for the second half or our meeting on the 16th. Jeff is a businessman on the Monterey Peninsula and grew up in Monterey, graduated Cal-Berkeley with a degree in political science, and returned to this area after several years working in San Francisco as a foreign bond trader.
For the past 25 years, Jeff has provided financial advice and portfolio management to individual and small institutional clients on the Monterey Peninsula. In 2020, Jeff was the Republican candidate for Congress against the incumbent Democrat Jimmy Panetta. Jeff is an active Republican volunteer, including a stint as the Chairman of the Monterey County Republican Party. He is on its Executive Committee as the Immediate Past Chairman and is a delegate to the CA-GOP by virtue of having been the party's nominee Congress.
Jeff is a past two-term member of Monterey's Architectural Review Committee and has served on his church's finance committee, and on the board of non-profits, including the Cal Alumni of Monterey County, and treasurer of the Eliz. Hook Armstrong Foundation, whose mission is to improve the quality of life for severely handicapped students in Monterey County.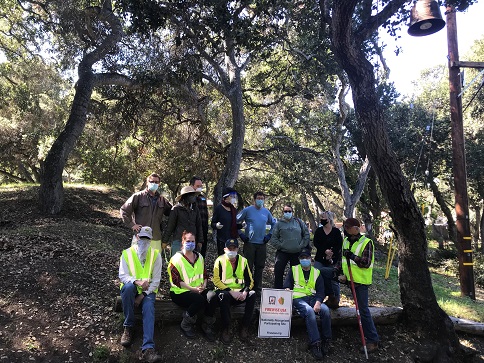 Saturday morning March 13th community service project, partnering with Robles Del Rio Firewise Chapter. Members of Carmel Valley Rotary lend a hand to establish a fire safe perimeter at a residence in Carmel Valley Village!
In light of Poetry Month, the March 9th meeting was club members sharing their favorite poem and why. Poems ranged from the comic, to sentimental, to humorous, and a few original attempts.
Our speaker for March 2nd was Rachel Luba, the baseball agent who recently signed pitcher Trevor Bauer to the biggest one-year contract in baseball history as part of a three-year deal with the L.A. Dodgers. Rachel is a Monterey native who has become a sports agent that does not work on a percentage but on an hourly rate - unique to sports. Also unique to sports agency is she is a female who had been told she wasn't welcomed or qualified to take on the universe of this male dominated field. Congratulations to Rachel for breaking through despite many hurdles along the way. She has opened up a new concept for sports agency that now also includes a new career field for women!
February 23rd's speaker was club member and past President Rod Neubert, who discussed the effects of flooding after the major River Fire of 2020. Recent rains along burn scares caused massive mud and debris flows along River Road. Rod's land was heavily impacted by the River Fire and subsequent rain that followed.
Club member and past President Bill Cater discussed the history of ethics at our February 16th meeting. A graduate of West Point and a retired CPA, Bill has remained involved with West Point through a national conference on the subject of ethics. He gave 10 examples of ethic codes developed through history beginning with the Ten Commandments, then the greatest Commandment of "love the Lord thy God with all . . . ", then the second Commandment "love thy neighbor . . . ". Eons later West Point developed the "Honor Code", U.S. Rotary incorporated the Four Way Test, a few years later Rotary developed the motto of "Service Above Self", the Boy Scouts formed their Oath and Code, the Rotary Four Way Test was adopted by Rotary Clubs internationally, then Rotary International added "Service Above Self" in 1989, and later the accepted leadership definition of "ethical behavior inspires others" became part of military and corporate America. Number 10's ethics code was the slogan our current club President uses for his motto - the Hawaiian word "Kina-ole" which means: "Doing the right thing, in the right way, at the right time, in the right place, to the right person, for the right reason, with the right feeling and the right force… the first time."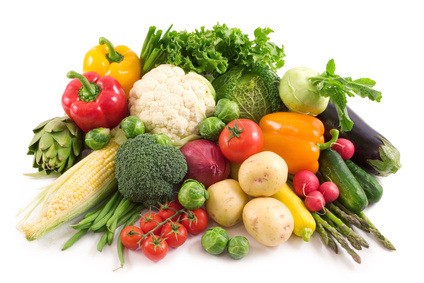 February 9th's guest speaker was Jeffrey Cohan, Executive Director of JewishVeg.org, a 501c(3) group that advocates for a vegetarian life style. Jeffrey related his family's personal health issues that changed for the positive with a major shift to a plant based diet. He also discussed the validity and credibility of nutritional studies whether industry based or government. For more information check their website: www.JewishVeg.org.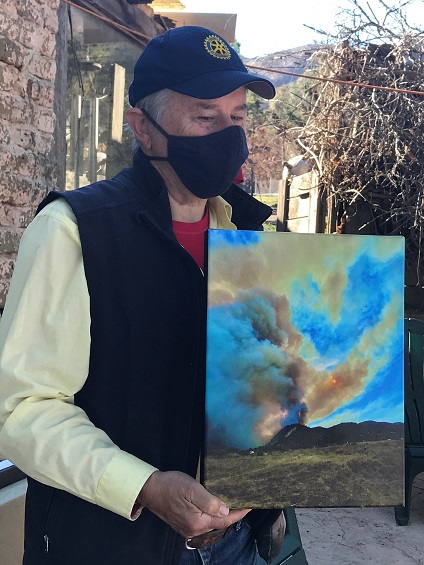 Carmel Valley Rotary partners with Robles Del Rio Firewise Chapter for a seminar led by Rancher and CV Rotarian, Rod Neubert at his Pine Canyon Ranch to learn best practices for fire mitigation. The two groups will partner for community service projects to assist residents of Robles Del Rio for fire prevention measures this Spring.
Dr. George Yellich, DDS, was our guest speaker January 26th. It was a surprise to learn veterans who were honorably discharged do not have dental privileges from the VA unless they were categorized with a total disability! Many vets suffer from very poor dental conditions - which affects their overall health as well. The ability to get and keep employment and have a successful social life can depend on a healthy smile! Those that suffer from PTSD have additional issues in visiting dentist - especially if the dental problems were initially caused from a service related injury. Dr. Yellich realized this gap in VA coverage and established a foundation and clinic on the Peninsula to offer veterans proper dental care and hygiene. Their mission statement: "The Mission of Denistry4Vets is to provide quality dental care and dental hygiene to eligible veterans living in Monterey, Santa Cruz, and San Benito Counties."
Visit their website at www.dentistry4vets.org for details!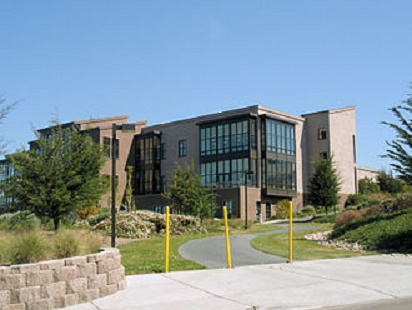 January 19th's guest speaker was Lyndon Schutzler, retired Athletic Director for MPC! Raised on the peninsula, Lyndon's dream was to work in athletics, at the college level, and remain living on the Monterey peninsula. That dream came true by being the Athletic Director for MPC for 20 years, retiring in June 2020. Graduating from Pacific Grove High School, attended MPC, obtaining a Bachelor's Degree from Santa Barbara, and finishing with a Masters Degree from Arizona, Lyndon supervised a fourteen part sports program - seven male and seven female sport categories at MPC. As Director his primary responsibility was to "not break any of the rules of eligibility" for the college and for the students in the sports program that would jeopardized MPC's standing in the athletic conference and with State academic standings. Under a normal year approximately 225 students are involved in the sports program that requires a twice a week academic progress check by Lyndon and staff. Covid 19 changed the 2020-2021 sport's program significantly! With constantly changing pandemic conditions and the evolving State requirements for both class room activities and sport programs, the athletic program has been devastated and forces a serious challenge - the least of which is monitoring scholarship and financial assistance programs. Sports careers and academic students face additional issues in the progress of their education - and all because of a virus - how long will this last?
Rolling up their sleeves and getting the job done!
Carmel Valley Rotarians Steve Andrews, Rod Neubert, Jason Griffin, Mike Holl, and Kevin Kenoyer spread new wood chips in the playground at the Carmel Valley Community Park!
January's 12th meeting was all about sharing cultures and encouraging young people to visit other countries fostering peace and understanding through music and dance. Vitaliy Bezrodnov, a trained classical musician, immigrated to the U.S. from Russia in1994 and joined Rotary in 1997. Vitaliy is the Founder of "Rotary Childrens Fund" and the Coordinator for the Cultural Youth Exchange group "Golden Gates". These Russian music programs are inspired by Rotarians, Funded by Rotarians, and Run by Rotarians with the belief that shared personal experiences builds peace and understanding between cultures - starting with young adults from the ages of 16 to 21. Performers are required to learn English before touring the U.S. performing at schools, colleges, universities, community centers, and other venues reaching over a million people each year. For more information go to: www.RotaryChildrensFund.org
January 5th was the club's first zoom meeting in 2021! President Mike summarized some of the club's community service activities for the first half of the 2020-2021 Rotary year:
Distributed over $39,000.00 for Fire Relief Victims

Conducted the Annual Flu Shot Clinic in Carmel Valley

Donated new women coats coordinated with REI

Provided Holiday Chocolate Candy for Monterey County Foster Kids coordinated with Lula's Chocolates

Over $5,000.00 donated to the Monterey County Food Bank

Over $3,000.00 donated to families who lost their homes during the Carmel Valley fires

Club volunteers helped remove potential fire hazards by brushing out areas around Carmel Valley Village

Continued with the valley road litter clean-up

Provided continued road and pedestrian safety projects in the village

Donated to other area Rotary clubs to help with their community service projects
Planned for the remaining half of the club's Rotary year:
Annual Partners in Community Service (PICS) project held each year with area schools
Celebration of "Top 100" students from Carmel High School
The "Non-Attendance" annual club's Gala Fund Raiser
Continued support for the Monterey County Food Bank
Continued support for the eradication of Polio world wide
Continued "brush out" fire prevention projects in the valley
Providing support both financially and with volunteer sweat equity for needed new community projects!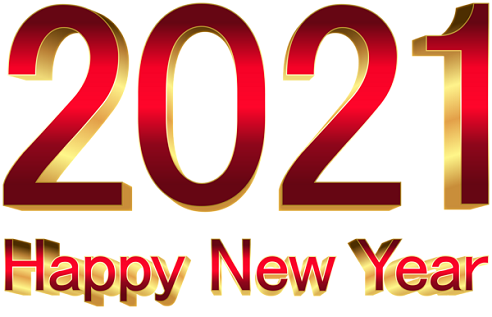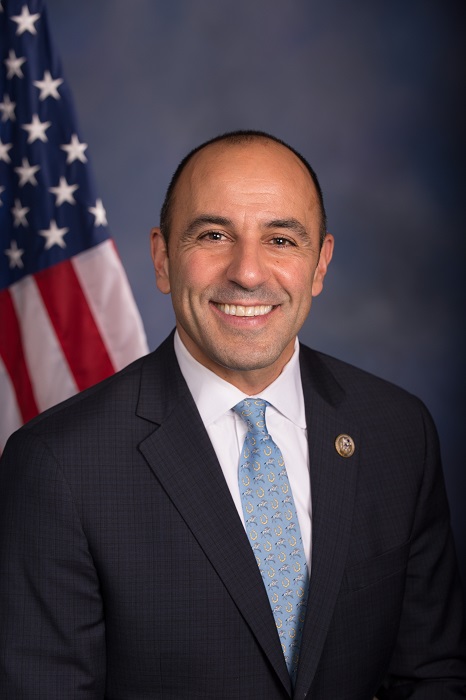 Congressman Jimmy Panetta was our special guest speaker at our December 15th meeting. "Zooming" from Washington D.C. Congressman Panetta generously spoke for over 45 minutes addressing the club about current national and local issues as well as answering questions from club members.
He stated there were five "E's" in 2020 that most citizens felt exhausted about or were ready to move forward on or say "goodbye" to; the epidemic, the economy, equality issues, the election, and the environment. For the Monterey area the wild fires were a major disaster event requiring considerable emergency government assistance and services - Jimmy and his family had to evacuate twice during the Carmel Valley Fire. Through Panetta Monterey County was the only singular county to quickly receive a Disaster Declaration from the Office of Emergency Services.
Panetta stated that not having a national pandemic strategy hurt asset coordination and helped induce health care over runs. The Cares Act provided $2.2T with $1.4B coming to the central coast. The new vaccines are 95% effective and so timely when considering the current explosion of Covid cases with 2,000 people currently dying each day. A new relief package is imperative with unemployment soaring and businesses closing.
Panetta belongs to a small Congressional group called the "Problem Solvers" - 25 bipartisan representatives working together on temporary relief packages that covers a wide range of issues like PPEs and hospital support to ag worker's health care, shelter, and food concerns. Panetta stated this small group believes in "bottom up government" - government working for the people - politics aside. Big issues in D.C. at the moment is passing a budget, the National Defense Act, and to ratify the Electoral College results. The current administration will have to accept they lost the election and provide for a smooth transition of government. Biden will "turn down the heat" and wants to unify the country and restore hope and trust in government.
The agenda items for the new administration is a Covid stimulus package, infrastructure (which includes water issues and jobs), immigration reform, and wild fire protection and public safety. Compromise between one another within government is the basis of Democracy - including decency, morality, trust, respect, and humility. Panetta stated he sees his office as the bridge between D.C. and Monterey - government working for all the people by serving their various communities.
Jimmy thanked the club for all the community work, both locally and internationally, the club has performed over the years - truly demonstrating "service above self"!
Treats for Monterey County Foster Kids

Special chocolate gifts for the "Foster Kids Holiday Celebration" held at Hartnell College as a drive through event, were delivered to the Monterey County Association of Families Caring for Children (MCAFCC) in support for their annual celebration on Saturday December 12th! Scott Lund of Lula's Chocolates and our club's donations shared in providing quality chocolate treats for the celebration - all in support of Monterey County foster kids. Director January Brown of MCAFCC graciously received the gifts and thanked the club and Lula's for their generous contribution. Jocelyn Ortega, a recent quest speaker, had introduced the program to the club on December 1st. Club members quickly acted and with immediate support from Scott Lund got the chocolates to MCAFCC in time for the celebration.
Many thanks to Scott Lund for making these special chocolate gifts such a welcomed success during this holiday season!
A remarkable tragic story repeated far too often but rarely to such successful and happy ends. Jocelyn Ortega, a KION 46 News Journalist, was our guest speaker December 1st. Coming from an abusive family in Los Angeles, Jocelyn became part of the Foster Care System in LA county. No - that was not the happy ending - there was more abuse by foster parents in a system that is under funded and under supervised. Locked in her room having food and water rationed, no cloths provided, nurturing denied, her only positive experience was watching news broadcasts on a small TV while trapped in her room. She decided early to be a journalist and while attending El Monte High School (a very rough area of LA) a teacher noted Jocelyn and offered the encouragement and mentoring she craved and needed - the turning point in her life. Attending college and earning her Degree in Journalism, Jocelyn was hired at the Salinas based TV station KION. Her volunteer voice and efforts is in improving the foster care system and supporting children who "age out" at 18 and are left rudderless - no money, no job, no home, no hope! There is always a shortage of foster care parents but now with Covid - homes aren't open to accepting kids so they are shipped out of the area to group homes - losing touch with their few family and friends - another disruption and disconnect. Jocelyn stressed the importance for these kids to know good people care and small gifts or a sincere hug means the world. Groups like "Family to Family" need generous support from the community to help with this persistent humanitarian problem!
December 12th a "drive by" donation event at Hartnell for foster kids is planned - gifts, gift cards, cookies and candy, stocking stuffers, anything is welcomed! Currently 300 kids in our county can't get into foster care!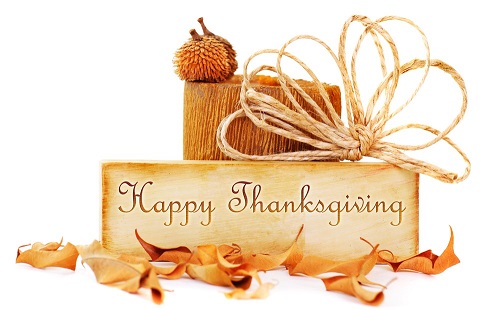 Members of Carmel Valley Rotary join Carmel Valley Village clean up organizers, Danielle DeeAnn Carlson and Lindsey Knight, to assist with the community wide litter removal project this weekend. Thank you Danielle and Lindsey and the many volunteers for your commitment to "Service above Self" in our community!!
Carmel Valley Rotarians join in the installation of the Rotary Wheel sign on Carmel Valley Road!
November 17th's guest speaker was Jeff T. Westfield, author of "The Point of Golf", an inside story of the famed private Cypress Golf Club located in Pebble Beach. A private club for politics and business, the famous and influential, and golf pros and special guests, the club was established in 1927 by Sam Morris for his private inner circle of friends. Jeff was employed at the club for 16 years and writes about the intrigue, deals, love of golf, and fun stories involving the mighty and the infamous!
Our club, jointly with the Carmel-by-the-Sea Rotary Club, celebrated our annual Veterans Day Salute on November 10th via zoom. Special guests were Colonel Varman Chhoeung Garrison Commander of the Presidio and Key Note Speaker WWII Navy Wave Ms. Peggy Purchase.
Thank you to all U.S. Veterans for your unwavering service!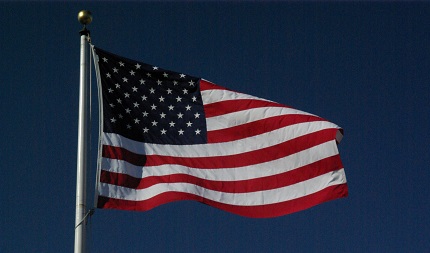 November 3rd, Professor Lewis Leader gave his "Presidents Quiz" to club members - the perfect election day fun activity!
Tied winners were Rick Shea and Jason Griffin!
Congratulations also to club member Adam Jeselnick voted "Best Architect" by the Pine Cone voters!
Joseph Jacinto Mora, born October 22, 1876, was a Uruguayan-born American cartoonist, comics artist, sculptor, illustrator, and cowboy, who lived with the Hopi and wrote extensively about his experiences in California. He was an artist-historian, sculptor, painter, photographer, illustrator, muralist and author. A multi-media talented artist, Jo Mora was the subject of our October 27th zoom meeting. Peter Hiller, who lives in the Carmel area and is the Curator of Mora's art collection trust, has just finished a new book about Jo's art and life. To be published in the spring the book will be well illustrated with photographs of Jo's various works, where they are located, and the history behind their development. Well known for his posters, like the Yosemite poster above, many people will recognize his style of illustrating but not necessarily his sculptures, photographs, and murals. Jo Mora was inventive and unique in his approach to the different types of media that he utilized for various projects. An artist of exceptional vision his work endures decades after his death in 1947 in Monterey. Many of his works are displayed and can be seen around California from Los Angeles to San Francisco as well as at the Smithsonian in D.C. Monterey County has many examples that are easily viewed in King City, Salinas, Pacific Grove, Carmel, and Monterey! Mora has been called the "Renaissance Man of the West".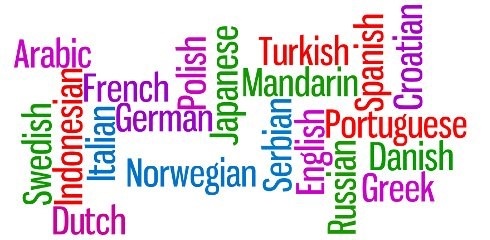 The importance of correct and accurate language translation for legal, medical, technology, insurance, finance, and educational issues, etc., is critical for successful outcomes in the world wide economy of today. A company in Pacific Grove does that and more! October 20th's guest speaker was CEO Stephen Lins who heads MediaLocate - a giant translation service company providing 170 different languages used through various media applications for a wide variety of large and diverse corporations who need to reach a world wide audience. Their slogan of "we speak human" translates to a global communication service full filling the critical gap between ever evolving technology, international law, advancing medical devices and procedures, insurance documentation, engineering development, defense issues, etc. MediaLocate not only provides the critical language translation, but also provides experts, writers, editors who specialize in a specific field. They have their own in-house audio/video studio and engineers to help with various visual and audio media applications from video games to websites. With locations in New York, Slovakia, Egypt, and China, MediaLocate can stay relevant, flexible, and viable. MediaLocate is rated in the top 100 language services in the world - headquartered right here in the Monterey area - the language capital of the world!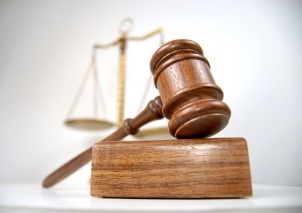 "RESTORATIVE JUSTICE PARTNERS, INC. brings victims, offenders, families, and other key stakeholders together in a restorative justice process to help offenders understand the implications of their actions and provide the victim a voice in the restitution.
In a restorative justice process, the person who has done harm takes responsibility for his/her actions and the person who has been harmed can take a central role in the process. Restorative processes, which foster dialogue between the offender and the victim, show the highest rates of victim satisfaction, true accountability by the offender, and reduced recidivism."
October 13th's speaker was Jennie A. Burciaga, Executive Director of Restorative Justice Partners, Inc. which is based in Marina but serves the entire Monterey County area. Based on mediation practices for juvenile non-violent crimes, non-sexual crimes, and "non-serious" crimes, the program is voluntary for both the victim and offender - each has a mediator. The goal is for the offender to hear what was the impact to the victim, be accountable to the victim, and understand the victim - building empathy and developing new skill sets to prevent recidivism. 89%, based on eight years of data, of those who have participated in the program have not "recidivated". Juveniles may be assisted with entering Community College and/or trade schools giving them a truly second chance! This is a restorative justice opportunity for both the victim and the offender - through empathy, respect, and the understanding of personal responsibilities of actions against another - the importance of humanizing an action - help prevents recidivism and builds a valued member of the community!
Carmel Valley Rotary providing some welcomed Disaster Relief for fire victims in Big Sur and Carmel Valley! Rotarians respond for those in our community most in need - our neighbors!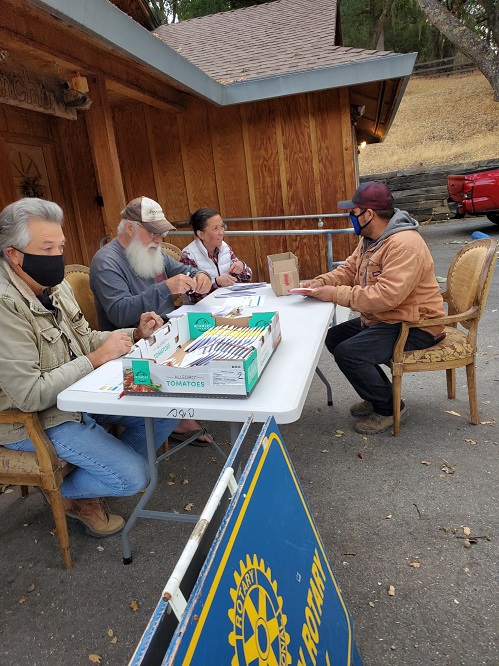 October 6th's speaker was Anthea Lavallee, Executive Director from the Hubbard Brook Research Foundation (HBRF) based in New Hampshire and Vermont. "Understanding nature to solve environmental problems and living in a global society dealing with climate change" is the basis for the Hubbard Brook Foundation. Established in 1955 the first study was how harvesting tress by different methods affects water quality. Hubbard Brook Valley has proved to be a perfect study area - only 8 miles long, with 16 tributaries, and has a number of small water sheds, it has provided a unique but varied natural resource. Besides banding birds for migration studies, tagging over 60,000 trees, and measuring water flow and quality, the HBRF has contributed decades of data for scientific review and research. By 1963 the U.S. Forest Service (USFS) was operating 86 experimental forests for studies on growth, harvesting, health, and water shed protection. So in 1963 HBRF and USFS joined together to combine efforts to advance further forest and water shed studies. These various studies research the changes in the eco system. This group discovered "acid rain" and the build up of aluminium in our soils and water resources. A recent on going project has been the warming of soils with climate change, how significant that will be is still being determined. Like the tundra thawing, new eco problems are developing throughout the normally frozen areas of the world. Linking science with society and our delicate eco systems impacts is as basic to everyone as having clean water to drink. California is experiencing climate change - since 1980 temperatures have averaged 2 degrees warmer with 30% less rain. Science driven data, truth, should be guiding our national and local governments policies - that is what HBRF helps provides - smart science based facts!
Director Ron Rapp from the Community Counseling and Recovery Service for Monterey County (CCRSMC) was our guest speaker for the club's September 29th zoom meeting. Rob has worked for the group for 10 years, primarily as a grant writer and project manager. Community Human Services began in 1969, became a joint power county wide in 1973, and merged with the Family Service Agency of Monterey in 2002. Working with an annual budget of $7 1/2M from peninsula cities and school districts, from grants and donations, the group works with addiction issues, mental illness, dis-functional family problems, runaways, teens ageing out from Foster Care, and homelessness that can and does destroy lives and weakens families. CCRSMC works for lasting change with 68 full time employees and 26 part time employees. Annually they serve over 3,500 persons. Facilities include the Genesis House, Elm and Sonoma House, two Out Patient and Treatment Centers, Family Service Centers, and numerous programs for school/foster care teens who may be homeless, are fighting addiction problems, sexual abuse/trafficking, or gang related influences. A facility is also open for the homeless when the winter weather is below 45 degrees or it is raining. 2,422 families are homeless in Monterey County - that includes women with children.
September 22nd's zoom club meeting was all about Covid-19 facts from Dr. Martha Blum MD PhD who practices at CHOMP. Dr. Blum is an Infectious Disease Specialist who discussed the Covid statistics for Monterey County and the prevention actions we can all practice! Monterey County's first confirmed case of Covid-19 was on March 17th with a peak in August with a decline starting in September. Salinas and South County has been the high zip codes (ag related) with the Monterey Peninsula and Big Sur being the lowest. Sheltering in place when possible, wearing a mask or PPE, avoiding crowds especially in confined areas, have good fresh air ventilation, and frequent hand washing and surface cleaning are the best actions to avoid, as much as possible, contracting the virus. To date there is no approved treatments. Dr. Blum stressed the importance of getting a flu shot. Also - if you are ill - stay home! The vaccine will take time to prove and distribute. In the interim a person can show no symptoms but still be contagious so testing can help to confirm or not. While Covid cases are trending down at present - that can change - it all depends on each of us practicing common sense prevention!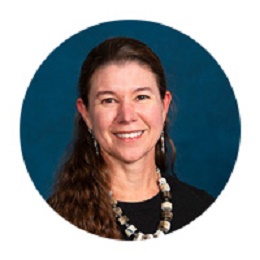 Dr. Martha Blum MD PhD
Carmel Valley Community
Stay informed and stay safe!
Carmel Valley Strong!
Thank you fire fighters
and Law Enforcement!
The first lightning caused fire in Monterey County was in the
Pine Canyon area on the ranch of club member Rod Neubert.
The "River Fire" began early in the morning on August 16th
when a dry thunder storm system blew into the central coast.
Rod shared numerous photos and narrated his experience
during our zoom meeting on the 15th. Having the rapid
developing fire devouring the land, homes, and outbuildings -
moving livestock and personal property ahead of the fire was
a priority and not without logistical problems. To add to the
devastating River Fire that was out-of-control, the Carmel Fire
developed on the following Tuesday near Sky Ranch in Carmel
Valley which quickly consumed 100s of acres destroying homes
- feared followed that the two fires would merge. Rod's home
and barn survived primarily because Cal Fire staged their
equipment around his home near the entrance of Pine Canyon.
Over a hundred thousand acres have burned in Monterey
County over the last four weeks with the addition of the "Dolan
Fire" (Big Sur area arson caused fire). All three fires are still
burning, River and Carmel Fires are 100% contained - Dolan is
40%! What a reality check!
9/11 - In Memory of lives lost, lives changed, and the First Responders!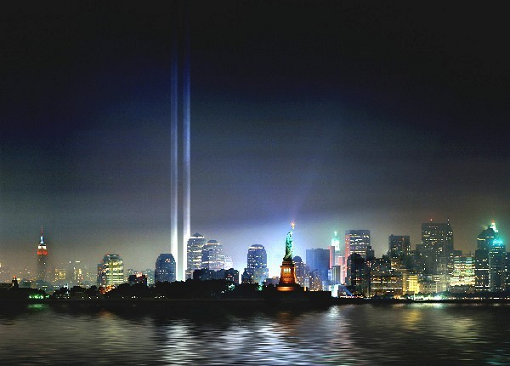 What could be more timely - wild fire prevention!!! With our current fires and extremely high temperatures in our area we are under constant threat of wild fires! Are you doing enough to protect your property and your neighbor's property? How important to you is neighborhood planning for fire prevention and emergency exit procedures? September 8th's zoom meeting was with retired Battalion Fire Chief Anthony Kastros. A native of Carmel Valley and who currently lives in the Mid-Valley area Anthony discussed a wide range of prevention activities and evacuation strategies. Preparation by defensible space around homes, keeping rain gutters clear of oak leaves and pine needles, know road exits well so when smoky or night "short notice" evacuations are required that will not confuse the evacuees, and having a plan which includes where to go for evacuation safety areas. For those of you with a smartphone there is an APP that will notify people of fire - mayday.AI Don't assume someone else will report smoke or fire - call 911 immediately!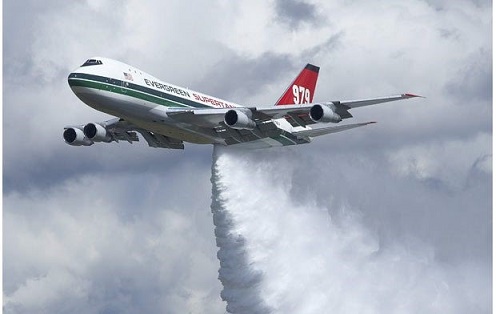 The September 1st zoom meeting was with Jack Britton, a native Carmel Valley baseball player, starting with "T" Ball and Little League! A right hand pitcher, Jack played at Stevenson and later at Middlebury in Vermont. He tried out with the San Francisco Giants but it didn't work out, so he pursued the Giants asking for any job just to be a part of major league baseball. He became a "intern" for the Giants in the "Sponsorship Group" for $250.00 a month! He later moved on to New York working in the Commissioner of Baseball's office as an "intern" in the "Research Group". With that job he tracked "fan profiles" for all 30 major league baseball teams, later working in the "Marketing Group" for special baseball events like Jackie Robinson Day, the All Star Games, Stand up for Cancer, World Series, and post season events. Jack later moved back to Carmel Valley to join in his family real estate business at San Carlos Agency. Jack thanked the club for awarding him a scholarship after graduating from Stevenson. He answered numerous diverse questions about baseball including generating interest with kids in the game at an early age, the strength of baseball's union compared to the NFL, "taking a knee", the short and long term affects of Covid, and why many more players of color are from foreign countries.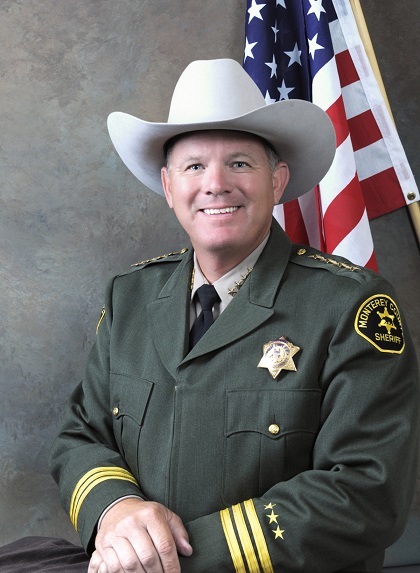 Busy day for fire fighters and the Monterey County Sheriff's Department with the River Fire and the extreme heat, smoke, and ash in the area, but Sheriff Steve Bernal was able to spend a few minutes with the club via "zoom" on August 18th. Bernal was also scheduled with the County Board of Supervisors meeting, so we really appreciated his limited time. His comments were limited to the River Fire issues, the Covid issues with the inmates and deputies, and problems with people trespassing along area river banks leaving trash and other waste in an effort to stay cool.
Sheriff Steve Bernal has been a peace officer since 1999. He was elected to the office of Sheriff in November of 2014, the 31st Sheriff of Monterey County. Since assuming office, Bernal has led the Sheriff's Office through numerous improvements. Bernal made deputy recruitment a top priority, has new security measures implemented at the jail, oversaw a project to bring tablet technology to the jail, and has instituted a program to bring advanced level leadership training to management personnel.
Sheriff Bernal is a member of the California State Sheriff's Association, National Sheriff's Association, Western States Sheriffs Association and International Peace Officers Association. He also serves on several local boards including Monterey County Children's Council, Child Abuse Prevention Council, Domestic Violence Prevention Council, Monterey County Disaster Council and Monterey County Ag Education Board.
Sheriff Bernal has successfully completed the Peace Officer Standards and Training (POST) Management and Executive Development courses. In 2016, the nationwide anonymous crimes reporting group, "WeTip" recognized Sheriff Bernal as the "WeTip" Sheriff of the Year and in 2007 he was honored as Deputy of the Year by the Sheriff's Office.

August 11th's guest speaker was Vice Admiral Ann E. Rondeau, USN (ret.). She has been President of the Naval Postgraduate School (NPS) Monterey since January 29th, 2019. Before that she was President of The College of DuPage, Glen Ellyn, Il, the largest community college in Illinois, with a student population of 28,000. During 38 years of active duty, she commanded Great Lakes Naval Training Center - the U.S. Navy's only basic training site. She was also the Director of the Navy Staff at the Pentagon, Deputy Commander of United States Transportation Command, and President of National Defense University in Washington, D.C. She holds a Doctorate in Education from Northern Illinois University. Ann was the second woman in the Navy promoted to Three Star Rank! Ann is also a licensed Private Pilot and a Paul Harris Fellow.
Ann gave a overall view of NPS which includes students from all five U.S. military services plus the FBI, CIA, and other U.S. government agencies. She touched on the many science and academic subjects taught at NPS offering master and PhD degrees. She also discussed the qualities that allowed her to progress with her career in the Navy at a time when women were restricted by the glass ceiling and the various combat platforms. In general Ann summarized by saying trust needs to be strengthened in the U.S. by business, government, and military leaders. She also stressed the importance of protecting our democracy through an educated population. The U.S. is currently under duress starting from 9/11, through the Covid pandemic, and now a weakening economy with assaults by foreign actors undermining the people's confidence in U.S. government agencies and institutions. Lack of trust can destroy democracy!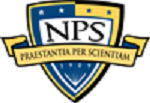 5230 Rotary District Governor Joy G. Anderson, a Carmel native, spoke at our August 4th zoom meeting about the District, national, and international Rotary goals for 2020-2021. With the "strange times" of the Covid-19 pandemic literally occurring around the world, Rotary is adapting to a new normal! Health and safety are the primary concerns for both members and our communities. Three areas of Rotary concern are membership, Rotary Foundation support, and branding and image exposure. Membership is finding the people who are passionate and committed to improve community needs and concerns through projects and scholarships. The Foundation is the funding that supports the community projects through grants. Branding is to let the community know what Rotary is doing! Rotary in the past as kept a low profile preventing a wider public from knowing exactly what Rotary has accomplished and is planning to accomplish! An example is District 5230 donated $500,000.00 to area Food Banks within weeks of the initial Covid outbreak - that covers four counties! Rotary clubs also offers a wide range of options for member participation - weekly meetings to passport clubs to "E" clubs. Joy closed her remarks by congratulating and thanking the club for all we do for our local community!
Our last meeting in July was with Chris Collins founder of "Different Together". The basics for community outreach are communications without prejudice, anger, and assumptions, how we do that is the key to healthy viable relationships within the community. The ability to listen for understanding and not justification of one's prejudice, anger, and assumptions can be difficult. Everyone knows people need to lower their defenses if understanding is the goal for a better community. Universal truths of tolerance through empathy and then acting to improve a situation as a group can move barriers toward a successful resolution and provide real progress within the community. We know each individual should have the capacity to actively listen and share their perspectives without fear of being judged, criticized, or ridiculed - but there in is the problem. Opportunities for meaningful discussion and an open awareness by all parties begins with each individual - that is us!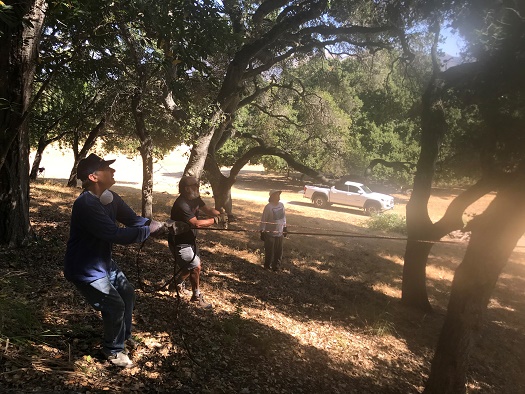 Carmel Valley Rotary Club members brushing out (including Poison Oak) areas near Carmel Valley Village on July 25th! PEOPLE of ACTION!
Melissa Kendrick, Executive Director for Food Bank of Monterey County, spoke at the club's July 21st meeting via zoom. To say their Food Bank distributions are essential to the community is a dramatic understatement! Since March when Covid-19 required business and school closures throughout the county, the Food Bank's usual six month inventory of supplies was depleted in seven weeks! The last three months distribution was six million pounds of food - their annual 12 months distribution is twelve million pounds! 16,000 families, which represents 64,000 individuals, are supplied weekly. The Food Bank was never set-up to handle this kind of need for this length of time. Part of the distribution involves weekly drive-threw points staffed by 500 volunteers and National Guard personnel (their time will end August 31st). 35 zip codes are in Monterey County with 6 zip codes receiving 80% of the distributions - this covers from San Ardo to Pajaro to Big Sur. Another problem for the Food Bank is the availability to purchase food since large retailers are also purchasing those limited supplies - there is competition and those prices have soared! Most donations are received in November and December each year which is 75% of their total donations, but the question is will that trend continue with the pandemic lingering on indefinitely. Melissa stated the Food Bank is planning on an increase of 300% for the 2020-2021 budget year. Four times as many people need food during this pandemic than over a "normal" year - which equates to $3.4M! See their website to make donations - donations remain in the county - they feed our neighbors!
MPC Interim Superintendent/President David Martin spoke to the club's July 14th "zoom" meeting about the current issues at MPC. Covid-19 and the resulting State and County health directives changed prior planning, policies, and procedures at the campus. With safety for students, employees, and the public a priority, effective adapting and planning required prompt action. The fall semester is likely not to be face-to-face which affects not only the classroom but counseling and tutoring. With pending graduates, particularly in nursing, fire/police/EMT, dental assisting, etc., continuation of the classes is a priority - the community needs these services and graduates need employment opportunities. David outlined a Four Stage Opening plan that is closely tied to the State's Four Stage Opening - obviously allowing for flexibility and health trends as they develop.
Long term planning for MPC includes evaluating community needs, a focus on a "completion culture", upgrade facilities and technology systems, and improve the internal/external campus culture. Plans to open a new Fort Ord training facility for not only MPC training for fire/police/EMTs, but a facility open to the community for continuous training of area first responder departments. Improving ADA compliance, expanding the Marina Education Center, expanding WiFi, and modernizing the campus are all part of the long term plans for MPC.
David thanked the club for their donation toward the MPC Covid-19 Emergency Student Relief Fund!
New "Corona Lordship" Mike Holl received his oath of office on July 7th and demanded loyalty and service from his minions through his declaration of the "King Corona" proclamation!
King Holl's first meeting as President laid out his plans for his term by welcoming his new Board and issuing their oath of office. He thanked Past President Bob Spadoni for his inspiration and service to the club through a very challenging year. Mike stressed that the club's meeting format will be changed to adapt to the "Zoom" format. Having fun, being productive, and being creative with the club's projects for prompt community service where it is most needed is his primary goal.
Foundation Chair Bruce Greenbaum presented President Mike with his first Paul Harris Certificate!
Congratulations your Corona Lordship Holl in your new exalted reign as President!
We bow in service your Lordship!

So long but not fair well!
President Bob "Spuds" Spadoni had his last club meeting as President on the 30th of June!
Bob stated he was humbled by the experience of being President and "just didn't want to mess up"! It has been a challenging year for the club because of the Covid-19 issues, but with "Zoom" the club has been able to stay connected and still continue to serve the community via Bob's leadership and dedication!
Bob announced the "Outstanding Rotarian of the Year Award" is to Steve Andrews for all his work on the "Gala" that almost was but still made the club money!! Congratulations Steve!
Thank you Bob for an extraordinary year as President!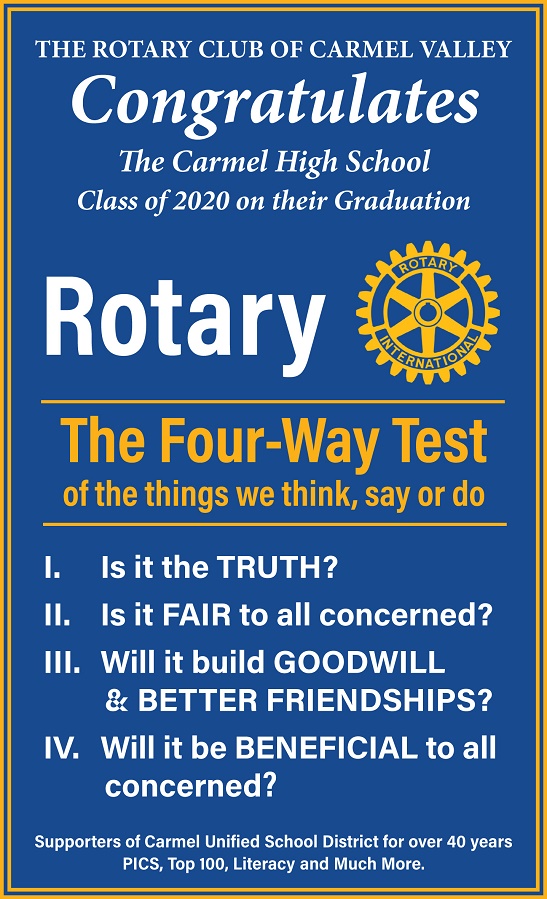 What we're doing! We're supporting our local restaurants who offer "take-out" by buying gift certificates and then also supporting and thanking our local first responders by giving them the certificates for their use to enjoy! It is a win win for the restaurants and for the first responders!
Our June 23rd guest speaker's presentation was very relative to our current community concerns - Black Lives Matter. Abdel Seck is a community leader working to help local struggling youth, predominately from the Black community. He is a graduate of the Middlebury Institute, the former President of the Islamic Center of Monterey, and a local successful business and family man. Abdel moved to the US from Senegal over 30 years ago and was surprised and shocked to find the status of Black people and the struggles they have endured through racism and discrimination - nothing like life in Senegal that had been a French colony. He stated the community recognizes the need for meaningful change to break the pattern of systemic issues of family dynamics of often a single parent household, the dominance of drugs, teens having children, and breaking the pattern of perceived cultural restrictions. Appreciation for education brings economic stability and for more positive life choices. Working with law enforcement and how to improve police relationships with the communities of color will need open communications and effective change - not an easy process but certainly necessary for community stability and the welling being for all!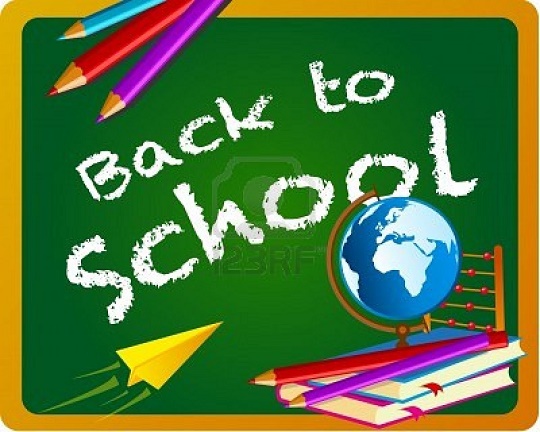 Guest speaker, and former club member, Paul Behan from the Carmel Unified School District was our program for our June 16th zoom meeting. Paul is the Chief Technology Officer for the District and has been the key coordinator for our annual Top 100 Program! Paul reviewed the immediate actions the District took with the Covid-19 issues - the District was the first in the county to act and close the classrooms! However, with this quick action the teachers had no time to prepare so adjustments were literally over-night. With the goals of maintaining the courses and expanding the scope with the technology classroom, how grading would be handled became an issue - especially considering seniors and transfers to colleges and universities. Coordinating District provided "Chrome Book" computers (from 3rd to 12th grades) and working to established WiFi in areas without service became a challenge but solutions were found. Staying connected with students and maintaining instruction was paramount! Looking forward to next term "back to school" may be classroom, or on line, or a hybrid of both. Social distancing from the school bus, to classroom, to sports, and to social areas will have to be decided as well as sanitation procedures and individual health (physical testing) for staff and students.
Our June 9th speaker was Lexis LaRue from Masked Warriors Unite! (It isn't a biker group!) It is a group of volunteers who have stepped up by making primarily face masks but also scrub caps, soap, and hand sanitizers. Thus far they have made and supplied over 6,500 masks. The biggest problem is being able to purchase elastic, thread, and fabric - it is hard to find - there is a supply shortage! They are looking for seamstresses, supplies, and funding. For more information contact:
https://maskedwarriorsunit.wixsite.com/nevadacounty MASKED WARRIORS UNITE!
Our first "zoom" club meeting in June featured guest speaker Jess Juarez, President-Elect of the Seaside Rotary Club. Jess shared with our club the community projects their club has and is involved in - from Marina to Gonzales. A big supporter of the Boys and Girls Clubs (BGC) of Seaside and Salinas, their club has had to adapt, adjust, and adopt new services because of the Covid-19 pandemic. Public fund raising events shifted their opportunities and focus. Serving the kids' needs for meals, providing a safe haven, adjusting to virtual/electronic training, and complying with State and County health policies has been a challenge. Jess stated their club has also been active with distribution of "grab and go" lunch packs. Over 15,000 meal bags have been distributed within the county. Working with Ag Link 648 produce boxes, weighing 16 pounds each, has been coordinated with the meal bags - the only problem has been the refrigerated storage before distribution, however the produce has been a great addition to other food donations. Jess stated they hope to open the BGC Seaside Club House on June 22nd for their summer program! (Salinas Club House re-opening TBD.)
Joining us from Vermont, past Carmel Valley Rotarian Deecie Denison "zoomed" in for our club meeting! It was a wonderful surprise for club members to see and hear Deecie again! She is currently a Rotarian in the Hanover New Hampshire Club!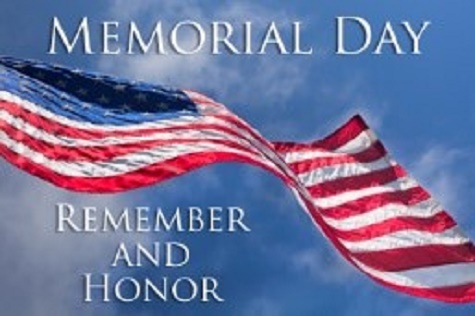 Club member Bruce Greenbaum shared his "vacation of a life time" to Uganda at our May 26th "Zoom" meeting. The highlight was visiting a family of wild Mountain Gorillas - a big Silverback male around 7 years old, 4 wives, and 7 children of various ages. The highlight "moment" was the results of a long journey via 4 jeep rides on mostly dirt dusty potholed roads, 2 river crossings, 3 night lodgings, and a 1 hour hike up a steep wet trail to spend 1 hour with the gorilla family! Bruce was within 10 feet of the male quietly taking photos of the family. They were lucky to be on a day when the gorilla family wanted to be found. They observed the gorillas grooming, eating, nesting, and their general interactions between each family member. Gorillas generally have brown eyes of various shades, but the baby of the family had blue eyes! Uganda is a nation of 25 million people with 67% literacy involving 56 different tribes with two major languages. Extreme poverty staggers the population but despite that the people are friendly, smiling, welcoming, and Bruce said he generally felt safe. As Bruce and his wife Susan journeyed through the landscape they observed numerous species of animals and birds taking over 200 photographs!
Club member Loren Speck was our guest speaker at our May 19th "zoom" club meeting! With a background in research Loren found his way into the TV entertainment business by improving shows either at the "pilot" level or for long running shows loosing ratings. As a consultant he worked on a series of sitcoms, movies for TV viewing, and "talk shows" - making a big difference in our viewing habits. Sometimes improvements met deleting a character or expanding on a character, changing a show's host or programming subjects, or making the program more relative for current cultural interests. Profits is always the bottom line, copy write issues for old black and white movies regarding colorizing and editing for TV time slots, and sponsors all influence TV viewing decisions. He found that the TV audiences respond best to solid characters (not perfect beautiful people) as opposed to pure plot. He worked on shows for the Discovery and Animal Planet channels, various major network shows, Opra, "Golden Girls", games shows, and old movies made to conform to TV time restraints and evolving electronic improvements. A lot goes into our viewing pleasure!!
Joining us via zoom" from Colorado was past CV Rotarian Pam Reinhard! We hope to see her next fall in Carmel Valley when the "cold, snow and ice" returns to CO!
The May 12th "Zoom" meeting was with guest speaker Lisa Emanuelson who is with the Monterey Bay National Marine Sanctuary. Her topic was "Snap Shot Day" which is the capture of runoff water samples by volunteers after the first rain from rivers, creeks, and other sources that drain into the Monterey Bay and along our coast. Looking for primarily nitrates, E-Coli, and phosphates levels, they also measure water temperature, check clarity and PH, and the dissolved oxygen levels. That data is accumulated over years to monitor the overall health of our fresh water and oceans resources. Monitoring the health trends for the marine environment is important to preserve the 500 fish species, 94 bird species (both residents and travelers), and 33 marine mammals (both residents and travelers) that live and thrive along our coast. When levels exceed safe standards, as from farm and dairy runoffs in the Salinas and Pajaro areas, safe guards are encouraged to inspire land and water stewardship. Trends are steadily improving for both are fresh water resources and our oceans!
World renowned photographer Doug Steakley shared his dramatic and spectacular photos of Iceland at our May 5th zoom meeting. Living in Carmel Valley since 1975 Doug has visited Iceland 4 or 5 times over the years finding the people polite, intelligent, well educated, and with a keen sense of humor. With only a population of 350,000 on the island 95% speak English making Iceland a wonderful vacation destination. Of course the beauty and isolation of Iceland is a photographer's dream! Terrain varies from volcanoes to ice caves from open grass lands to spectacular cliffs and canyons. Doug recommends June/July when the days are ever lasting but found April and September with 12 hours days a nice break from the tourist months. Thank you Doug for sharing your incredible photographs!
April 28th's "Zoom" meeting was with guest speaker retired Fire Battalion Chief Anthony Kastros. Raised in Carmel Valley by Greek parents with a strong community service philosophy, Anthony started in fire fighting career as a volunteer with the Carmel Fire Department. He spoke of many highlights in his 33 year career but one in particular was his experience of being deployed to New York within hours of the 9/11 attack as part of a FEMA search and rescue team. He shared many heart braking photos taken during their deployment of 11 days. His statement "fire fighters, police, and EMTs didn't lose their lives but GAVE their lives" in public service which so represents our neighbors who have careers in public trust occupations! Now so many of those who survived as first responders on 9/11 are now losing their lives to cancer and other lung diseases caused by all the dust and powder surrounding the "pile" of rubble where once the World Trade Center Towers stood. Anthony lives in Carmel Valley and heads a national team of instructors teaching leadership and fire fighting skills.
Thank you Anthony for your service!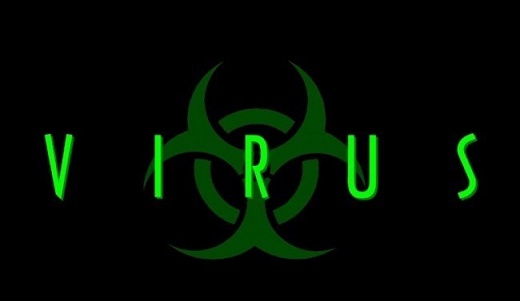 Our third "Zoom" meeting April 21st was with April Brazinsky, a Public Health Nurse with the Visiting Nurse Association and well versed on Covid-19. She stressed four precautions when dealing with the virus:
1. Hands hygiene. 2. Personal Protective Equipment (PPE) such as gloves. 3. Disinfecting surfaces. 4. Cough etiquette.
Stay home if possible, wear masks, stay at least six feet away from others (social distancing), avoid touching your face, and if sick stay home!
April 14th's meeting was our second "Zoom" meeting and the first with a guest speaker. Bill Tobin of Shelter Box, and a Rotarian from the El Dorado Hills Rotary Club, presented a program on the Shelter Box project that was started in 2000 by a Rotary Club in England. Providing tents and other supplies for either natural disaster survivors or refugees, this highly successful and valued project has served the world for the last twenty years. Not all Shelter Boxes are tents, tarps have proven to be long lasting and reuseable and often preferred by the user to a tent - depending on circumstances. With a annual U.S. budget of $8M and world wide $18M, with no government support, Shelter Box has provided shelters and tools "for those that need it most"! Local Rotary Clubs have provided the local storage, distributing, and follow-up to support the program which is more practical than outsiders dropping in. In 2018 and 2019 Shelter Box was nominated for the Nobel Peace Prize! Rotary Clubs from around the world also donate to support Shelter Box providing a truly important and humanitarian need!
First "Zoom" club meeting was April 7th, 2020! 25 club members joined in and enjoyed the camaraderie!
Welcome back former member Nalini Elkins!
Dear Club Members,
It is with a heavy heart that I have to announce the cancellation of both the Top 100 Dinner scheduled for April as well as the PICS Luncheon in May. Health authorities have indicated that our current guidelines of "shelter in place" will be with us for the foreseeable future. Along the same lines I am also suspending our regular Tuesday meetings indefinitely, and returning only when it is safe to do so. These measures would have been unthinkable only 2 short weeks ago, but as you know, there has been a preponderance of evidence that suggests that this will get worse before it gets better. This is serious, and we must treat it as such.
On a personal note, my son Anthony notified me late last night that he and his family have been quarantined on a military base in San Antonio where he is going to medical school. One of his professors tested positive and the entire class was quarantined. Fortunately, my son and his family have a house on base and it's fully stocked. They will be closely monitored. They'll have access to the best of care if needed.
My main point to this is that we will all be affected, directly and indirect, by events that will continue to unfold in the weeks ahead. And I just want everyone to know, that, as helpless as our home confinement might make us feel (being people of action and all) we are all making a difference by complying with federal, state, and county emergency guidelines by limiting our exposure in an effort to help reduce the rate of infections.
In the meantime, our CV Rotary Board will continue to connect in order to conduct Club business via email, texts, and by phone. As your Club President, I will be sending out e-mails with updates keeping all members informed on club matters and Board decisions. Trust me when I say that I am looking forward to the time that I'm able to announce to the membership that our regular meetings will be resume.
Until then please:
STAY INFORMED
STAY SHELTERED
STAY CONNECTED
Yours In Rotary Service,
Bob "Spuds" Spadoni
President, Carmel Valley Rotary Club
* * * * * * * * * * * * * * * * * * * * * * * * * * * * *
What we've done 2019!
Carmel Valley Rotary President Bob Spadoni cuts the ribbon on the joint project with CVVIC for vehicle speed signs in the village on September 19th! This project was the result of the Rotary Prime Rib Dinner Gala Fund Raising event held March 23rd, 2019! Community dollars at work for a community project!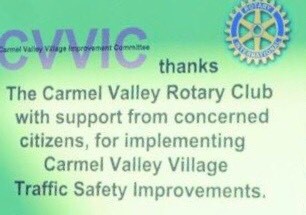 Solar powered vehicle speed signs in Carmel Valley Village!
* * * * * * * * * * * * * * * * * * * * * * * * * * * * * * * * * * * * *
Partners in Community Service
PICS
One Club
Seven Schools
Multiple Charities
Hundreds of Students
Thousands Reached in the Community
(For information about PICS view the link below)
* * * * * * * * * * * * * * * * * * * * * * * * * * * * * * * * * * * * * * * * *
* * * * * * * * * * * * * * * * * * * * * * * * * * * * * * * * * * * * * * * * *
What a treat!! Our March 10th speaker was Jerry Gervase! The "A" list "Carmel Pine Cone" author and humorist shared his journey to becoming a published "gem" on the peninsula. Always viewed in the Real Estate section under "Scenic Views" it is the first article I read each week! Below is an early poem Jerry penned after getting a multi syllable word diagnosis from his Ophthalmologist. Wondering about the MD "word" Jerry wrote this poem that was later published in a eye care magazine.
Will someone tell me how MDs
pick the name for a disease?
I went to get my eyes checked
and heard something I didn't expect.
As I looked out, doctors looked in.
You have, they said, a Pterigium.
A Pterigium, Ha! Don't you wish.
That's not a disease, it's a flying fish.
I saw one once on the road to Mandalay,
or perhaps the Aquarium in Monterey.
They jump around in a flying motion,
not in your eye, but in the ocean.
Where'd you docs get your diplomas?
The University of Red Lobster? Scomas?
I think your degrees must be phony,
And your diagnosis - Abalone!
March 3rd's meeting was all about challenges, spelling, and team work! Club member Lewis Leader, retired newspaper journalist, provided word games to challenge each table of 8 Rotarians! It was fun and certainly a change of pace from the usual speaker program!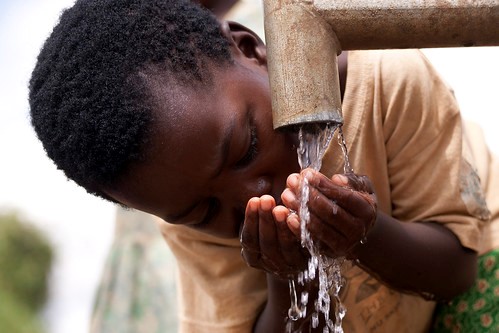 The February 18th meeting was all about recognizing a need and taking action to address that need. Todd Bas, local family man, started his non-profit out of a desire to help others. The Change a Heart Foundation (CHF) is a 501c3 non-profit organization focused on changing hearts and saving lives through a host of domestic and international relief efforts. He believes that if "you can change a heart, you can change the world". He believes that no child should suffer from malnutrition, die from water borne illnesses, or sleep without shelter. Through his hands on work, organizational skills, and dedication Todd takes the direct approach to fixing a need and then assisting with the sustainability of that project. From digging wells providing clean water to building houses Todd lives his motto - a purpose driven life! See changeaheart.org for details.
Right in our own backyard is the Hastings Natural History Reservation - a Biology Field Station of U.C. Berkeley. Director Jen Hunter PhD discussed the history and mission of the reserve at our February 4th meeting. Over 500 ecological research projects have been conducted on the 2,500 acres of near pristine land since 1937. Across California are 41 other "reserves" encompassing 756,000 protected acres that are also conducting research of habitat and the native flora and fauna. Located 14 miles east of Carmel Valley Village the reserve not only conducts research projects but has an education program geared for area schools and a dedicated mission of service to the community at large. Restoration and maintenance work continues on the original ranch buildings and science projects like "Shake Alert" (early warning system of earthquake activity), and development of new activities to inspire the next generation. Go to hastingsreserve.org for more information!
Guest speaker Sunday Spencer is a professional consultant to the hospitality industry and special events on the Monterey Peninsula. January 28th meeting was all about tourism on the peninsula which generated $2.98B last year and employees 25,000 people. Agricultural is the number one industry in the county with tourism number two. Tax receipts amount to $13.5M, $4.6M in over night income, with the average tourist spending $368 per day shopping, meals/beverages, and rooms. Monterey spends $7.5M in marketing expense paid by the tourism tax. Monterey has many venues such as, the Wharf, Aquarium, Missions, historic California buildings, Big Sur Coast, a conference center, Point Lobos, and of course Pebble Beach. Events include the various golf competitions, the annual Jazz Festival, Laguna Seca races, car shows, Bixby Bridge, movie locations, and numerous outdoor activities like whale watching, park hikes, and nature exploration. The Monterey Peninsula is very unique for the size of the population to the amount of tourists that visit our community.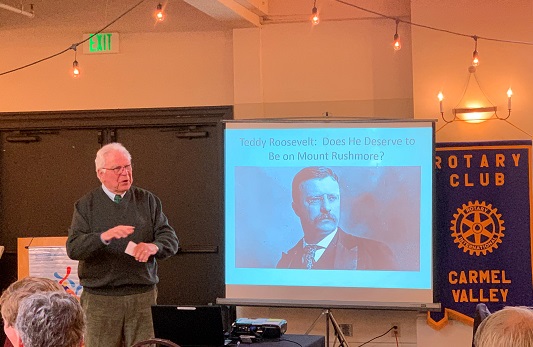 The January 21st meeting was a lesson in history and leadership qualities. Dr. Richard Kezirian from the Panetta Institute gave a detailed packed history on the turn of the 20th century and the life and times of Teddy Roosevelt. From a sickly child to a hard driven political success story, Roosevelt demonstrated leadership that included a strong moral compass, a consensus builder, a sense of humor, and a "lead from the front" style. He was a man of vision and insight working to correct many of the cultural issues negatively affecting children, women, blacks, and the poor and uneducated. Taking on big business, whether at the city level or national level, he identified areas to prevent continued corruption and graft. The legacy of Teddy Roosevelt is a part of U.S. history that made America a champion of human rights and opportunity for all. He authored over 35 books and numerous articles covering a wide range of subjects.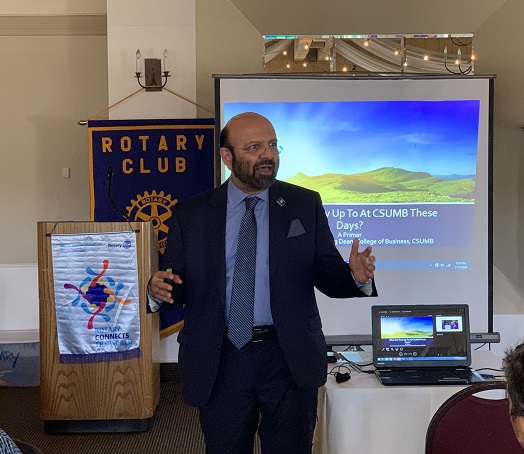 January 14th's meeting was a detailed update on CSUMB by Shyam J. Kamath, Ph.D., founding Dean of the College of Business at CSUMB. Recognized internationally as a scholar and educator he has gained recognition as a global innovator and expert in the area of business management, experiential learning, and business program innovation. With that background CSUMB has developed a timely and innovative curriculum in business, preparing students for today's fast moving global technology, dynamic marketing developments, and knowledge protection that is advancing in many fields of science and digital engineering that includes patents. With steady advances just from China and India business student's education involves constant invocation to face today's challenges - not only the subject but the method of instructing college students has changed to fit with today's technology and future growth! CSUMB excels in education and the success of its students in the business world of today and tomorrow!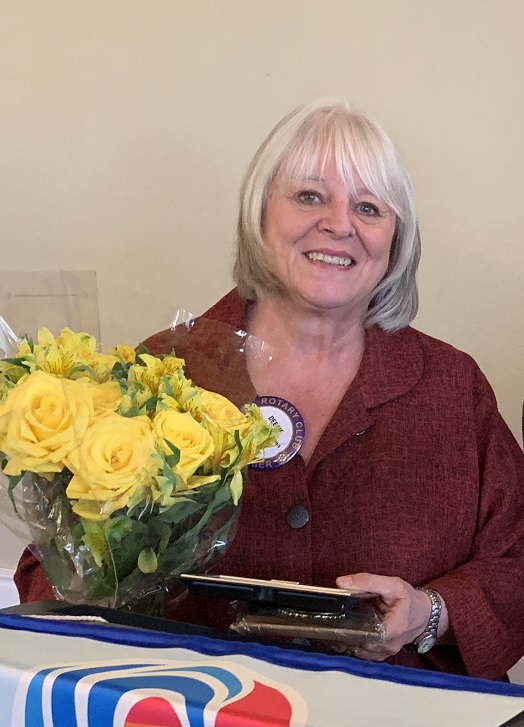 Former Carmel Valley Rotarian Deecie, now living full time in Vermont, sent the club a basket of Vermont maple goodies! Per her request President Bob auctioned off the maple syrup, cookies, maple bits, and various jars of maple related butters! The club was enthusiastic, voiced their thanks and how much they missed Deecie and wished her well! Thank you Deecie!
The January 7th, 2020 meeting was all about gun safety! Monterey Police Chief Dave Hober and BeSmart activist Susan Meister presented a program on gun safety, especially guns available in homes with kids or visiting kids. 4.6 million kids live in homes with guns that are loaded and unlocked. Nearly 260 kids under 17 unintentionally shoot themselves or someone else each year. Annually 600 kids 17 and under commit suicide with a gun. Gun storage should be in a locked space with a gun lock and unloaded, and separate from stored ammunition. It is not enough to teach kids about the dangers of guns - a three year old is not mature enough to understand the consequences and yes they are strong enough to pull the trigger. Parents, Grandparents, relatives, friends and neighbors have the responsibility to safely secure their guns in their homes, in vehicles, and other "hiding" places! No one wants to live with the knowledge that their gun unintentionally killed a child or a aided a teen suicide!
President and CEO Ron Johnson of the Boys and Girls Clubs of Monterey County (BGCMC) presented a talk about the numerous activities for and positive influences on kids' personal development that is available through the clubs many STEAM programs. At our December 10th's meeting Ron shared his passion for working with young people. Involved in sports, football and track & field, since his days at Monterey High School, Ron ultimately played with the Philadelphia Eagles for five seasons. Sports had taught Ron the importance of teamwork, self discipline, and the benefits of working with quality leadership. Those were the experiences he wanted to share with young people when he joined BGCMC in 1992. The mission of the BGCMC is to inspire and empower young people. The clubs provide safety, opportunities, and positive guidance by forming partnerships with schools, families, and communities - including law enforcement. Over 600 kids per day are active with either the Seaside or Salinas BGCMC club houses. Key elements stressed at the clubs are academics, healthy life styles, and the development of good character and citizenship.
December 3rd's meeting was a detailed presentation on the "clean-up" at Fort Ord. Melissa Broadston is the Community Outreach Manager for the Army's Fort Ord Clean-up having been involved with the project since 1992. The fast paced program detailed the history, the three categorizes of clean-up, (contaminated water, contaminated soil, and unexploded ordinance), and the goal to protect human health and the environment. Fort Ord was on the 27,827 acres from 1917 to 1994. Melissa detailed the different types of clean-up used to de-contaminate and restore the large areas encompassed within the boundary of Fort Ord. $100,000 million was originally budgeted with $18 M in follow-up. 7,527 acres are not ready for transfer to Bureau of Land Management. Several more years of de-contamination and ordinance removal is going to be required before the work will be completed. Visit and learn about the clean-up by attending an open house/bus tours or take guided nature walks.

On this week of Thanksgiving Brian Bajari and Holly Hudson- Lewis from Jews Christians Muslims United (JCM) presented a program on the recent forming of JCM and their community activity of developing a "soup kitchen" for our "out door neighbors". JCM is partnering with Bethel Missionary Baptist Church in Seaside on Thursday evenings at 4:30 p.m. to provide meals for the homeless. JCM goal is to build bridges of understanding between Jews, Christians, and Muslims on the Peninsula while also providing community service, social and educational activities, and social justice programs. Compassion for others is the common thread among all religions, working together JCM provides hope for those that need help at a critical time in their lives and providing a channel of communication between the groups for continued understanding and tolerance of different cultures.
November 19th's speaker was as interesting as the subject - the Hubble Space Telescope (HST). Ron Sheffield is a highly decorated veteran who joined Lockheed Martin with the task of upgrading every electrical and mechanical component on the HST so that they could be replaced on-orbit. As the Extravehicular Activity (EVA) Manager for HST, he was responsible for the initial EVA procedures and training of the astronauts to accomplish these repairs and servicing of the HST. He trained 41 astronauts on how to accomplish the six HST missions from 1990 thru 2009. For these extraordinary accomplishments for years of service Ron has received numerous NASA's awards as well as Lockheed's Nova Award, among others. Ron shared the history, photos, and insights into the HST and how successful the HST has been and is to science! April 2020 will be the thirty year anniversary of the launch of the HST - designed originally for a 15 year life span! The sad news is there are no plans to service the HST by NASA or develop a new telescope to further science research.
November 12th was the club's annual "Veterans Day Salute"! Veteran guests of Rotarians and current active duty from the Defense Language Institute (DLI) and Navy Post Graduate School attended. Guest speakers were Colonel Gary Hausman, U.S. Army Commandant DLI and veteran Deacon Warren Hoy.
Club member veterans are Steve Andrews, Ron Brenaman, Ken Burns, Rich Briscoe, Bill Cater, Taum Dell'Armo, Bryan Golden, Fred Herro, and Bob Webb.
Thank you for your service!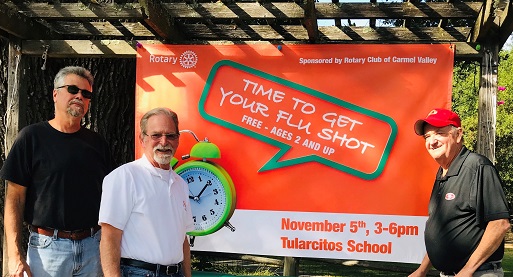 Mike Holl Membership Chair, Club President Bob Spadoni, and past President Kevin Kenoyer in front of the banner for our annual free flu clinic November 5th at Tularcitos School!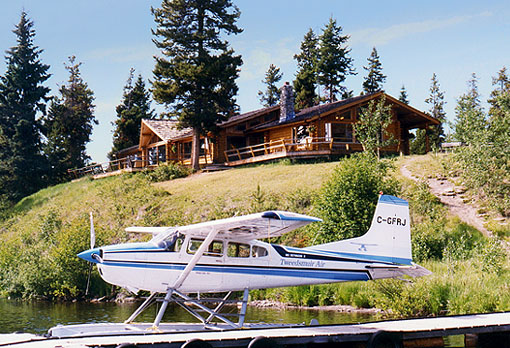 November 5th's meeting was a get-away destination dream tour near Nimpo Lake, in British Columbia. Stewart's Lodge was established in 1953 and has been in the family every since. Duncan and Angela Stewart shared spectacular photos of the lodge, cabins, and surrounding vistas. Fishing, hunting, hiking, canoeing, sightseeing by float plane, or just relaxing on a deck taking in the magnificent views are just some of the many options available at Stewart's. In the wilderness where wild life flourishes, where Native American historic sites remain undisturbed, and glacier exploration is possible, the lodge provides numerous adventures and unique experiences for the entire family. Easily reached by commercial commuter airlines or driving from Vancouver, Canada, it is a world away in just a couple of hours!
Laguna Seca Raceway, known as the Mazda Raceway or currently as the WeatherTech Raceway, is in transition on who or what will managed the race events. October 29th's speaker was Dewayne Ray Woods, Assistant County Administrative Officer. Monterey County owns the raceway but is currently looking for a management group to handle race related activities - not the maintenance and improvements of the track and grounds. Long terms goals by the county is to make Laguna Seca a premier facility with a center track focus on concessionaires and business centers. Volunteers are a big support force for the "down in the dirt" work required to run a race event. Our club volunteers at Laguna Seca help earn part of the club's revenue which supports our community service projects and school/scholarships programs. Woods acknowledged the benefit of volunteers and how much they contribute to the race events success. A decision by the county will be made within months on who or what will manage the raceway and what part our club will play in the future.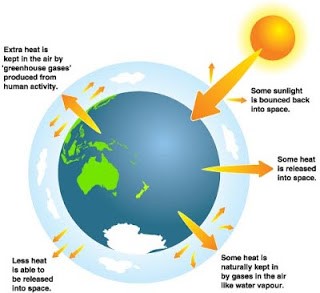 David and Pam Miller from Stanford presented a program on climate change on October 22nd. Armed with factoids, photos, and personal experience concerning individual actions to limit their carbon foot print, the husband and wife team provided ample facts to demonstrate that planet earth is warning. What that ramification means to all of us involves increased temperatures, rising water levels, severe weather events, crop production problems, tropical disease migration to traditional cooler climate areas, and various specie endangerment - to name only a few. Wind energy, solar use, and LED lights are making a difference, but fossil fuels like oil, coal, and gas use still needs to be reduced if not eliminated for earth's survival!
October 15th's guest speaker was David Martin, President and Superintendent of the Monterey Peninsula College (MPC). David recently joined the MPC administration having come from San Francisco City College. On his arrival faculty issues and financial problems were topped by pending accreditation loss. With new state funding formulas based on head count, completion standards, and low income students enrollment, major issues had to be addressed quickly and sustainably. Emphasis was also placed on "technical and trade" programs - blue collar jobs! California has the highest population of college students in the U.S. - annually serving 2.3 million students on 115 campuses. Currently MPC offers ten trade and technical certificates ranging from auto technician to medical assistant. Popular programs like "Gen Train" and "life long learning" classes will be maintained but no longer enrolled through the standard student enrollment process.
Welcome new member Aram Stoney! Membership Chair Mike Holl and President Spadoni presented Aram with his official Rotary pin on October 8th. Born in Carmel Valley, Aram said our club was a perfect fit for him because of our community involvement and service of self commitments! Welcome Aram!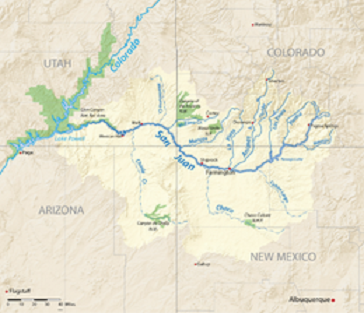 Club member Rod Neubert presented a program on his recent adventure down the San Juan River in July. Showing numerous photographs of the scenic river shed, Native American sites, wild life, and camp site fun for adults and children, Rod shared his enthusiasm for camping, hiking, rafting, geology, and discovery of ancient sites and fossils. Though 100 degrees most days the river was high and fast moving providing cooling water fun and entertainment along the river. This year his group hired a tour company to provide gear, food, and boats instead of hauling everything themselves - something he recommends especially for large groups!
The September 24th meeting was a travel log by Dan Presser from Four Winds Travel. The topic was "Rocky Mountaineer, Canada's Stunning Rocky Mountain Railroad". With photos Dan showed some of the beautiful landscapes and occasional wild life on the rail route from Vancouver to Kamloops to Lake Louise to Banff, ending in Calgary. This particular trip had no overnights on the train but stays in hotels at several locations. This ride is 7 days and six nights and includes motor coach legs. Dan recommends May and June and for fall color late September early October.
President Bob announced his 12th grandchild was born and that there are three more to come! Congratulations Bob and welcome little Ben!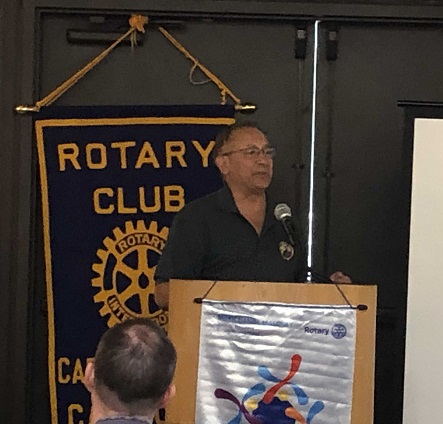 Dr. Rafael Payan, General Manager of the Monterey Peninsula Regional Park District, updated the club on Palo Corona Regional Park and the park's districit wide plans on September 17th. Many projects are in the pipeline that require partnerships with numerous county, state, and federal agencies as well as conservation and historic preservation groups. Just a few of the projects are: "Park it" and/or shuttle service on HWY 1 starting at Point Lobos; California Costal Trail extension; restore the Carmel Valley River watershed; multi use trails connecting the various parks; emergency command center site; a dog park site; cross country trails within Palo Corona for competitions; maintain the community center for the community use also providing an education center; a flood control channel just west of Palo Corona; and improve ADA access to the park grounds. Rafael has been recognized as a top leader by the American Academy for Park and Recreation Administration and has had award-winning projects in both Arizona and New Mexico.
Former club member Marilyn Woods visited the club on September 10th. Now living part-time in Hawaii, she is a current member of the Hahalei Bay Rotary Club! Yes - "ha ha"!
Quest speaker Ximena Waissbluth from the Surfrider Foundation presented a talk on the immediate problem of plastic waste. Each year over one million seabirds and one-hundred thousand marine mammals die from ingestion of or entanglement in plastics. Plastics do not biodegrade, but rather photodegrade with exposure to the sun's UV light, into smaller and smaller pieces. As a result, virtually every piece of plastic that has ever been produced till exists in some shape or form today. A recent research study by MBARI in Monterey Bay showed plastic from the surface to 1,500 feet in the water column - another words in our food chain that we consume! Reduce, reuse, and recycle is one answer to reducing plastics in our environment. The other is to eliminate single use plastics!
KSBW's Sports Director and Anchor Drea Blackwell shared her story of achieving one of the rare positions of a female sports TV anchor at our September 3rd meeting. Raised in Monterey and attending Monterey High School, MPC, and San Jose State she ultimately earned a Journalism Degree. She started as a sports production intern at KGO-TV in San Francisco and as a media relations intern at Mazda Raceway Laguna Seca. A life long 49er fan - no kidding - her enthusiasm for all sports is obvious in her week night broadcasts! Drea is particularly passionate for showcasing local student athletes and coaches. She credits two mentors for her success - Larry Beale of KGO and Dennis Lehnen of KSBW. She calls herself a functional introvert but clearly she enjoys her job and brings energy, insights, and humor to each broadcast! She is only 28 - her horizons are certainly limitless!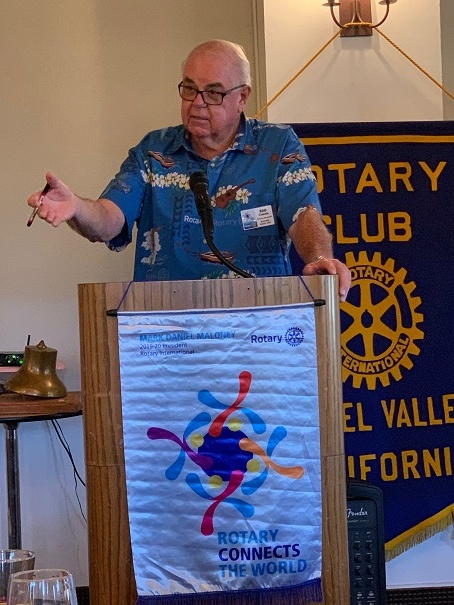 Our 5230 District Governor (DG) Rod Coburn visited our club August 27th! Belonging to the Fresno Fig Garden Club and a retired Dentist, Rob shared a number of up-dates including, after 5 years of effort, Nigeria is Polio free! Polio remains in only two countries - Afghanistan and Pakistan. Rod praised Ron Shimizu for his continuous demonstration of service-above-self! Rod also praised out PICs program and is encouraging other clubs to include PICs in their activities. He thanked the club for its continued support of the Rotary Foundation - a direct link to the Polio eradication effort! He stated is was high time that a woman was President of Rotary International and said several women were in the pipeline. April 25th will be the end-of-year District one day celebration, more details to follow. HNL will be the location of the Rotary Convention in June 2020 - Rod will be hosting a "no host" celebration - all invited! Finally Rod said making Rotary more visible with community activities is a goal during his term! Rod complimented the club for being so vital and vibrant!
One of our newer members, Susie Burns, was presented with a surprise Paul Harris Award by DG Rod, Foundation Chair Bruce Greenbaum, and President Bob. Congratulations Susie!

Our beloved Past President Nancy Rushmer passed away early Sunday morning July 21st, a profound loss to the club and the community.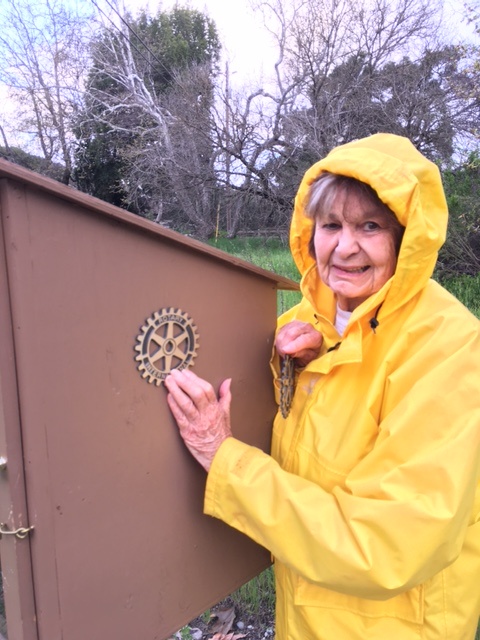 August 20th's speaker was Stuart A. Chase, Executive Director of the Monterey Museum of Art (MMA). With an extensive background is art museum operations, Chase arrived at MMA in April 2017. Initially established in 1959, the current museum's location was changed in 1976, with an added addition in 1993, and a major renovation in 2018. This year MMA is celebrating its 60th anniversary! The museum's focus is the visual arts of California artists in the mediums of photography (40%), printing, sculpture, works on paper, and paintings - 1,057 different artists are featured. MMA's collection is primarily through gifts, then by direct purchase, followed by loans from other museums or galleries. Programs include an "artist in residence" program, an "education and outreach" program, and a free school visit program with 4,000 children attending annually. Involvement with MMA is through membership, sponsorships, donations, a docent program, and word of mouth! MMA mission is to cultivate "the diversity of California art - past, present, and future"!

Justin Burke has been the General Manager for the Carmel Mission since 2015. His talk on August 13th concerned the balancing of managing a community of faith, a destination property with world wide visitors, a historic facility requiring preservation and restoration, the protection of artifacts, and the active pre-K to 8th grade school. The community has a strong continuity with the Mission system of the 1700s with both the Carmel Mission and the Monterey San Carlos Mission. Protecting that historic relationship while continuing the religious activities associated with the Mission is a balance between multiple stake holders. The Mission is also a venue for various community activities - as it is this week with "car week"! The Carmel Mission is a true community treasure and preserving this historic and unique site requires a delicate balance between a museum perspective and an active church!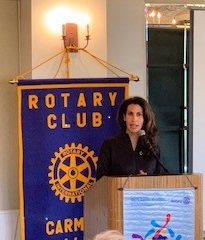 August 6th's meeting was all about preparing for an emergency! Wanda Vollmer, owner of Peace of Mind Preparedness, gave statistics on, particularly the Paradise Fire, on how to survive a community disaster. The key is pre-planning and to have a survivor kit of the basics like drinking water, food, flashlights and batteries, medications, can opener, cash (in small bills), a whistle, hiking shoes, a radio, extra glasses, a first aid kit, a cellphone charger - you get the idea! Have a pre-agreed point for family and/or friends to meet during an emergency. Always have vehicles with at least a 1/4 tank of gas. Be aware of people in your neighborhood who may need assistance. Join Monterey County "Alert" for community wide notifications - something that failed for various reasons in Paradise. Remember evacuation routes out of Carmel Valley will be jammed and/or blocked with emergency equipment or downed trees, land slides, washed out roads, etc. PLAN AHEAD NOW!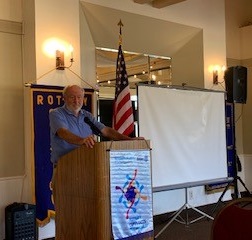 July 30th's speaker was Karl Pallastrini, current President of the Carmel Unified School District (CUSD) Board. Having lived in the Carmel Valley area for years and starting at Tularcitos through Carmel High School (CHS) as a teacher and finally on the CUSD Board, Karl gave a brief history of the school system and an update on current issues. CUSD is unique in that the District has one of the largest geographic areas with the smallest student population. Carmel spends $22,000 per student per year compared with Monterey's $9,000 per student per year. Carmel High School has one of the highest scholastic ratings making it a very desirable school system. Current issues at CHS is parking, athletic facilities, and promoting healthy sleep patterns for students through scheduling changes. Coordinating "trade" education and opportunities for Carmel Valley High School is also on the priority list for the District.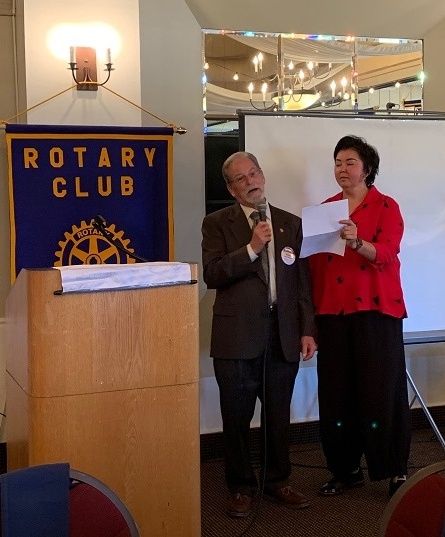 Immediate Past President Firuza reads the "oath" for incoming President Bob "Spuds" Spadoni on July 9th! Change in command is complete and official - he really is happy!
New member Loren Speck (third from left) is the first new member in President Bob's term! Left to right President Bob, Membership Chair Mike Holl, Loren, and Rabbi Bruce Greenbaum Loren's sponsor. Congratulations Loren and WELCOME!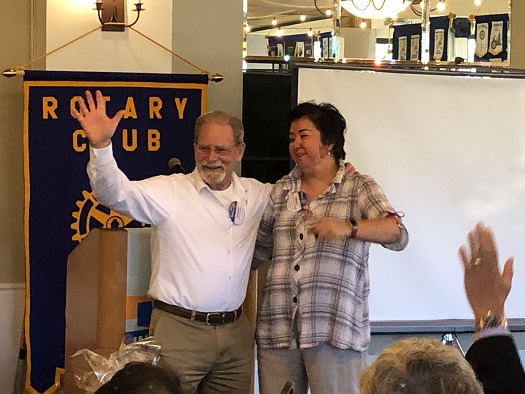 New President Bob and immediate Past President Firuza!
June 25th was the last meeting for President Firuza as President - our first Uzbeck member! She presented her Board and other club members with awards, certificates, and gifts - all with sincere and happy "thank yous" for the support shown by everyone throughout her term! The "Rotarian of the Year" award went to Steve Andrews! Firuza presented President-Elect Bob Spadoni with his official Rotary "President" pin and new Rotary badge! Bob presented Firuza with her "Past President" pin and badge - the official changing of command complete! At the demotion party on the 22nd, held at the Carmel Valley Trail and Saddle Club, Firuza was presented with her gavel and plaque thanking her for her outstanding year as President! WHAT A YEAR! "OH BOY"!
Our President-Elect enjoying Milan after attending the Rotary Convention in Germany! Cheers President Bob "Spuds" Spadoni!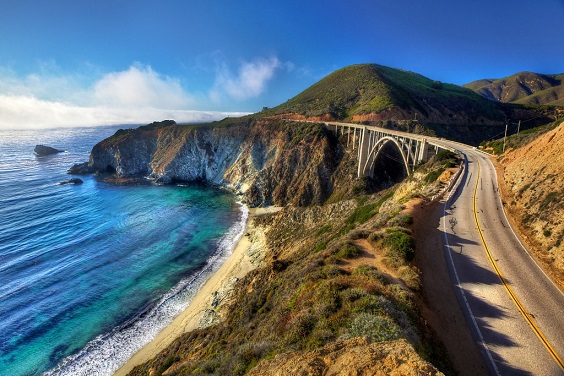 June 18th's meeting was all about protecting the Big Sur coast from being "loved" to death! Guest speaker Butch Kronlund is the Executive Director of the Community Association of Big Sur. The problems of 4.8 million cars with 2 1/2 people per car traveling HWY 1 each year increases the impact on the environment and the community. Without public bathrooms, scenic parking, and adequate law enforcement to enforce camping and camp fire regulations, the abuse of Big Sur will ultimately destroy the quality experience for the Big Sur community as well as visitors. Devastating fires caused by "visitors" has been record setting in recent years. Solutions need to be found by having all the stake holders contributing sustainable actions to protect and enhance the Big Sur coast experience. Jurisdictional issues involving Federal, State, County, special interests groups, and the land/home owners of Big Sur - all have positions at the table - all want to improve conditions to preserve Big Sur for the future!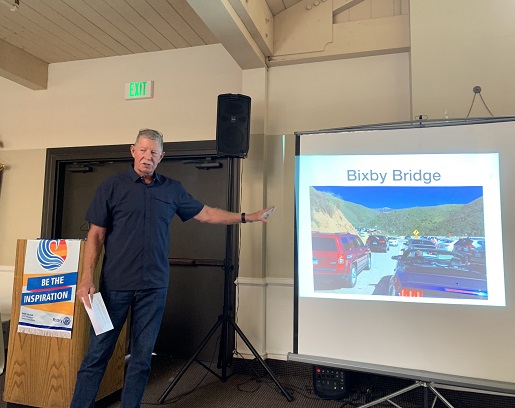 Executive Director Butch Kronlund with a photo of Bixby Bridge traffic - HWY 1 parking lot!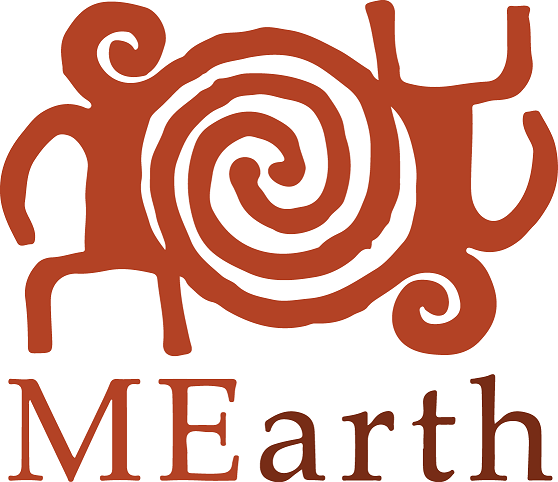 Recognize this logo near the entrance of Carmel Middle School?
Pronounced "me earth", Executive Director Benjamin Eichorn at our June 11th meeting discussed the vision and scope of MEarth and the importance of environmental stewardship which for Ben involves a native plant nursery, habitat restoration, organic gardening, and watershed protection, all geared for student awareness, education, and inspiration for this "good" earth. Ben was raised along the Big Sur coast and has a deep understanding of habitat protection and preservation. Many children have no understanding of where their food comes from, how it is produced, what is habitat, the diversity of species, etc. and why environmental stewardship is important and that effort involves everyone! A non-profit that works with Carmel Unified School District, MEarth provides the hands on experience for students and the community. (The native plant nursery is open to the public every Friday between 3:30 and 5:00.) Look for their Glass Pumpkin Patch fund raiser in September!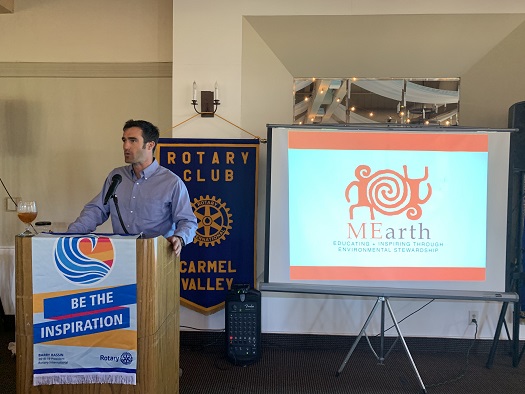 Executive Director Ben Eichorn with MEarth.

Our first meeting in June speakers were Dick Gorman (Board Member) and Kert Hultgren (volunteer) from Yellow Brick Road Benefit Shop in the Barnyard. Well known in the community, Yellow Brick Road has given over $6M in donations to local charities and in scholarships in their thirty years of operation. Receiving donated clothing, furniture, books, jewelry, art, and other home items, Yellow Brick Road prices items generally at 25% of new, depending on quality and condition. They are able to donate, on average, $20,000 per month to organizations that give priority to areas of shelter, medical, food, and children's services. Grants are also given for impactful educational programs and the arts. Yellow Brick Road is a true benefit to the community!
Our last meeting in May was in the "Escape Room"! Christina Riddoch explained what the "live action puzzles" involve and how solving those problems/puzzles generate team work for both social or business relationships. All ages are encouraged to participate helping to develop vocabulary, application of questions searching for answers, expansion of ideas, and ultimately solving a mystery, a math problem, or a puzzle within a group building team work concepts. Applicable for families and businesses Christina provides the "room" and guidelines at her Cannery Row business or she can provide for meetings off site to fit the needs of the guests. Lot of fun!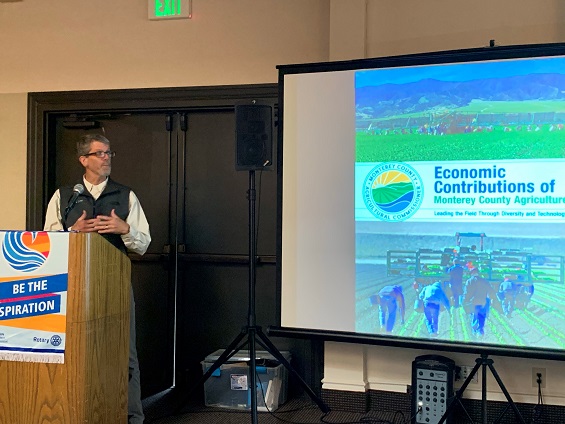 May 21st's meeting was about a service not commonly known by most residential folks. Paul Robins, Executive Director from Resource Conservation District of Monterey County, detailed the many areas the group provides land owners/users with valid information concerning soil conservation, air and water quality, open space protection, waste reduction, pest management, etc., and aids with grants and permits. Environmental issues are of primary concerns especially in the Salinas Valley and Carmel Valley river sheds. Encompassing multiple approaches to solutions that are proven successful for long term husbandry of the land, water, and air - benefits everyone and the generations to come! What we do now makes a difference!
Partners in Community Service
May 14th luncheon
This year's PICS event was our biggest ever with over 210 attendees from 7 different Carmel schools and the Interact Club! After the Invocation by Rick Shea, we enjoyed a motivational speech by our guest speaker Nick Cunningham, followed by the Paul Harris Awards, and ultimately the PICS Award Ceremony itself. Thanks to additional donations received this year, we were able to significantly increase the amount of the charitable contributions for each school and there were a wide variety of charities represented. The children did an excellent job of telling us how they chose their charity and the direct impact this had on them personally.
In closing Jason Griffin, our PICS Chairman, gave a special thank you to Deecie Denison for her many years of support for PICS since she is moving to Vermont and she will be missed!
Below are the results of this year's PICS program:
Tularcitos - Kara Morgan, Anna Wojtalewicz (Coastal Kids Home Care)
Carmel River School - Veronica Craft (Breast Cancer Assistance Group)
Junipero Serra School - Catherine Rowe (White Stag Leadership Dev Academy)
All Saints Day School - Sara Brown (Jacob's Heart)
Carmel Middle School- Liz Wells (Suicide Prevention-FSA of the Central Coast)
Carmel Valley High School - Tom Perry (Dorothy's Kitchen)
CHS Interact Club - Diana Govan (AIM for Mental Health)
Carmel High School - Aubrey Powers (Monterey Bay Fisheries Trust)
May 7th's meeting was a fond farewell to long time CV Rotarian Deecie Denison! Tears, yes, but our club deeply appreciates her dedication, energy, innovation, positive spirit, and the chairing of our Partners In Community Service (PICS) project. Deecie was presented with a beautiful engraved glass vase and a box of LuLa's Chocolates by President Firuza for Deecie and Jock's long drive back to Vermont! Thank you Deecie - you will be missed!
Out guest speaker was Lori Wright, General Manager of Big Sur Cannabotanicals, who discussed the medical uses for cannabis products. She also detailed the different methods of application and the differences in the chemical effects affecting the desired medical results. Continued research into the benefits of different forms of cannabis is a widening field of medical research, a relatively new field of study.
Chief Michael Urquides (seated left) from Monterey County Regional Fire District (MCRFD) and Board President Pete Poitras (standing right) of MCRFD presented details of a new county wide ambulance service proposal. Bottom line this "Request for Proposal" (RFP) to the County Board of Supervisors would change the who and why of how ambulances are dispatched throughout the county. The proposed service (lowest bidder) would NOT improve ambulance response time nor guarantee qualified "paramedics" attending the patient. This RFP may be voted on by the Supervisors in July. Chief Urquides and President Poitras and the following groups reject this RFP and call for transparency and review of the actual facts and affects this RFP would have for the entire county:
CalFire Firefighters Local 2881
Monterey City Firefighters Local 3707
California Professional Firefighters
Monterey County Regional Local 2606
Salinas Firefighters Local 1207
Monterey County Fire Chiefs Association
TOP 100 Dinner!
One of our favorite and most worthwhile projects each year is our Top 100 Dinner honoring the top 25 students in each class at Carmel High School. April 23rd we honored students, parents, teachers, and administrative staff for the accomplishment of excellence. Students who have made the Top 100 for their four years at Carmel High School also received a special engraved pen.
Our keynote speaker was Scott Fujita former NFL linebacker and now Head of School at All Saints' Day School. Scott highlighted 6 "life" lessons: 1. Be yourself. 2. Find your passion and take the time to enjoy it. 3. Make kindness a priority. 4. Relearn patience. 5. Be of service - be useful. 6. Don't be afraid to take things personally. Life will always have peaks and valleys, keep these "life" lessons in mind and keep a balance and thrive!
Scott Fujita

Thank you to our partner CVVIC, donors, sponsors, volunteers, attendees, and tickets and raffle tickets buyers for making our annual Prime Rib Gala a success!

Special guest 5th District Supervisor Mary Adams shared her key community issues as well as the sleepless issues she worries about at our April 16th meeting. Water, transportation, homelessness (especially among school age children), and wild fire prevention and emergency plans for Carmel Valley are four of the major issues confronting our county supervisor. Mary went into considerable details about these issues and the possible options for solutions. The county budget, the upcoming "cease and decease order" for Cal Am, and the affordable housing problems for working families as well as college students around the peninsula are three of the immediate issues that need prompt resolution that keep her awake a night. Major future road improvements on 156 (4 lanes), Hwy 1, 68, and intersections at Castroville & 156 and 101 & 156 are in preliminary development stage and need action soon to relieve normal traffic "congestion" and have viable emergency evacuation routes. Lots of issues lots of decisions.
The fruits of our fund raising "Gala" in March were shared today with the Carmel Valley Village Improvement Committee (CVVIC). Jeff Andrews, President of CVVIC, received a $5,000 check from President-Elect Bob Spadoni to help with the purchase and installation of solar powered Vehicle Speed Monitors in Carmel Valley Village. A joint community project supported for the benefit of our neighbors in the name of safety and traffic control.
April 9th's meeting was all about giving! Betty Kason spoke to the club about the beginnings of "Nancy's Project" that Nancy Costello of Carmel Valley started in 1971. Seeing a need for the agriculture workers in the Salinas Valley, Nancy started by collecting and delivering clothing, blankets, and ultimately food. She was still working on this project through 2013 at the age of 95! Delivering to the workers at different locations 6 days a week provides support to approximately 2,000 children and their families. Besides food and clothing they also provide back packs with school supplies for students beginning their new school year. 50 volunteers participate in the project, filling a need otherwise over looked in our agricultural community.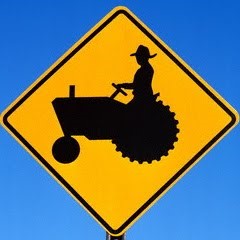 Our first meeting in April was a talk on the "Slow Money Institute". Their mission is "a non-profit organization dedicated to catalyzing the flow of capital to local food systems, connecting investors to the places where they live and promoting new principles of fiduciary responsibility that bring money back down to the earth". Colleen Logan volunteers with Slow Money Monterey Bay, a branch which launched in Monterey in February 2018. The goal is investment locally for area restorative agriculture.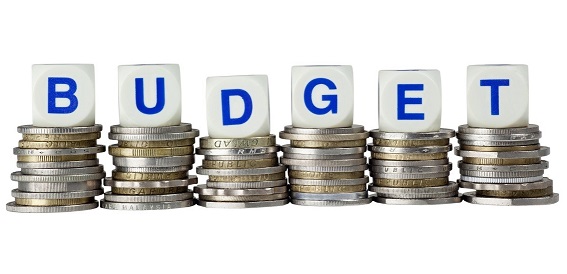 What insight into cost estimating! March 26th's meeting was very interesting and relative on many levels. Dr. Daniel Mussbaum is at Monterey Naval Postgraduate School in the Operations Research Department. How do you estimate the cost and then the budget to build an aircraft carrier or go to Mars? Terms like "regression analysis" and "statistical variation" play their parts in the estimate/budget forecast. History is an imperfect guide and with government projects political influence greatly affects a final budget. The final cost after project completion is often higher for reasons like "acts of God" and changes is labor and material costs. "Estimating is hard, especially about the future" (Mark Twain). (No wonder contractors get it wrong!)
The March 19th meeting was the adventure of a life's journey - and a remarkable one at that! From Carmel to Stanford University, from The Institute of International Studies in Switzerland to The National War College in D.C., from the CIA to Mayor of Carmel, Sue McCloud has lived the life of accomplishment during a time when women were not main stream! Her 31 years with the CIA is a book in itself! Speaking French, Japanese, and Swedish, Sue held posts in France, England, Japan, Switzerland, and Sweden and was Chief of Station in two of those countries! A member of the CIA Senior Intelligence Service at her retirement, her legacy of service is so commendable covering a wide range of important national security responsibilities - I hope she writes a book! Sue is part of U.S. intelligence/political history and was in a unique career when few women were "invited in". Her years of service for the Carmel area is without peer. Sue - please write your book!
Our second meeting in March was all about the Monterey Bay and all the wonderful species that inhabit this beautiful eco system. Erica Wolff from Princess Monterey Whale Watching is a naturalist with a Bachelor of Science Degree in Marine Science and is presently working on her masters degree through John Hopkins. Because of the very deep Monterey Marine Canyon and the "up-welling" of nutrients from those depths, many species thrive in the Bay. In 1992 The Monterey Bay National Marine Sanctuary was established protecting 276 miles of coastline extending to 3 miles off shore. This sanctuary protects birds, fish, whales, porpoises, dolphins, sharks, jelly fish, leatherback turtles, and so much more, we truly live in a spectacular placed!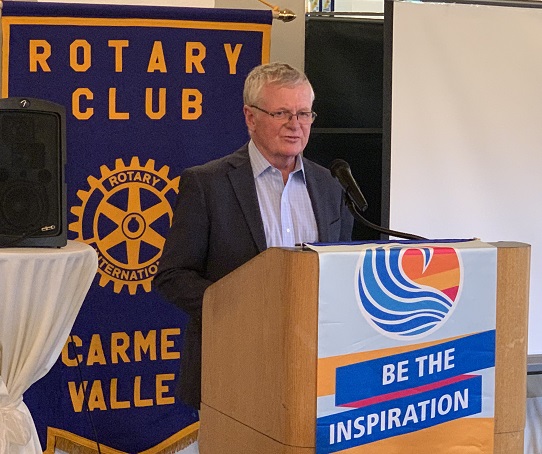 March 5th's speaker brought insight into the world of politics - both regional and local - and of public service. Carmel-by-the-Sea Mayor Dave Potter discussed his career starting with his first office as a member of the City of Monterey's Architectural Review Committee in 1986 through his decades on the County Board of Supervisors representing District Five ending in 2016. Dave was elected as Mayor promising transparency and respect of the public. For a town of approximately 1.5 square miles and a population of roughly 3,500 - small size doesn't change the type and severity of the problems and the possible solutions. Coming from Hingham, Massachusetts, Dave attended "Town Hall" meetings with his mother as a lad and learned the positives and negatives of public life in a small community. Still Dave has faced the challenges and successes a life in public service can offer finding it very rewarding and fulfilling!
Sexual Harassment is in the news daily and Monterey Attorney Andy Swartz has experience in dealing with the Federal and State Laws as well as individual employer manuals on the subject. February 26th meeting was on point and very timely! Harassment isn't just male on female, is covers any age group, any gender, any religion, any employee/employer, etc., and includes categories of assault, abusive, and retaliatory behavior. Andy has practiced law for almost 46 years with major local clients including SCRAMP, Organic Girl, Carmel Realty, and Monterey Peninsula Surgery Center. Andy lectures corporate groups on sexual harassment prevention and promoting healthy and safe work environments.
Lord Cornwallis justifies his loss!
February 19th's meeting was both humorous and historical! Lord Cornwallis, the man who "lost" America for the British crown, was introduced and performed by British actor Howard Burnham - complete with wig and redcoat! Howard has been performing his acclaimed dramatic monologues since 1981, featuring historic men such as Lewis Carroll, Edward Lear, Charles Dickens, Laurence Sterne, and Thomas Hardy. Howard included great visuals of battle maps and paintings of the period bringing alive Cornwallis and his war with the colonies. Lots of little known facts and "commentary" made the presentation very enjoyable and educational! George Washington prevailed, Cornwallis didn't, and we are the United States of America!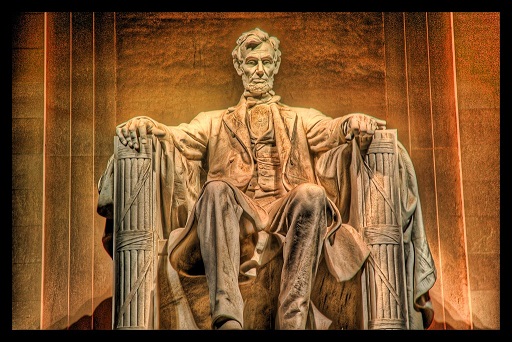 Our February 12th meeting was on Abraham Lincoln's 210th birthday and the 71st birthday of club member Lewis Abraham Leader. It is no accident that Lewis' middle name was for Lincoln because Lewis' father was a great admirer of Lincoln. Lewis and club member Taum Dell'Armo teamed up on a presentation on Lincoln - Taum being a life long collector of Lincoln speeches and writings. In a too short presentation both men covered Lincoln's political life as a Whig Congressman and later as President. Lincoln viewed his one term in Congress as a failure and returned home to Illinois adrift from politics - life later offered opportunity becoming our 16th President. One can only wonder if Lincoln had lived how different reconstruction would have been! Various quotes from Lincoln were read followed by a Q&A.
Welcome new member Bill Pardue (center)! Left is sponsor Bruce Greenbaum. Right is Membership Chair Mike Holl.
Our first meeting in February was a real treat - really! Scott Lund of Lula's Chocolates, River House Books, and Ryan Ranch Printers presented a talk on entrepreneurship! Scott can certainly walk the walk having three successful businesses on the peninsula. His primary message was to take the relevant steps required, one by one, to achieve a goal. "Now" not later to make each step - do it - stop talking about it! Scott recommends the book "Getting Things Done" by David Allen. Scott provided fabulous samples of Lula's Chocolates! (All samples were consumed with glee!)
Our last meeting in January was packed full of guests and Rotarians interested in the presentation by David J. Stoldt, General Manager of Monterey Peninsula Water Management District (MPWMD). Using a presentation available on their website, Stoldt reviewed and answered questions concerning the process that MPWMD will be working on for the next nine months reference the Measure J vote and the buy-out of CalAm. Many many hurdles involving bench trails, jury trails, studies, issues of transparency, feasibility, appeals, and the actual impact on rate payers will ultimately involve years of processing! Certainly no answers or action any time soon!
Last Saturday - the 26th - Firuza hosted a "Meet and Greet" (and dinner) at her home in Pebble Beach. Visiting Nigerian Rotarian Yinka Babalola is on the Rotary International Board of Directors and the Regional Rotary Foundation Coordinator for English speaking countries in Africa. Yinka has worked for Shell Oil for over 23 years as an up stream oil and gas surface operations specialist. The club's first introduction to Yinka was through our Safe Blood Africa project. Many ideas were discussed concerning Rotary membership, projects, and future Interact growth.


Welcome new member Shannon Mandel!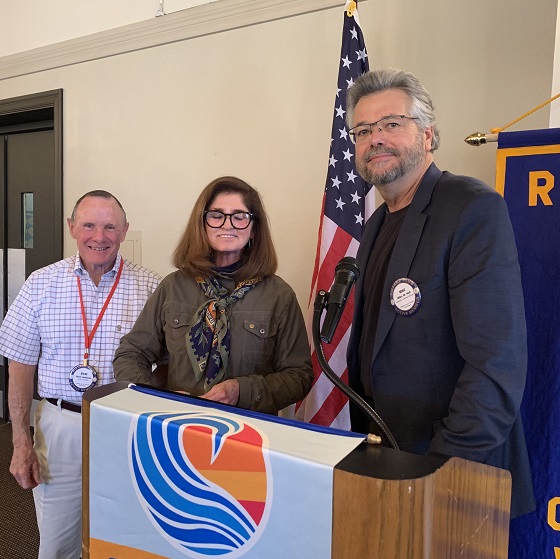 Sponsor Steve Andrews, Shannon, and Membership Chair Mike Holl welcome our latest new member!
January 22nd's guest speaker was Monterey County Judge Tom Wills! Hearing some of the inside aspects of being a judge and dealing with the numerous life events involved in his court room was very interesting! There is, we learned, more humor and occasional laughter within the court house than most of us would expect. Judge Wills the oldest of 14 children ultimately graduating with a law degree from the Monterey College of Law! He was a practicing lawyer in Salinas before moving to the bench over ten years ago. His preference, when appropriate, is to have opposing parties get together and discuss and resolve their own issues - but that isn't always possible. When asked if more funding was allotted by the county what would be his recommendations, he quickly responded "by re-opening the King City Court House and hiring more judges"!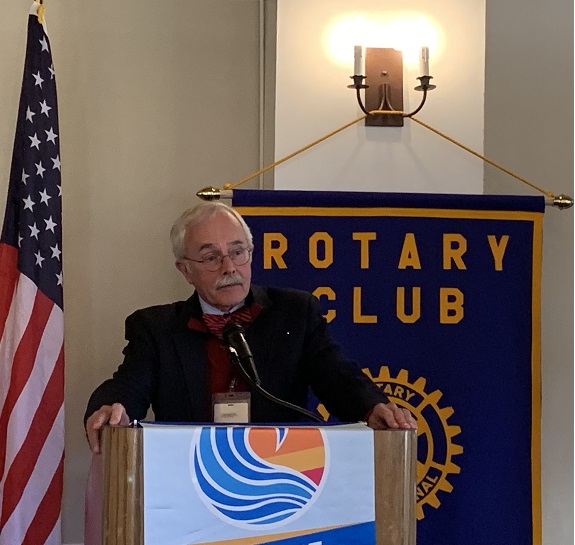 Monterey County Judge Tom Wills
Kate Miller knows first hand the drama, abuse, the stings of poverty, and teenage anguish that can be a big part of a child's life experience. Our January 15th speaker relates first hand with the people (kids and adults) with common negative life experiences and how to cope and succeed in their future endeavors despite early hurdles. Specializing in Conflict Resolution, Life Mastery Coaching, and Restorative Justice, Kate is an active counselor and the author of several books on parenting. Her influence on children has literally saved lives and made life for so many productive and happy. Kate's passion for providing guidance and support to those reaching out is clear and is no doubt why she is such a strong advocate for valuing a child through love.
Our first meeting in 2019 covered the life of one of the most influential men on the Monterey Peninsula. Charles Osborne is the author of "Boss - The Story of S.F.B. Morse, the Founder of Pebble Beach" and is his grandson. The book is the story of Charles' grandfather Sam Morse who is his personal hero and an icon of the good life in that era. Morse "dominated the Monterey Peninsula for fifty years and surprisingly, he was extremely well thought of by most everyone. His vision of land conservation was the basis for the creation of one of the most attractive pieces of real estate in the world". Charles shared insights into the life, challenges, successes, and imagination of Sam Morse that ultimately benefited our coastline and community. Published in 2018 the book includes photos and stories of local historic interest and a time line of development of Pebble Beach.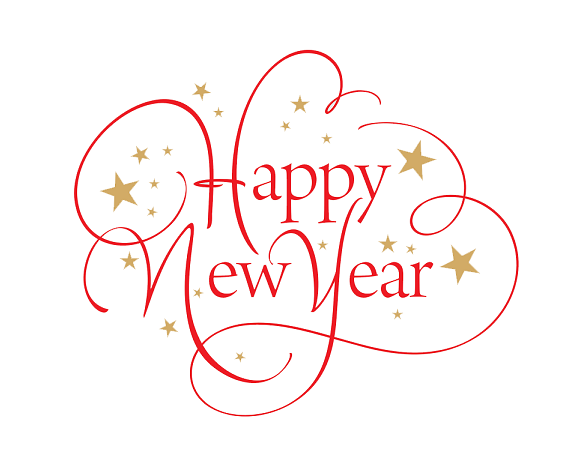 Our December 18th Holiday Luncheon was great fun and a wonderfully shared camaraderie for our last luncheon in 2018! The "Cannery Rogues Barbershop Quartet" (alias Jeffrey from Jeffrey's Restaurant) entertained with a mix of holiday and standard Barbershop songs. The "white elephant" gift drawing and trading was a great success! Socks, kisses (real from Spuds), chocolates, oil paints, paper weights, mugs, wine, and so much more was up for trades!
We had five "ugliest Christmas sweaters" participates! Second place went to Neil with first place going to Jason's wife Boryana!
Wishing all a very Merry Christmas, Happy Holidays, and a very Happy New Year!
Nothing like hearing the true stories of immigrants! Two of our club members immigrated from their home countries seeking freedom of speech and religion - one for their safety and very lives. Jason immigrated from Morocco seeking a better life for his children through education and the freedoms the U.S. offers. It took 2 1/2 years through legal channels to get himself, his wife and their 3 children to the U.S., becoming a citizen five years later. Firuza immigrated from Uzbekistan. As a lawyer, and in a country of corruption and intimidation, her journey involved escape to Moscow with a passport with no visa just a sealed envelope. She would finally end up in New Jersey speaking no English in 2007! There is much more to her story, she needs to write a book! Hearing just these two stories of immigrants - so different but with similar goals - it makes you very grateful to have been born in the U.S! If we haven't said it often enough - welcome to the United States!
Siobhan Greene, CEO of the Hospice Giving Foundation, presented a program on the history of Hospice in Monterey County at our December 4th meeting. Started in Carmel Valley by Dr. Jerry Rubin in 1997, the need for compassionate end-of-life care was recognized as a valued missing part of the community. Developed over 21 years into the Westland House and many other services, the Foundation has given back to the community $25M in very personal care to the patient and their families. The second half of Siobhan presentation was on the necessary planning required before death so family, friends, and doctors know the requests and direction desired by the individual. No time like the present to take care of those details!
November 27th the club welcomed new member Susanne Burns (center)! Susanne is the manager with PacRep Theater in Carmel! Our own thespian Fred Hero (left) was her sponsor! Mike Holl, Membership Chair (right), welcomed Susanne!
Patrick Robinson Ph.D., from UC Santa Cruz and Director of Ano Nuevo Reserve, presented a talk on Elephant Seals and how that research also helps judge the overall health of the Pacific ocean. Patrick had a number of videos from cameras that had been attached to the seals that are the primary tools for observing behavior and recording their life cycles while they are at sea for months. The seals will be "pupping" in January - only half will survive their first year. The birthing females will fast while nursing loosing half of their body weight. Seals travel has much as 6,000 miles off the west coast and dive to the depths of over 2000 feet! Primary predators are sharks and Orcas. Very interesting presentation!

November 14th, our annual Veterans Day Salute hosted by Carmel Valley Rotary Club and Carmel-by-the-Sea Rotary Club!
Army Veteran Stan Soroken blows Taps
Colonel Gregory J. Ford, Garrison Commander from the Monterey Presidio, addresses the Rotarians and guests.
Keynote speaker Dr. Thomas H. Griffin, Chairperson from the Veterans Transition Center in Marina, details all the services provided for Veterans including housing, job development, case management, supportive services. and a food pantry.
Rotarians and guests from the Carmel-by-the-Sea Club and Carmel Valley Rotary Club enjoy an excellent lunch and the shared celebration of each club's Veterans and visiting military personnel! Thank you for your service!
November 6th PICS Chair Deecie Denison receives her "thank you" plaque and gifts from Immediate Past President Kevin Kenoyer. Deecie received a standing ovation from the club!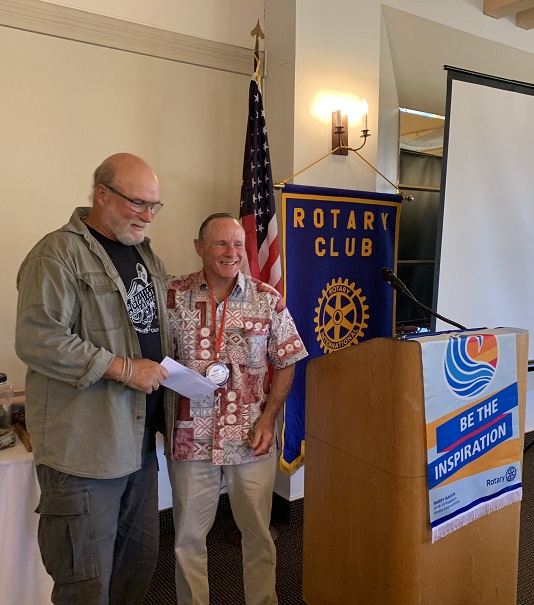 Also on November 6th Program Co-Chair Steve Andrews (right) presents Rob McClurg, who is with "The Grapes of Understanding" prison project, a donation from the club. Rob, a retired school teacher, also gave an interesting program on Ed Ricketts, John Steinbeck, and the early history of Cannery Row!
On election day Carmel Valley Rotarians staff the Free Flu Clinic at Tularcitos Elementary School! Left to right Past Presidents Kevin Kenoyer, Rod Neubert, and Rich Briscoe answer questions.
Our last meeting in October included one of our favorite presentations from the Tony Willemsen Education Program. This year each school received $1,000 in memory of Tony, a Carmel Valley Rotarian who strongly believed in reading and education who established this program before he passed away. Recipients were the principals from each school:
Elisa Tacconi- Captain Cooper Elementary School
Ryan Peterson- Tularcitos Elementary School
Jay Marden- River Elementary School
Chair Ron Shimizu, Elisa Tacconi, Jay Marden, and Ryan Peterson receive our donations toward their schools.
The second half of our meeting was a power point presentation from the Carmel Foundation. President and CEO Holly Zoller, along with her administrative staff, detailed the many activities and services provided by the Foundation. Established in 1950 for adults 55 and over, the mission was simple - provide necessary senior services and also provide activities - a place to call home. Volunteers are the backbone of the Foundation and by combining with other senior agencies within the community provide a broad spectrum of needed assistance and services, including housing, and transportation. A true benefit to our community!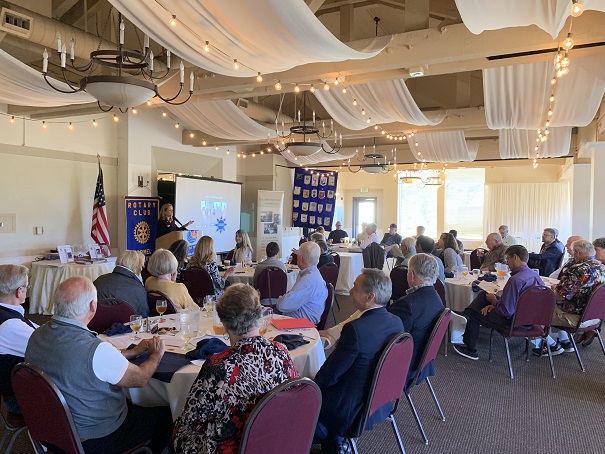 President and CEO Holly Zoller of the Carmel Foundation addresses the club.
Past District Governor (5170) Orrin Mahoney from the Cupertino Rotary Club shared why he was proud to be a Rotarian at our October 23rd meeting. Having joined Rotary in 2000, Orrin talked about how he was recruited into Rotary and why he found Rotary to be an excellent opportunity to participate in valued community projects providing a personal sense of involvement and satisfaction. "Service above Self" is the Rotary mission statement. The Rotary Foundation is the greatest asset and project funding opportunity available - it always gives back more than what was received. Rotary inspires and Rotary gets it done!
Candidates for the Carmel Unified School District Board were our guest speakers October 16th. Tess Arthur, John Ellison, Sara Hinds, and Lisa Talley Dean were each given time for a general introduction and then additional time for two other timed answers to a specific question. On election day - Tuesday November 6th, voting will be for two of the four candidates.
Left to right - new member David Eisen, sponsor Neil Ticker, and Membership Chair Bruce Greenbaum
October 9th we welcomed new member David Eisen, a retired Project Manager most recently involved with the "clean-up" at Fort Ord. David was sponsored by Neil Ticker. Welcome David!
This month is also Rotary's Vocational Month. Members Dr. Shimizu (DDS), Lewis Leader (writer/reporter/editor and recently campaign manager), and Rabbi Bruce Greenbaum gave a brief history of the careers, details of their jobs, and the surprises and rewards of their vocations. All three volunteer their time through Rotary and other organizations, giving back to the community in addition to their valued occupations.
Our first October meeting had two special guests: Rafael Payan, General Manager of Monterey Peninsula Regional Parks District (Palo Corona Regional Park - Rancho Canada), and Governor Elect of District 5230 Rod Coburn from the Fig Garden Rotary Club!
Governor Elect District 5230 Rod Coburn
Our guest speaker was Jeff Johnson, who has a Ph.D. in Chemistry, presented a program about Citizens' Climate Lobby (CCL) and global warming. The lobby group works for climate change solutions by building support in Congress for a national bipartisan effort while working with everyday people for individual action. Jeff used science data to show the increase in carbon dioxide and how it has impacted atmospheric warming, ocean warming, sea level rise of 4 inches (1993-2018), and ocean acidification - which has serious influence on the ocean's food chain. Global warming affects migration, animals, insects, plants/trees, water levels, etc., including us! 65% of carbon dioxide comes from burning coal, burning oil, gasoline, and natural gas. Increased use of nuclear, solar, wind, hydro, and renewable resources would greatly reduce our carbon footprint!
Jeff Johnson, Citizens' Climate Lobby
New Member Jason Zukor
Left to right - Bruce Greenbaum Membership Chair, President Firuza, Jason and his wife Mina!
Melanie Scherer, President of "The SNIP Bus", was our speaker September 25th. What is the "SNIP BUS"? It is a traveling clinic to spay and neuter dogs and feral cats. Thousands of animals are killed every year in shelters in California - a tragic situation that Melanie wanted to help prevent by providing low cost and available spay and neuter clinics. The rolling clinics have spayed or neutered over 6,800 dogs. The Salinas Valley has a very high rate of shelter killings, due to over population because too many dog and cats are not spayed or neutered because of veterinary costs and/or distant office locations. Providing the rolling clinics from Prunedale to King City, the bus averages 26 to 32 animals per stop. Dogs 6 months or older are of minimum age for the procedure. Feral cats must be in crates and, do to the limited space within the bus, large dogs are not accepted. A $25 donation is requested for each procedure.
The September 18th speaker was very interesting and spoke about a sordid history seldom known by most people. Margarita Kalinina-Pohl is a Senior Program Manager at the James Martin Center for Nonproliferation Studies, Middlebury Institute of International Studies in Monterey. Her topic was about the Gulags in Alzhir, Kazakhstan that housed women and children imprisoned for being the "enemy of the people" from 1918 to 1954. No trial no proof no justice in conditions that ranged from below freezing to over 100 degrees in the summer. The women had to build their jails and then were used as forced labor for the Soviet Union with little food nor medical care under extreme cruelty - including repeated rapes by the guards. Children under 3 could remain with their mothers, older children were sent away with most never finding their parents in later years. Mass graves are now being exposed supported by the dairies and journals of the women that survived. It is estimated that 18,000 women were trapped in these Gulags with unknown numbers of those that didn't survive.
September 11th's meeting had two guests, speaker Sharon Casey, and Alpine - at golden lab in training as a guide dog for the blind. Guide Dogs for the Blind (GDB) is a guide dog school located in the United States, with campuses in San Rafael, California, and Boring, Oregon. It was founded in 1942 by Lois Merrihew and Don Donaldson to help veterans who had been blinded in World War II. Sharon has been a volunteer puppy trainer for thirteen years and a leader with the Monterey County Chapter of GDB. She resides in King City with her husband and business partner. Puppies are in her care from 9 weeks to 16 months when the dogs then go into additional training in San Rafael. Best breeds for successful guide dogs are labs (80%), Golden Retrievers (10%), and a mix of both breeds (10%). Intelligence, willingness, attitude, and size all play a part in a dogs selection and success - only 45% succeed. Pre-matching the dog and person involves many different criteria and once matched takes approximately two weeks of joint training before the couple can go home together. Dogs are provided free of charge to a legally blind person. GDB is funded 100% by donations!
Look at that face - it's Alpine!
It's not just the plants, it is the social, education, and beautification projects within Carmel Valley - it is the fun of doing it with friends! Gordon Dill, President of the Carmel Valley Garden Club, shared the experience of being a member at our August 21st meeting. The garden club started with 30 members and now is 220 members! The mission of the club is to educate and promote the science of successful gardening, sharing that with the local community, and working together with other groups to beautify Carmel Valley. They have a major fund raiser each year in May for two days called the "Flower Show", but it is so much more! Flower judging, photography, music, food and wine, and crafts are all part of the festivities held each year at Hidden Valley. The first weekend in May - watch for the two day event that ultimately improves our Carmel Valley experience!
The August 14th meeting was a perfect subject just before next week's Monterey peninsula car shows and races! Chris Holl has been a car judge for over thirteen years. His love of cars started with his first car, a used 1967 MGB - of which he still owns! Being a Concours Judge requires knowledge, experience, and to some degree solid mechanical ability. He discussed the fine points - literally - of critiquing a car starting with 100 points and subtracting from that score for each negative element. Time, love, money equals a show car owner! There is no preference for a professionally restored car over an owner restoration - it is the results that counts. From tail pipe to and through the interior to the front grill is all judged for operation, original parts and their condition! For car lovers, this will be a big weekend!
Left to right - Janie, Sophie, Gilbert and Taum.
August 7th we welcomed our first new member for the 2018 - 2019 term year! Sponsored by Janie, Taum and Firuza welcomed Dr. Gilbert Hakim into the club. Gilbert's wife Sophie pinned his new Rotary pin on his lapel finalizing the induction, he then gave a brief history of his background in chiropractic medicine and his keen interest in cars! Welcome Gilbert!!
Our guest speaker was Judy Proud, President of the Carmel Valley Women's Club! Established in 1949 with six women, the club will be celebrating its 70th anniversary next year! Their primary mission is supporting community projects, providing young women with scholarships, fund raising for those goals, and developing friendships that bind the community and the club together for the common civic good. Currently the Carmel Valley Women's Club has 133 members that range from all over the peninsula. Look for their annual fashion show in Pebble Beach - their primary fund raiser event!
We had a special speaker on the 31st, Erden Erue an adventurer and traveler of the uncommon kind! Bicycles and boats - small boats like canoes and row boats across the Pacific, Atlantic, and Indian oceans! A multi accomplished record setting man who dreams and does! "The Guinness World Book of Records" documents over a dozen of his feats proving what can be done with determination, planning, and doing! Most recently he "rowed" across the Pacific from Monterey to Hawaii! "It is the journey - not the destination" that is his goal and his measure of success!
Our meeting of July 24th proved to be funny and entertaining with a clear message of the importance of a moral compass, especially for kids at risk. Frank DiPaola, a gang intervention consultant and retired Los Angeles Police Officer, shared his experiences dealing with gangs, under-cover narcotics operations, and his development of an intervention program that has had over 10,000 kids participate in. He has also been a consultant and actor in various cop TV shows and movies and has recently wrote a book about his life as a cop "From Hell to Hail Mary". Working with the kids and witnessing their transformation away from crime and developing into solid citizens has been most rewarding for Frank. He is also active with the Carmel Mission Classic Car Show (scheduled for August 22) and the Carmel P.D. "Youth Diversion" program with Carmel High School where drugs are a major problem.
Carmel Valley Rotarians enjoy a baseball game with the Monterey Amberjacks - and Amberjack himself! Those cheering on the team was Neil, Joe, Phyl, Steve, Jack, and Lewis - Cynthia took the photo!
* * * * * * * * * * * * * * * * * * * * * * * * * * * * * * * * * * * * * *
July 17th's guest speaker was Matt Shea, President of the Carmel Valley Village Improvement Committee (CVVIC), who gave a brief history, the accomplishments, and future plans of CVVIC. The mission of CVVIC is to beautify, increase safety, and still maintain the rural character of the Village. The committee is non-political and wants to remain under the radar while keeping the "rustic hamlet" feel of the Village. Completed projects are a Sheriff Sub Station, 11 trash cans and re-cycle cans around the Village, 2.8 miles of sidewalks and curbs, 17 over head lights, and acquired property next to the Carmel Valley Historical Society. Plans for underground power lines are 4 to 5 years in the future. 30 wine tasting businesses are now in the Village, not all our local or Monterey County wineries. Discussion followed on possible plans for Carmel Valley Airport which is for sale.
Immediate Past President Kevin Kenoyer swore in new club President Firuza Khaytenova on July 10th! Firuza thanked Kevin for a marvelous year and pinned his lapel with his "Past President" pin and presented him with his new Rotary badge. Firuza also introduced and gifted her Board with Rotary goodies brought back from Toronto! Past club presidents Vicky Peach and Jamison and Warren Kaufman brought pink roses to help celebrate Firuza's day!
Congratulations President Firuza!
June 26th was President Kevin's last official meeting! Kevin thanked the club members and individuals within the club for their service and continued support throughout the year. Kevin talked about the "bottom up" approach, new to Rotary, and how the work of Rotary is at the club level! "Making a difference" was this year's theme and the club did exactly that! Kevin's slogan this year was "do good have fun"! President Kevin "did good" and "we had fun"! Thank you Kevin for an outstanding year of service and dedication!!
June 19th's speaker was Spohie Biddle who has spoken to the club once before. She is described as a "health strategist" and nutritional adviser, who has gained experiential knowledge of many different holistic approaches to healing and rejuvenating the body. Spohie's talk today was primarily on men's prostate issues. She stated genetics maybe be "your potential" for health issues, but good life style choices can make for different results.
Our first meeting in June was lively and fun! Rick Westbrook and Maria Dawson from the Improvisational Theater demonstrated how improvisation can improve communications which enhances team building. Rick has been involved with the TV program "Whose Life is it Anyway". Maria is part of Children's Theater and "Comedy Improv". Fun games were a big part of the "improvisation" experience, guiding spontaneous responses and actions! Lots of action from CVR members!
Our last meeting in May was a safari to Botswana! Dan Presser provided photos, video, and narrative about his recent trip. Giving a brief history that Botswana was a British colony until September of 1966 when Botswana was given their independence, shortly after that date diamonds were discovered providing the new country with a superb natural resource. (It now has the second largest diamond mine in Africa.) Deep into the Okavango Delta he visited the area of Xakanaka who's native language is a rare "click" language. Numerous encounters with wildlife of all types provided interesting photo ops and personal experiences!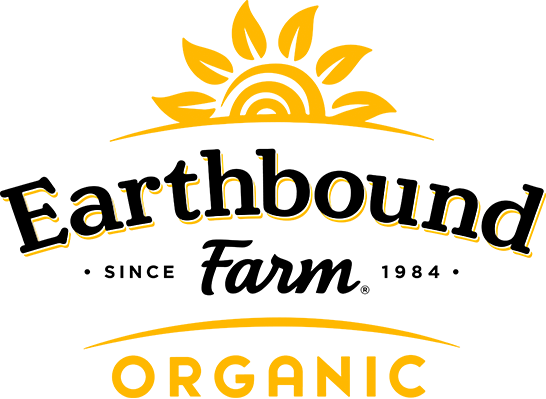 Janna Jo Williams, Farm and Garden Manager of Earthbound Farms, discussed the history and development of the organic farm on Carmel Valley Road at our May 22nd meeting. Over a 20 year period the farm brand has grown from 5 local raspberry and fruit and nut tree acres to over 50,000 acres and 200 other farm cooperatives. Earthbound is the largest organic farm brand in the U.S. supplying such large outlets as Costco. Earthbound's processing center in located in San Juan Batista and handles a wide variety of produce, including herbs and flowers. Everyone wanted to know when the Earthbound Farm stand will re-open - Janna says July!! Can't wait!!!
Our May 15th meeting was a very Zen experience! Reverend Shogen Danielson from the Tassajara Zen Mountain Center engaged the club with the history of Tassajara (an Esselen word for "good place to dry meat"), the history of the Zen Monastery dating back to 1965 (the first Zen Buddha monastery outside of Asia), and how Shogen was first inspired by Buddhism, later becoming a monk being ordained in 2004. Shogen served in the Peace Corp for 39 months in Africa and had traveled to India and Nepal. Shogen is currently involved with the chaplaincy at the Community Hospital of the Monterey Peninsula, Salinas Valley State Prison and Hospice of the Central Coast. He's on the teaching council of the Monterey Bay Zen Center.
Our May 8th meeting was the club's annual Partners in Community Service (PICS) luncheon! Chair Deecie Denison performed another brilliant task of organizing and supervising the many months of coordination required between seven schools within our community. Each school's students researched, interviewed, and selected a charity they felt worthy of a donation that was provided by our club.
Tularcitos selected the "American Cancer Society"
Carmel River School selected "Get on the Bus"
All Saints Day School selected "ALS Association"
Junipero Serra selected the "Alzheimer's Association"
Carmel Middle School selected "Costal Kids Home Care"
Carmel High School selected "Peacock Acres"
Carmel Valley High School selected "Safe Place"
Thank you to the students and teachers for another marvelous year of Partners in Community Service!
Our first meeting in May was a presentation by Monterey County Regional Fire District (MCRFD) Chief Mike Urquides and President of the MCRFD Board Warren "Pete" Poitras. On the June 5th ballot is Measure "H", a special tax to the cannabis industry, not to the public. The "why" of this tax is the additional burden of fire protection and response to an industry that has exploded within the county - already taking over from old fresh flower growers and other crops. Public safety as well as the problem of rescue personnel and fire fighters dealing with the contamination of being around the plants and/or the marijuana smoke from fighting a fire. The tax impacts cultivation, nurseries, manufacturers, and retail businesses of cannabis.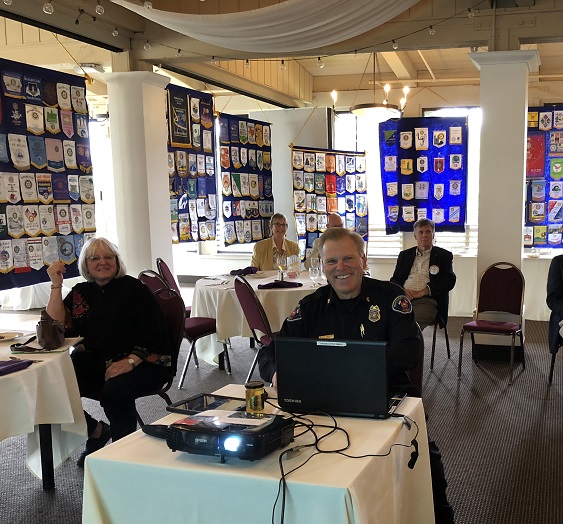 Chief Mike Urquides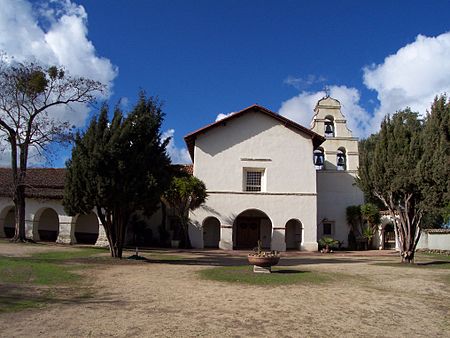 April 24th's meeting was historic. Jewel Gentry from the Diocese of Monterey and the Mission Preservation Fund, spoke to the history of world migration, the arrival of Padre Junipero Serra in Mexico and the U.S., the California mission era, post mission and the gold rush era, through the mass western migration after the Civil War and the completion of the transcontinental railroads. The California missions are all required to "earthquake" retrofit their 250+ year old buildings, San Juan Bautista Mission is one of the last to be completed of the 21 original missions.
April 17th was the club's annual Top 100 Dinner at Rancho Canada. For decades the club has honored the top 25 students in each class at Carmel High School. This dinner not only honors the students, but the parents and the staff. Many students are four year honorees having accomplished the grades and citizenship all four years of high school. Congratulations students, parents, and staff of Carmel High School!
You could almost hear the roar of a racing motorcycle as our guest speaker talked about his passion for bikes! Greg Enyart, the docent at Moto Talbott Collection Motorcycle Museum in Carmel Valley, discussed the evolution of the museum at our April 10th meeting. Robb Talbott, of winery fame and quality men's clothing, started the collection through his personal interest at an early age and his continued passion for the history of motorcycles. 160+ motorcycles ranging from the 1900s showcase bikes from 16 countries. Many bikes on display are "winners" of major championships, record setters, or have interesting and unique stories. The mission of the museum is the education, preservation, and restoration of notable motorcycles. What an asset for Carmel Valley Village!
The April 3rd guest speaker brought a very enlightening program on the procedures and policies of determining endangered species and the agreements and enforcement that follows. Jenny Miller Garmendia, a Marine Policy Consultant, spoke to the politics, international treaties, unique fisheries, cultural issues, conservation groups, and commercial fishing regulations relating to endangered species - particularly sharks. It is hard to appreciate the science work to first identify endangered species and then get an agreement between governments, businesses, universities, and conservation groups, and then enforce compliance! Jenny presentation was a big eye opener to the difficulties of cultural diets/traditions and the survival of sharks and their impact on coral reefs - just one area of their impact on our environment!
Our last meeting in March was a double treat! Peter Meckel, Founder and General Director from Hidden Valley Music Seminars in Carmel Valley, gave a brief history of their 56 years of music performance and education programs. Known for their Masters Festival, which is Master Classes for musician and singers, draws teachers and students from around the world. Taught by principal musicians from the major orchestras, young musicians get the opportunity to learn from professionals - sharing the passion of their chosen instruments or voice.
A very special treat was a solo violin performance by Farkhad Khudyev, conductor of Youth Music Monterey County, and a noted international prize-winning musician. Farkhad introduced each piece before his performance giving the background of the composer. Beautiful and marvelous music!

The Party's Back!
PRIME RIB BUFFET
at
Rancho Canada
March 24th 6:00 PM
Live music with the Jim Vanderzwaan Trio, silent auction, and raffle tickets!
$50 per person
A few dinner tickets will be available at the door!
The Carmel Valley Tradition Returns!
President Prescilla Walton from the Carmel Valley Association (CVA) was our guest speaker March 13th. A new video was shown covering the history and mission of CVA that had its roots in the original Carmel Valley Property Owners Association established post WWII. Their mission was to monitor development within Carmel Valley. A master plan was developed in 2010 that capped housing and established policies and procedures for growth. Traffic, event zoning, and short-term rentals have become issues for CVA. With any development comes concerns for water, air quality, schools, and the recent traffic increase from tourists heading to the wine tasting rooms in Carmel Valley Village. Maintaining quality of life for residents and conserve precious water resources remains a big part of CVA's mission.
March 6th our newest Honorary Rotarian was inducted into the club by President Kevin and Director Ron Brenaman. Nick Cunningham, life long Monterey resident and Olympian Blodselder, was formally welcomed into the club witnessed by both his parents, Wendy and Tim Cunningham - a surprise presence for Nick! Nick, recently returned from the Olympic Winter Games in Korea, provided Olympic label pins for each Rotarian and thanked the club for our support over the years! Congratulations Nick on your Olympic experience and being such a roll model for so many people!
Left to right: Prez Kevin, and Wendy, Nick, and Tim Cunningham
Our guest speaker March 6th was Bob Faulis, Managing Member Cannery Row Plaza, who discussed a mixed-use project planned for the geographic center of Cannery Row. The 3.5 acres of vacant land purchased in July 2017 as distressed property will be transformed into condos, retail space, restaurants, additional parking spaces, recreation trail, and a historic cultural visitor center. Open area platforms are planned for Bay viewing by the public which will be above the rocky shore line below. The project estimate will be approximately $140M - all U.S. money sources. Designed as both a neighborhood area as well as a tourist destination, the combined community will be the best of both!
Our last meeting in February guest speaker was President Mike Djubasak from the Monterey Sunrise Rotary Club. Mike, and his International Committee members, presented their recent wheelchair project in Peru. 124 children ranging in age from 1 to 14 and suffering from a number of different physical problems were fitted with individual wheel chairs - for most their first. Rugged and easily repaired (with a 7/16 wrench) these wheelchairs were adjusted to fit children from head to toe and from left to right depending on each child's physical needs. This project was a joint effort with Hope Haven West from Modesto, CA. Mike stated their club's next wheelchair destination is Mongolia in July. What a significant project!!
Judy Proud, Community Out Reach Director, introduced Youth Music Monterey County (YMMC) to the club at our February 20th meeting. Providing background on the development and success of the county wide program, she stated over 300 student musicians, from 40 schools, from 12 cities are involved with this music program. She also introduced YMMC Conductor Farkhad Khudyev, a professional international performer and conductor of considerable merit and musicianship. Farkhad stressed how the power of music is so important to youth development in areas of compassion, sensitivity, and passion, building strength of character and citizenship that will serve these students for the rest of their lives. YMMC gives three concerts each season - look for their performance dates!
February 13th's guest speaker shared her stories of three Chinese individuals who came from vastly different beginnings in China and how their lives changed when they came to the U.S. for an education. Jana McBurney-Lin, author and editor, has lived in Singapore and China observing and writing about her experiences as well as the special stories of people who achieved great success in life. Her blog "Bridge Over the Pacific" offers open communications and additional stories of life in Asia and the U.S. connection.
Gordon Jones, Chair of the Monterey Institute for Research in Astronomy (MIRA), was our guest speaker on February 6th! MIRA's observatory is one of the few independent observatories in the U.S. Founded in 1972 MIRA links non-scientists with astronomers in projects that expand our knowledge of the Universe. Oliver Observing Station is located on Chews Ridge far from the light pollution of cities and busy airways. MIRA also offers scholarships and interns the opportunity to work directly with astronomers on specific science projects!
Oliver Observing Station, Chews Ridge
Our January 30th meeting was all about one of our projects at Carmel River School! The idea to help with a new green house construction started with CV Rotarians Warren Kaufman and Nancy Bell - with plenty of sweat equity from club member Ron Shimizu. Design and the majority of funding came from Dale and Brian Gingerich of Monterey Mattress, Carmel River School, and the our club. The green house is part of a curriculum involving organic gardening and conservation - 475 children participate in the activities!
Our own Rabbi Bruce Greenbaum was our guest speaker January 23rd. Bruce and his wife Susan recently visited Viet Nam and China and shared their experiences and photos. In Viet Nam, a communist country with a capitalist society, the street markets provide everything from groceries to hair cuts to hardware to fabric. The motor scooter is the primary transportation vehicle for families (4 to 6 riders) and freight - Bruce saw one intrepid motor "scooterist" carrying 30 foot sections of pipe! Autos tend to obey the road rules while scooters, without mufflers, do their own thing!
The January 16th speaker was inspiring and so timely in light of Martin Luther King weekend. Anne C. Healey's topic was "My Civil Rights Journey", and what a journey it was! Anne was born in Montgomery, Alabama, her pastor was Rev. King, she marched from Selma to Montgomery, attended the Washington D.C. "I have a dream" speech, and was part of many other civil rights activities. Anne recently retired from IBM as a Senior Manager - I wish we had had more time to hear the rest of her life's story! Her message was to "serve to make other's lives better"! If only everyone acted for each other with that in mind!
The first meeting of 2018 was under rainy skies - at last some rain! The fire season is officially and finally over!
President Kevin reviewed the last six months of the club's activities and then spoke to the next six months - the club's busiest months for fund raising and club events.
Our guest speaker was Nan Su who drove down from San Jose to speak at our club. "Wisdom and Humanity from Ancient Chinese Culture" was his topic which covered how human rights in present day China is slowly returning to traditional values of "others are more important than self" and that all people are entitled to liberty and freedom of choice. Sounds so much like "service above self" - a universal concept.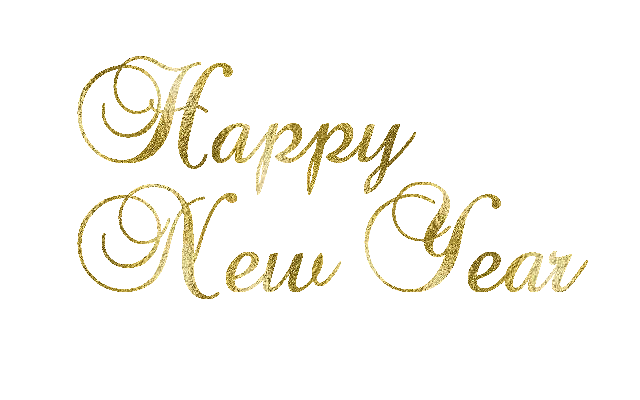 Our last meeting of 2017 was a lively and fun meeting! We started with presenting new Carmel Valley High School principle Tom Barry with a donation for our annual CVHS student scholarship program. (Photo below.)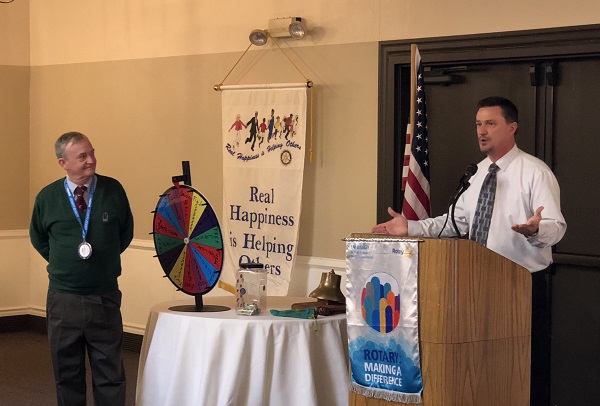 The ugliest Christmas sweater contest was judged by 3 wise guys and 1 token wise gal! Second place went to Barry Rowley - "Monkey Business". First place went to Steve Millich who was awarded with an old bottle of "two buck chuck" wine! Steve also lead the club in a Christmas trivia contest - amazing what you learn!
Guest speaker Sophie Biddle, a Health Coach, recommended that nothing but lettuce and berries is not the answer to a healthy life style. Healthy foods may not be "happy foods"! Other foods, classed as "not as healthy", are equally important for a long and happy life. Occasional indulgences can provide the balance for an enjoyable experience important for the psyche!
Our December 12th meeting featured guest speaker Steve Sinder, Carmel Magazine owner and publisher. Steve's career began right after high school selling advertising for the local newspapers. Forty years later, and five children later, Steve has been the man behind the Carmel Magazine since 1999. Steve was recently selected the "2017 Business Man of the Year" by the Carmel Chamber of Commerce! He also publishes the Monterey Jazz Festival program and several Chamber of Commerce guides. Carmel Magazine is now at 35,000 copies!
Barry Rowley presented Terry Pershall, Chair of the Carmel Valley Angels Project, with our annual donation.
December 5th's guest speakers were husband and wife David and Linda Mulally. They presented their proposal for a new dog park at Rancho Canada's 10th hole along Carmel Valley Road. Very different from the controversial Quail Lodge dog park, this park would be free to the public, have a separate large and small dog "off leash" fenced area, no events or camping facilities, and a set of rules posted that clarified people and dog behavior. The site covers about 4 acres, is away from homes or businesses, and would have drinking water access for dogs. Socializing at the dog park is not limited to just the dogs - but people too!
Congratulations Bob Spadoni on your 8th grandchild!
Steve Bernal, Monterey County Sheriff-Coroner, was our quest speaker November 28th! Steve gave a detailed update on the status of the force, crime issues in the county, budget issues, and on some of the various programs associated with the Sheriff's office. Areas covered included Advanced Leadership Training for deputies, an agreement with the U.S. Army to recruit Honorably Discharged Veterans guaranteeing an interview, the "Explorer Program" for kids, the new Tablet Technology introduced to the jail, partnering with Salinas High School for young inmates to get their GED, partnering with Hartnell for guiding inmates towards viable job skills, and community volunteers that are part of the Sheriff's Advisory Council. Something new with the SO will be "drone" operations that can be used in a variety of emergency and criminal situations.


Kevin Urquhart of Monterey County Fisheries gave a factual and interesting talk November 21st on the Stealhead Trout and the Carmel Valley River watershed. Lengthy droughts throughout local recorded history has left the river dry while normal seasonal dryness from July through October was common impacting the lives of the trout and making their population cyclic. Some Stealhead from the same birth year migrate and some don't making population counts difficult. Stealhead don't spawn and die making their life style different from other Salmon. A target population is 4,000, which is believed to be sustainable by the river under normal conditions, is the goal. Present population hovers around 1,000 adults. Striped Bass, crayfish, and bull frogs are non-native predators. Recent Carmel River restoration has greatly improved the health of the river benefiting the Stealhead and other species. The preservation and restoration is on going.
November 14th meeting's guest speaker was Paul Miller, owner and publisher of The Carmel Pine Cone. Paul purchased the Pine Cone in 1997 and has built it into the leading peninsula newspaper with local news as primary news. Born in El Paso, TX, Paul's extensive background is in broadcast news having been a producer for CBS and NBC evening news shows working with Walter Cronkite, Dan Rather, and Tom Brokaw. Paul discussed the accuracy of news reporting and networks that lean heavily towards either the left or right.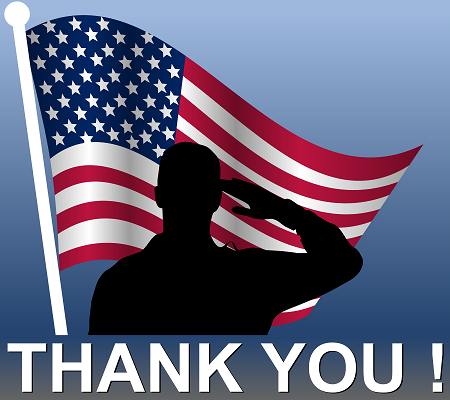 November 7th was our annual Veterans Celebration luncheon honoring our Rotary veterans, community veterans and current military personnel representing the Army, Navy, Marines, and Air Force! This joint meeting with the Carmel-by-the-Sea Rotary club represented a large segment of our community's veterans and their families. Keynote speaker was Dennis Whitacre, a Viet Nam veteran. Bugler was Stan Soroken, an Army veteran. The National Anthem was sung by Kimberly DiFranco.
Thank you veterans for your service!
Our October 31st speaker was Shary Farr from Partners For Transitions, LLC. In 1977 Shary began working with terminally ill patients and their families, helping with end-of-life issues. Since that time, she has created several programs which provide preparation and partnership for Life After 60 in the belief that by planning ahead we can ease difficult times for ourselves and those who care for us. Shary shared numerous recommendations for pre-planning that went beyond the usual Living Trusts, Wills, and Health Directives. So much more needs to be addressed and documented now about our affairs, as we learned recently with the unexpected bicycle accident with John McKenna, life can change in a moment!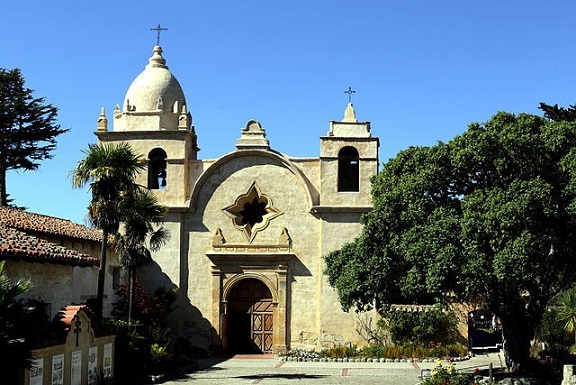 October 24th meeting's speaker was Vic Grabrian from the Carmel Mission Foundation. Vic gave a brief history of the Mission followed by some details of the major restoration just completed for seismic retrofit of the church. The next project will be the quadrant which will include the gift shop, court yard, the Harry Downie Museum, Mora Chapel, Blessed Sacrament Chapel, and the Orchard House - the oldest (non-native American) residence in California. The new $20M project will include a seismic retrofit, climate control, visitor safety items, and badly needed general repairs and maintenance.
Carmel Valley Rotarians are "People of Action" in our community! Today, October 17th, Carmel Valley Rotarians donated not only financial support but sweat equity in working with the Visiting Nurse Association in giving free flu shots at Tularcitos Elementary School. Over 350 injections were giving in a three hour period to people from 3 years old to 97! All free! Protecting our community through positive action and support, Carmel Valley Rotary was there! Carmel-by-the-Sea Rotary also donated funds to make this event possible! Thank you to everyone who participated!
Hugh Jebson, a Master Teacher with an extensive teaching background of over twenty-five years and currently at All Saints Day School, shared his philosophy of creating a safe and secure environment for children in schools. The dynamics of parenting has changed over the years as well as the school's roll in gaining and maintaining trust from the parents and students. The balance of teacher support and awareness of student safety and protection is a primary mission. The school's administration must build the bridge to succeed in an endeavor that encompasses clear standards and boundaries.
October 10th's speaker covered a wide range of national security issues and threats. Fred Lawson, retired military and business advisor, covered topics from North Korea, to Russian military expansion, to China's South China Sea military build-up, to cyper warfare both political and military. Fred fielded some questions from the club - unfortunately we ran out of time to a very interesting talk! Thank you Fred!
Our first speakers for October were George Lockwood and Broden Murray from St. Dunstan's Episcopal Church in Carmel Valley. George discussed their 30 year partnership with St. Andre's School in Hinche, Haiti and thanked past president Fred Herro and the club for providing a Rotary grant to build a badly needed and much larger septic tank for the school. Broden shared his development and success of gathering lap tops and iPads to send to the school's resource lab after the devices were first purged of all software and data and then updated with the latest software. (The club, through former club members Jerry Harner and Greg Lister, have supported St. Andre's over that 30 year period providing badly needed support both on the ground as well as the funding for the children of Haiti.)
September 26th we welcomed new member Dr. Saul Eisenstat! A surgeon at CHOMP, Saul briefly gave his background starting with the military (including a year in Viet Nam) and later being sent to Fort Ord - which introduced him and his wife to the Monterey Peninsula. The vowed to return and did just recently!
Welcome Saul!!
Co-sponsor Lewis Leader "pins" Saul as our newest club member. Bruce Greenbaum, co-sponsor, presented Saul with his Rotary certificate and extended welcome!
Our guest speaker today was Jeff Ohlson, a retired Boeing Engineer, who discussed the development of the Carmel Valley Historical Society and the steady growth of their displays and artifacts. The History Center Hours are Saturdays 1 - 4 and Sundays 11 - 2. (Our own Joe Hertlein was instrumental in the building development for the History Center.)
Jeff Ohlson presents the history of the Carmel Valley Historical Society and highlights of displays and artifacts.
September 19th guest speaker was David Lyon, retired Ambassador, who has world wide experience in military operations, historic analysis, and foreign government politics and policy trends. David gave a very broad history of the China Sea area and the complexities involving Korea, Japan, and Taiwan concerning current control of the sea lanes, fisheries, natural resources, and strategic military positions. This was an excellent presentation and certainly a very timely subject!
Special guest speaker for our September 12th meeting was Jennifer Rosethal-Iverson, Attorney at Law, specializing in the Medical Marijuana Industry. With a business opening soon in Carmel Rancho, club members had many questions about the operation and security issues surrounding this new legal concept.
Also, per our Bylaws, the President Nominee Selection Committee nominated Bob Spadoni for a vote by the active club members. Today the club members voted unanimously to elect Bob as President for the 2019-2020 term!
CONGRATULATIONS BOB!
With great sadness we learned that former Carmel Valley Rotarian, and a dear friend to many in our club, John McKenna passed away today, September 11th, after a bicycle accident several days ago. Our thoughts and prayers to his wife Mary and their family. John will be missed - a true heart of a gentleman and Rotarian!
Last meeting's speaker was from Carmel Valley's Bernardus Winery, today's speaker was from our local brewery - yes we have one! Dean Hatfield, owner and brewer of Carmel Valley Brewing Company, spoke to the club about his family's decision to start a brewery, experimenting with recipes, locating and buying the basic ingredients, marketing, distributing, and ultimately the success! Dean also brought samples of hops and grains used to make his beer. He also brought ice cold samples of his beer for all to taste - a fabulous treat of a very hot day! Thank you Dean!
The last meeting in August was with speaker Matt Shea, the Bernardus Vineyard Manager. Matt shared the Bernardus history, development, and successes of the wine business with both humor and science. Matt brought bottles of an excellent Bernardus 2016 Rose - a very different Rose from the historic Rose wines of the past. Needless to say the club enjoyed the presentation and the special wine! Thank you Matt!
Matt Shea shares the winery's history and provided a fabulous Rose for the entire club as proof of their success!
August 22nd Congressman Jimmy Panetta spoke of his experiences with Congress, the politics, and how many of the new members of Congress are working together - despite senior leadership actions. Panetta covered a wide range of subjects from veterans issues to local environmental issues. He graciously and thoroughly answered questions selected from the audience.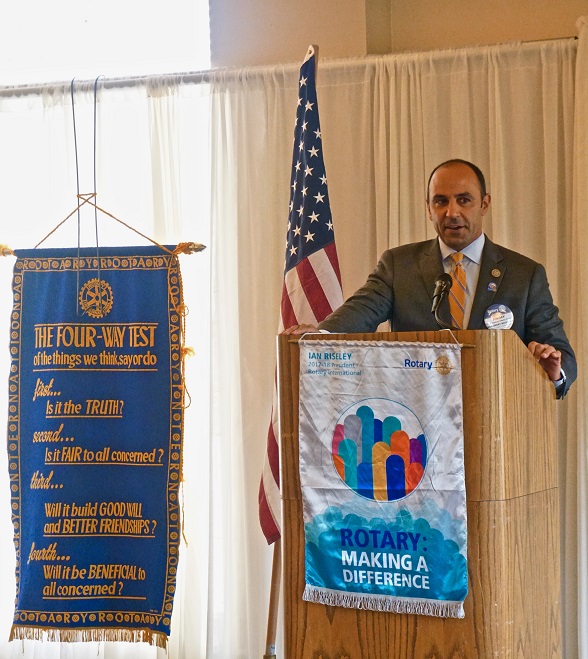 Below Lewis Leader introduces Jimmy - obviously after a very funny moment! Note Jimmy's new Rotary badge!
President Kevin had earlier presented Jimmy with an official Carmel Valley Honorary Rotarian Certificate, official Rotary badge and lapel pin, and a Rotary pen - that Kevin quipped "for signing all those official documents in D.C".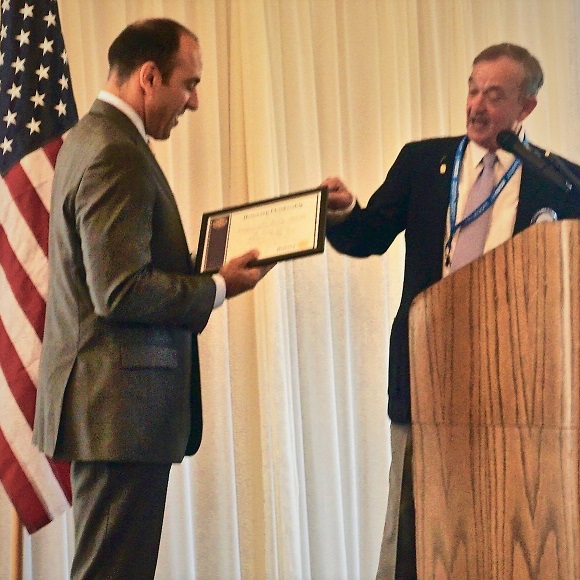 Local Howard Straus was our guest speaker on August 15th. His topic was the life style choices in the type of food we eat, avoidance of chemically treated foods, and a basic vegetarian diet of no animal produces (including dairy), will provide the potential for the body to ward off various diseases. His father, a doctor, was an early advocate in the 1920s for better nutrition, no smoking or alcohol, and no drugs.
The August 8th meeting speaker was Greg Jamison who shared his experience of being involved with sports and sport franchises for over 40 years. Insights into the players, owners, sport governing bodies, and city/county state politics was shared by Greg with humor and wisdom. The highlights also included the sport salary differences from the 1970s and the common use of taped delayed major sports events by the three primary broadcasting companies - so different from today's multi channel sports stations!
On July 25th President Kevin lead a "club assembly" with the various committee chairs introducing their goals and commentary about their new term ideas. Our first "spin" of the "Opportunity Wheel" was Rich Briscoe - won a work day at the races! K2 also gave Rich a "Butterfingers" candy bar for a recent financial "drop"!
The July 18th meeting took us back to 1967 and the Monterey Pop Festival! Photographer and author Tom O'Neal shared his photos and background stories - including how the first Pop Festival was based on the annual September Monterey Jazz Festival. While taking photos in front of the stage, Tom had to duck and cover when Jim Hendricks destroyed his guitar. One of our members admitted (or could remember) being there during the summer of "love"! Warren - you must have a story to tell too!
2017-2018
"Fiesta Ano Nuevo Rotaria de Valle Carmel"
President Kevin Kenoyer starts his term with a grand fiesta!
President Kenoyer takes the oath of office from Immediate Past President Phyllis Cleveland on July 11th!
Kevin's daughter Sara "pins" her Dad as President!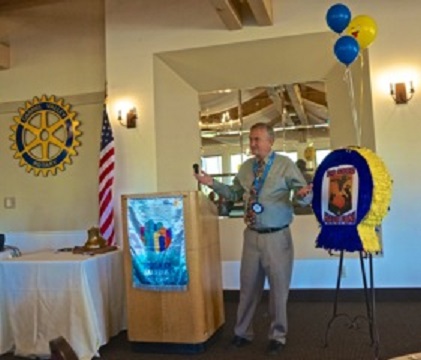 President Kenoyer addresses the club members!
Carmel Valley Rotary Club's 2017-2018 Board - left to right:
President Kevin, Phyllis, Firuza, Barry, Ron, Bob, Mike, Fred, Bruce, and Taum. (See left side panel for position titles.)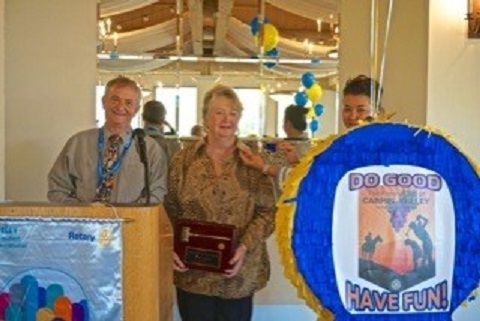 Immediate Past President Phyl receives the "gavel" from President Kenoyer. Firuza is peeking over the top of the Polio Plus piñata!
The new "Prez" explains the new "fine" wheel!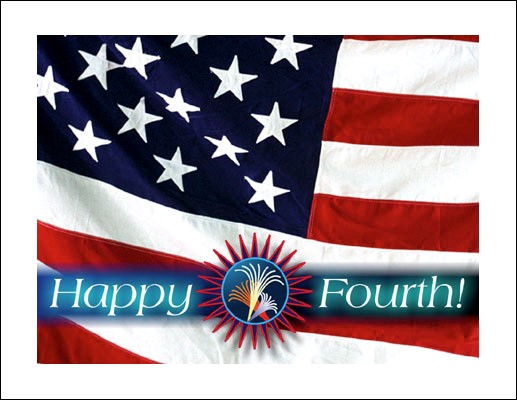 The June 27th meeting was President Phyl's last meeting as President! Before presenting her term-end awards Phyl summarized the club's accomplishments, volunteer hours, donations, and other activities for the year. "For a small club Carmel Valley Rotary should be very proud of our "People of Action" and our "Service Above Self" dedication that serves our community and schools. Thank you Rotarians for making it a great year!"
2016-2017 Awards
Rotarian of the Year! - Kevin Kenoyer
President's Award - Rich Briscoe
Distinguished Service Award - Ron Shimizu
Above and Beyond Award - Lewis Leader
Service Above Self Award - Barry Rowley
Quiet Rotarian of the Year - Firuza Khaytenova
Appreciation Award - Betsy Shea
(Matt Shea accepted Betsy's plaque in memory of his Mother.)
Appreciation Awards also to: Joe Hertlein, Bruce Greenbaum, Ron Brenaman, Deecie Denison, Paul Behan, Rod Neubert, Bryan Golden, Fred Herro, Rick Shea, David Wilsey, Bob Webb, and Taum Dell-Armo "Rising Star"!
Rotary pens were also presented to the Safe Blood Africa Committee:
Warren Kauffman, Jamison Kauffman, Nancy Rushmer, Bryan Golden, and John McKenna!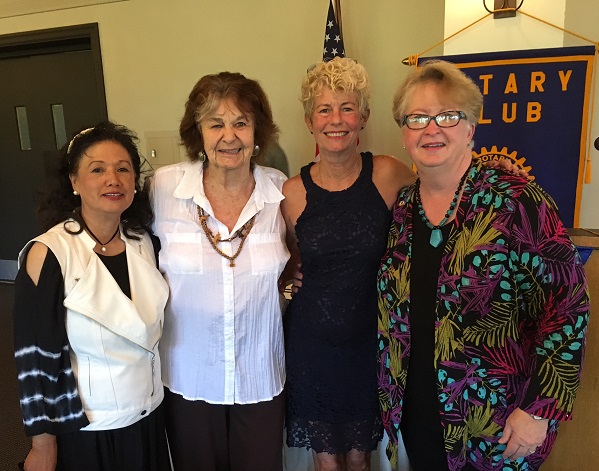 Since the Carmel Valley Rotary Club formed in 1973 it has been served by four women Presidents: Left to right - Victoria Peach (third), Nancy Rushmer (the first), Jamison Kauffman (second), and Phyllis Cleveland. The three past Presidents presented Phyl with a beautiful bouquet of multi-colored roses!
June 20th meeting was jammed backed with great news!
Special guest speaker was Carmel Police Department Chief Paul Tomasi. Chief Tomasi's excellent talk covered many aspects of police work, changes facing law enforcement, his leadership goals, community projects, and brought the club up-to-date on several recent Carmel crimes. His passion for his profession clearly shows - thank you for your service Chief Tomasi!
Nancy Rushmer announced to the club a very large donation from our long time Honorary Member Jim Morgens. Mr. Morgens has been a very supportive donor over many years involving our Partners in Community Service (PICS) project!Thank you Mr. Morgens, we greatly appreciate your gift and are humbled by your generosity!
Our club "Ambassador" Steve Millich attended the monthly area Rotary Presidents meeting on Monday the 19th. Because our own Board was meeting at the same time Steve represented our club and received a donation from Mr. and Mrs. Leon Panetta via the Monterey Rotary Club. Thank you Steve for the last minute attendance! A very grateful thank you to Mr. and Mrs. Panetta!
Club Treasurer Rich Briscoe, we sincerely hope, made it to the bank and safely deposited all checks!

Our President-Elect Kevin Kenoyer (K2) enjoying meeting fellow Rotarians and sharing a brew at the Atlanta Rotary International Convention! "People of Action" and ready for his year!
Our June 13th meeting was well represented by two Pine Cone staff, Meena Lewellen (Advertising) and Mary Schley (News Reporter). Mary has deep roots in Carmel and Carmel Valley and an obvious love for the area and her job as a reporter. She discussed numerous highlights to her career and some of the problems/challenges of balanced reporting.
June 6th meeting, "D" Day 73 years ago, was a jammed pack meeting! President Phyllis presented an "Appreciation" plague and heart felt "thank you" to Deecie Denison for being an outstanding Chair of our Partners In Community Service (PICS) annual project. Deecie leaves for Vermont soon on a six month leave of absence from CVR! We will miss her energy and participation in Rotary until next fall! Thank you Deeice!
Taum Dell'Armo (center) received his 3rd Paul Harris pin from Foundation Chair Rick Shea and President Phyllis. Congratulations Taum!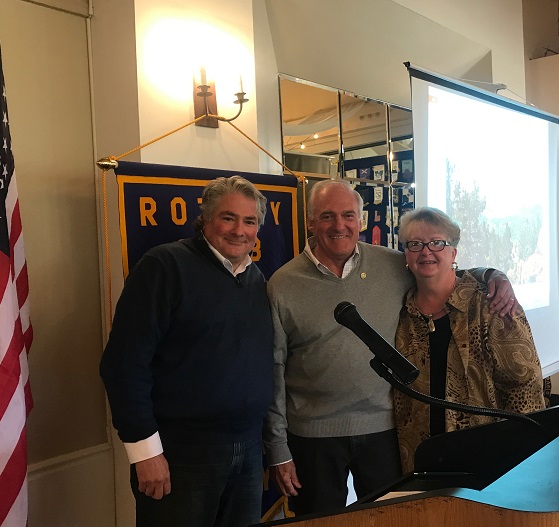 Rosalie Dunham, Chris Wilson (Plumbing and Heating), President-Elect Kevin Kenoyer, and Phyllis presented Paul Harris certificates to Rosalie and Chris for their outstanding volunteer sustained community work during the Soberanes Fire.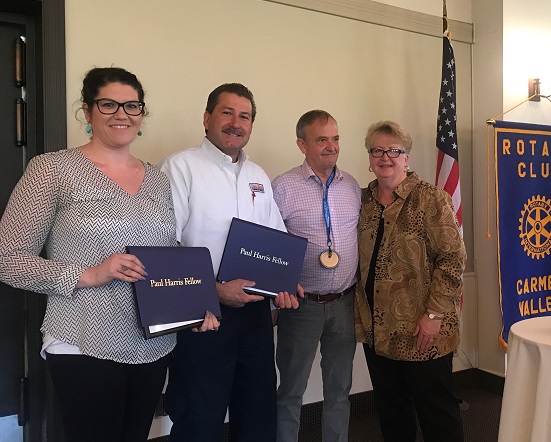 Chief Mike Urquides of the Monterey County Regional Fire District and LAFCO Director Pete Poitras presented a photo gallery and time line of the 2016 Soberanes Fire.
Photo of the numerous thank you posters on Carmel Valley Road during the Soberanes Fire - thank you Pete!
June 2nd Carmel Valley High School graduated their 2017 class.
Moises Silva was the Carmel Valley Rotary Club Scholarship recipient presented by Ron Shimizu, Service Projects Chair.
In addition to a heavy load of academics, Moises also works, getting up before dawn most days of the week. This recipient has a strong work ethic, a positive attitude, and self-discipline. Though it was a push to get everything accomplished, this student found the strength, the commitment, the resolve to finish every credit needed in order to graduate on time, all with a pleasant "good morning" and a smile on his face. This graduate plans to attend the Fire Academy and join his brother in Northern California to fight fires. He also wants to get advanced training in Montana to become a smoke jumper, a wildland firefighter who parachutes into a remote area to combat wildfires. Congratulations Moises!
Our own Lewis Leader was our speaker sharing his career as a print news reporter and editor. From San Francisco to Los Angeles, including 3 years in Toledo, Ohio, Lewis had a interesting and varied life as a reporter/editor covering major new events as well as 3 World Series! Hearing some of the "insider" aspects of the "news reporter and editor" added to the insights of the news room. Thank you Lewis!
At our May 30th meeting we had a moment of silence for Betsy and her family. Many Rotarians shared their affection and regard for Betsy both as a Rotarian and as a business friend.
Our Betsy Shea passed away May 23, 2017.
She will be greatly missed by her Rotary family!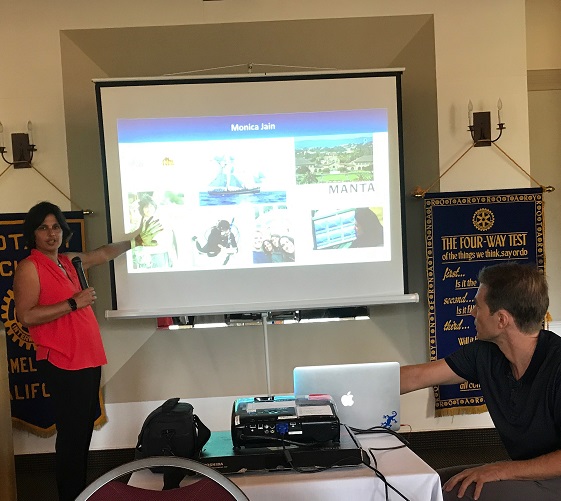 Our May 23rd meeting was a presentation by Monica Jain and Remy Garderet on sustainable fishing, both from the managing of a perishable natural resource to helping businesses become profitable and sustainable. Their international group, Fish 2.0, provides services and opportunities ranging from Fiji harvesting sea weed for export, to Canada with open ocean fish farming. Many hurdles, include various government regulations, politics, environmental restraints, and cultural issues, are involved with each unique project. Fish 2.0 has been operating for over five years with a concept has taken root around the world.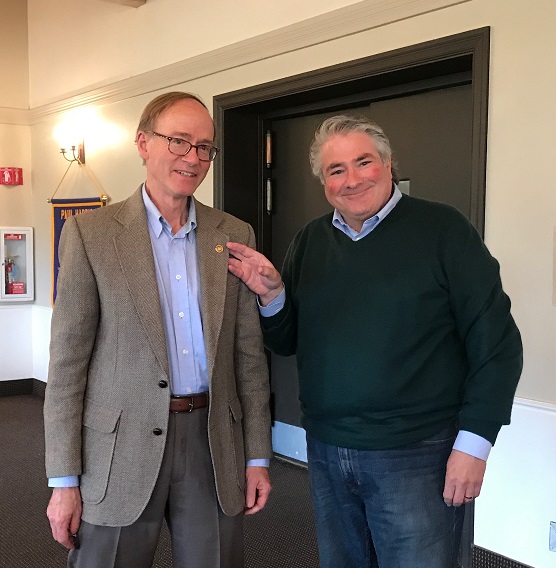 Joe Hertlein received his 3rd Paul Harris pin from Foundation Chair Rick Shea! Congratulations Joe!
May 22nd, Carmel Valley Rotarian Adam Jeselnick announced the Carmel High School scholarship winners for 2017! The students receiving the CVR scholarships were Andrew Barron, Ashlyn Davis, Abby Lambert, and Melissa Pavloff. Congratulations Andrew, Ashlyn, Abby, and Melissa!
May 16th's speaker was exceptional! Krista Almanzan, News Director and All Things Considered Host for NPR - KAZU 90.3, shared some of the highlights of her career as well as the structure, problems, and financial issues with public radio. Most of the club listens to KAZU and is very familiar with the programing! Thank you Krista!
May 9th was our annual Partners in Community Service (PICS) luncheon - one of our favorite programs! This program involves giving five area schools the task of researching, evaluating, and selecting a charity for a donation from each school. We provide the funds and the students provide their time and effort in the selection process.
Carmel Middle School selected the Rape Crisis Center.
Tularcitos Elementary School choose Hope Services.
Carmel River School selected A.G. Against Hunger.
Junipero Serra School choose Coastal Kids Home Care.
All Saints Day School selected First Tee of Monterey.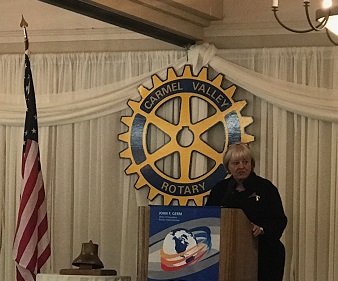 PICS Chair Deecie Denison greets students, teachers, guests, recipients, and Rotarians!
Special guest speaker was Nick Cunningham, two time Olympian bobsledder and local resident, who also brought one of his bobsleds for the students and adults to enjoy! Lots of photo ops for all!
May 2nd's speaker was Mary Ann Leffel whose presentation covered a wide range of county issues and projects. As President of the Monterey County Business Council and on the Monterey Airport Advisory Board, Mary Ann addressed subjects ranging from airline schedules to low income housing. Thank you Mary Ann for an excellent update on so many local issues!
Rotary chili cook-off April 29th, 2017 - we didn't win, place, or show but we had the best chili, the judges just didn't know it. Part of the crew was Cynthia and Joe Hertlein, Fred Herro, and chief cook Ron Shimizu! Great job guys and gals!! We had no leftovers!
April 25th club member Taum Dell'Armo demonstrated and discussed "The Way of The Samurai" - a very dynamic and interesting presentation! In full dress and with his personal Samurai sword Taum demonstrated and explained the technique and history of "the extension of the soul".
April 25th we also welcomed new member Jason Griffin! Sponsored by Treasurer Rich Briscoe!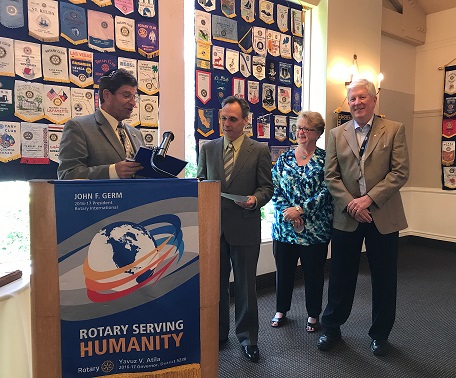 Membership Chair Bruce Greenbaum, Jason Griffin, President Phyl, and sponsor Treasurer Rich Briscoe welcome our newest member!
Annual Top 100 Dinner!
April 18th was our annual Top 100 Dinner for the top 25 students in each class at Carmel High School! Parents, relatives, and friends, CHS staff and CUSD Board members, and Rotarians and guests enjoyed the former Top 100 graduate (2005)Samara Leader's presentation. Congratulations students, parents, and CHS staff!
2005 Carmel High School graduate Samara Leader guest speaker!
width
Aerobatic Champion and multiple award winning airshow pilot Sean D. Tucker shared highlights of his career at our April 25th meeting! Sean also discussed his passion for the at risk young adults of Salinas giving them hope and opportunity through his Bob Hoover Flight Academy!
April 6th was our second "Guest Gala" introducing Rotary to community guests. Our hosts Taum and Diane provided an excellent "meet and greet" with wonderful hors d'oeuvres and beverages of all sorts! Thank you Taum and Diane!
Shane Santos, a graduate of CSUMB, shared his decision to join the Peace Corp. He expanded on the screening process, training, and expectations of his 27 months in Micronesia. This will be a complete weather, food, cultural, and job change from his four years at Rancho Canada. Shane will keep us informed about his experiences and will keep an eye out for a possible Rotary community service project. Best regards Shane - see you in 27 months!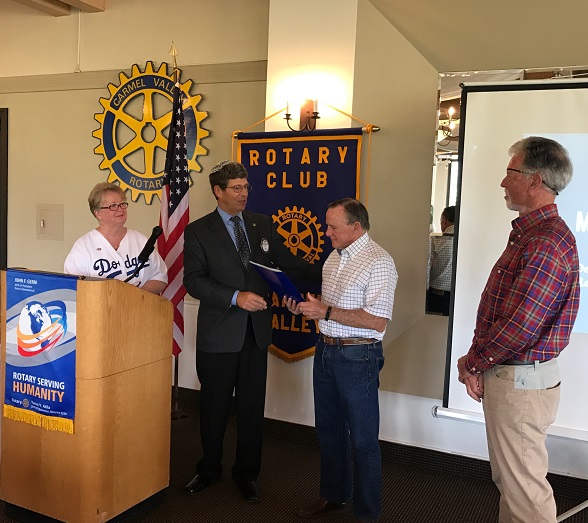 Steve Andrews is welcomed into our club by Membership Chair Bruce Greenbaum and sponsor Barry Rawley!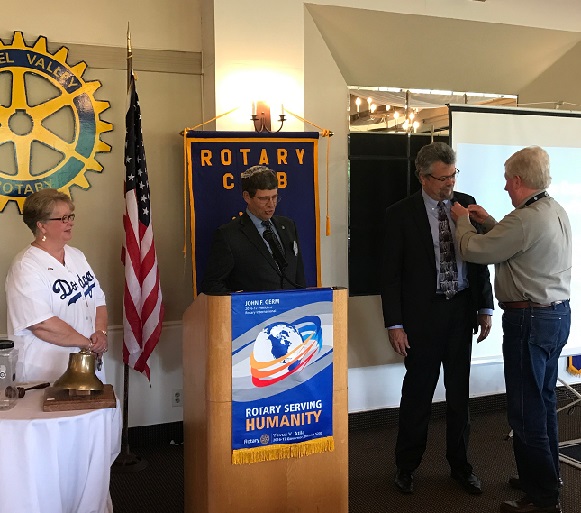 Mike Holl is welcomed into our club by Treasurer Rich Briscoe! His sponsor is Fund Raising Chair Fred Herro!
April 4th we inducted two new members! Steve Andrews and Mike Holl! Steve, a retired retail manager, was formerly with the Cupertino Rotary Club. Mike is a lending officer with B of A. Welcome Steve and Mike!
March 30th was a Monterey peninsula area Rotary clubs combined meeting at the Hyatt with special guest speaker Secretary Leon Panetta! With balanced insight, combined with his 50 year career in Washington DC, Secretary Panetta proved what a true statesman he is. Always straight forward, wise, and passionate, his presentation was loaded with timely commentary and recommendations for individual involvement in our democracy! A standing ovation by over 300 Rotarians and guests closed the meeting.
March 21st Marine Col. John O'Neil (retired) discussed the history of Putin's rise from the KGB into Russian politics, the corruption, the wealthy oligarchs, and the manipulation of the country's assets including its minerals and oil wealth. Col. O'Neil's career included the Moscow embassy, advisor to the White House, and advisor to Home Land Security - including numerous other related positions of responsibility concerning security issues.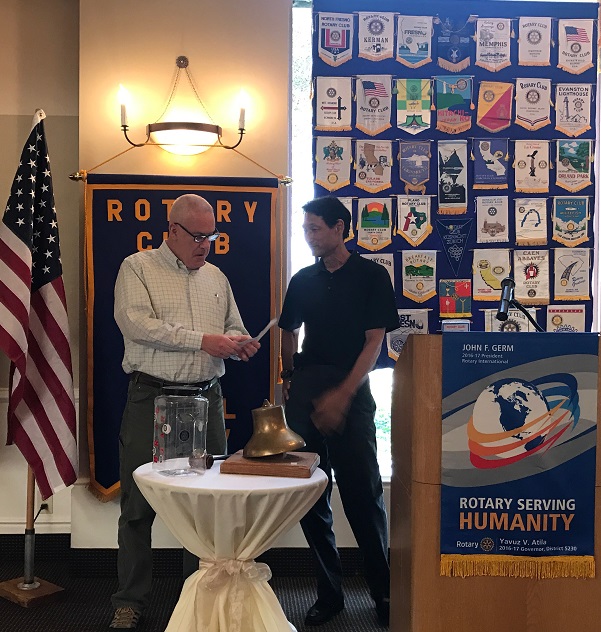 Service Projects Chair Ron Shimizu presented to Carmel Valley High School Principal Tom Stewart our annual scholarship award. Tom announced his retirement in June - we wish Tom and his family the very best!
Returning speaker and wounded warrior Major DJ Skelton shared his latest veteran successes with Paradox Sports. This 501c-3 was developed by DJ to provide the opportunities for wounded veterans and civilians to experience the out door activities, such as rock climbing and mountain climbing, that they enjoyed before their injuries. Development and improved prosthesis have resulted from these active veterans, but the rebuilding of their self-esteem and confidence is the biggest benefit! Major Skelton, thank you for your service and continued service to and for others.
February 28th Abdel Kader Seck addressed the club with the very timely and important topic of "Muslims & Islam, Deepening our Understanding". Abdel holds a Master's in International Policy Studies (with a focus on Trade, Investment, and Development). Originally from Senegal, Abdel immigrated to the United States 27 years ago and is a U.S. citizen. He is the CEO and co-founder Community One World Enterprises (COWE) and was also co-founder and the V.P. for Africa of Abundant biofuels Corporation, the first Monterey firm devoted to renewable energy. Abdel is an expert in Sino-American trade relations and is the sitting President of the Board of Directors of the Islamic Society of Monterey County (ISMC) and is the initiator of numerous local outreach programs with the hope to bring tolerance, unity and peace in the world.
Past club President (and first female President of our club) Nancy Rushmer applied the finishing touches with the Rotary wheel logo to the "Book Nook" on Garza in Carmel Valley! Thank you to Ron Shimizu, Warren Kaufmann, and Nancy for bringing this idea for the community to the club and doing all the work required to make it happen!!!!! BRAVO!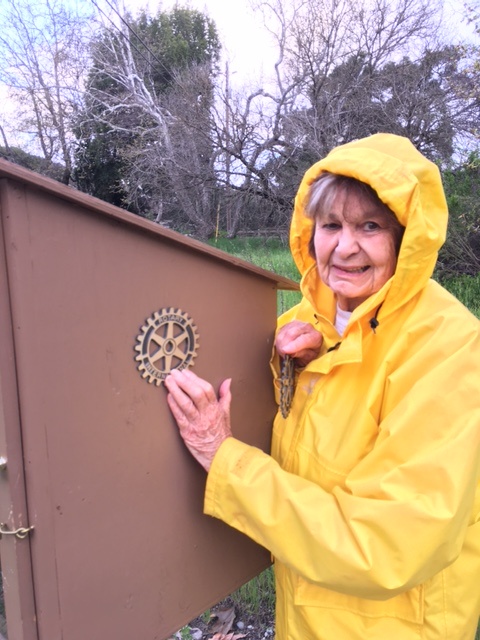 Pat Gray at the February 21st meeting discussed the new Cachagua Children's Center sharing the history, development, and growth of this 501 C-3. Pat outlined some of the goals and the direction the group and community has determined to be their first projects. Well started on their way to be a valued community center, the fund raising phase has begun!
For our Valentine's Day program speaker, Cristin DeVine, a License Marriage and Family Therapist and a Carmel Valley resident, spoke on "What is Love". She discussed how we can approach our relationships from our highest selves vs. bogging down with a power struggle!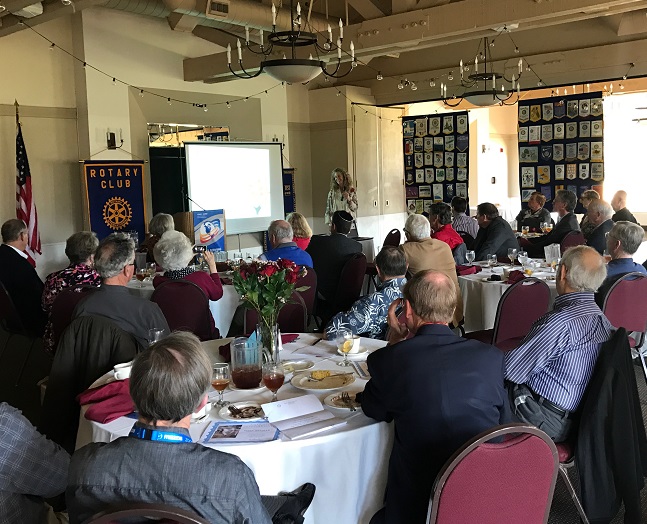 At our February 7th meeting Rob McClurg, a Carmel resident and retired elementary school teacher and high school football, baseball, and soccer coach, discussed his program in which he visits Soledad Prison with Palma High School seniors and they read and discuss the novels of John Steinbeck with the inmates! What a marvelous program for the seniors and inmates!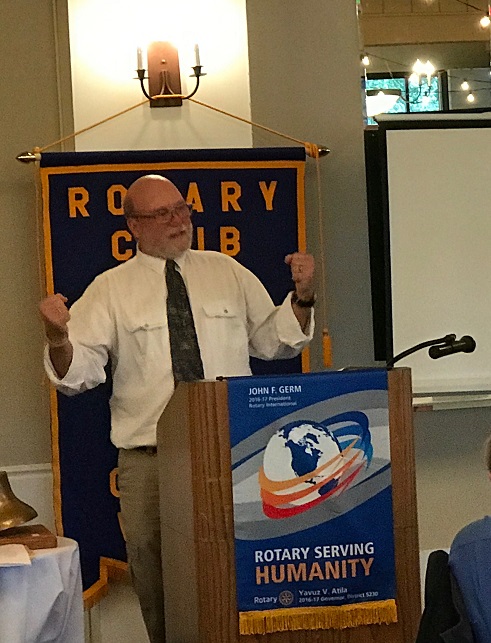 January 31st was our first Paul Harris presentation of the year to member Marilyn Woods! Thank you and congratulations Marilyn!!
Earth shaking and important information! January 24th Glenn Pomeroy, Chief Executive Officer of the California Earthquake Authority, discussed the statistics and value of having earthquake insurance with CEA. Check your home owners policy for coverage information and then compare the additional coverage CEA provides.
On January 17th retired NFL Official Jim Tunney shared his life sports journey starting from age 9 sitting next to Jackie Robinson through his career with the NFL. With wonderful humor and insight, Jim told about his experiences - including four Super Bowls! His post NFL career has been just as interesting - including numerous awards for community service!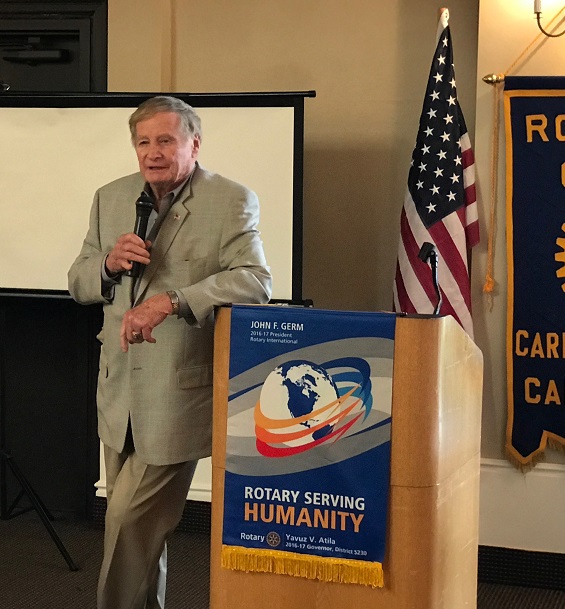 Dana Peterson from the Monterey & Salinas Rail Road Museum spoke to the club about the development of the museum, the history of the rolling stock on display, and the 2,000 feet of HO track layout representing the Monterey and Salinas valley circa 1953. The impact of the rail roads on agriculture and the shipping of produce across the United States changed the availability of fresh produce significantly for both the United States and international markets!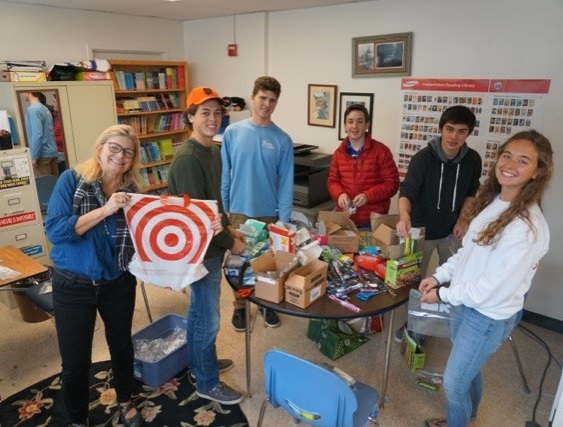 Teacher Diana Govan and Rotary Interact students West Whittaker, Dylan Houpt, Ryan Ricupero, Quincy Hendricks, and Duda (a Rotary exchange student from Brazil) packed 50 homeless care packages!
January 3rd was our first meeting of 2017 and it was truly an inspiration for the New Year by the Rev. Rob Fisher from St. Dunstan's Episcopal Church in Carmel Valley!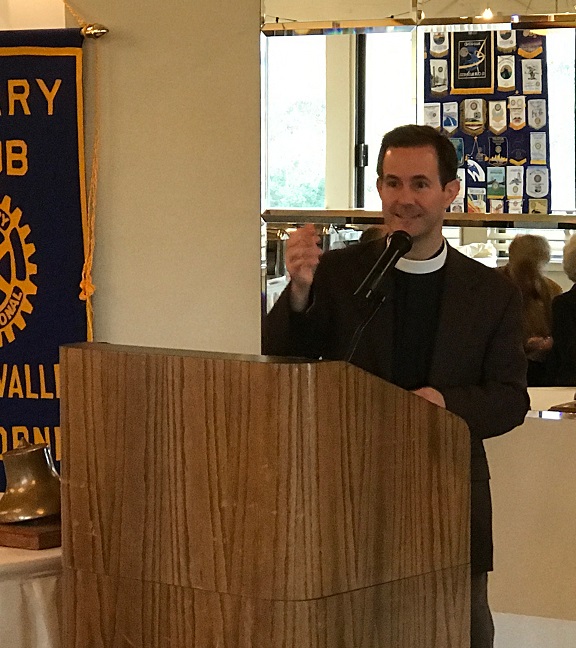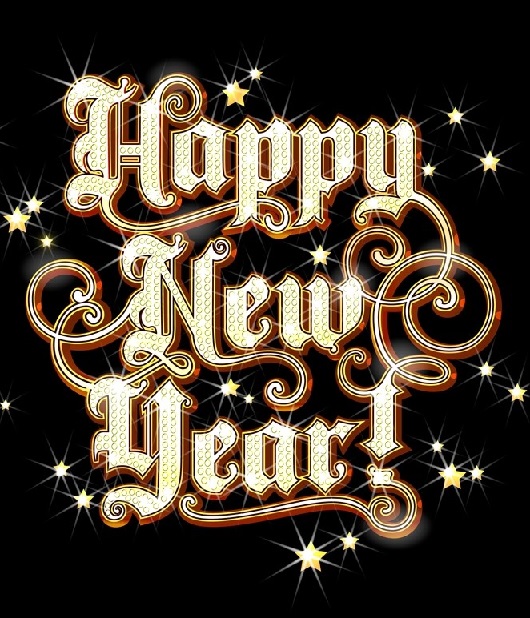 Our last meeting for 2016 was December 20th and was celebrated with the Cannery Rogues! It was a perfect send-off for the holidays season!
President Phyl thanked Rancho Canada servers Shane and Ringo for their wonderful service through-out our Rotary year!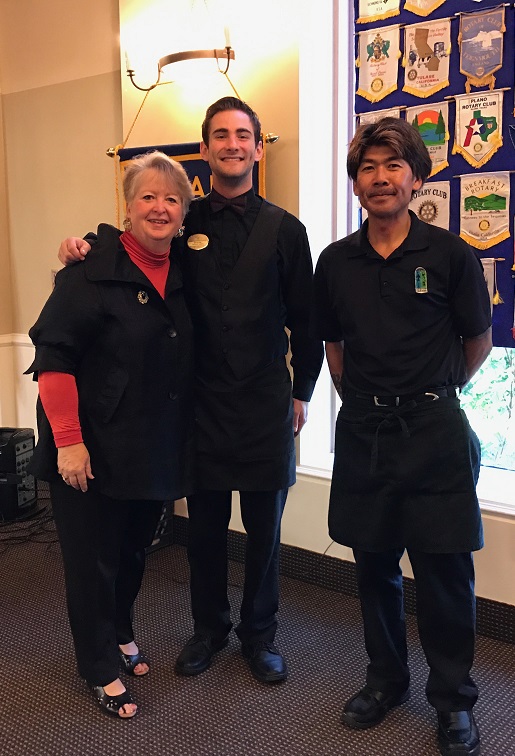 Long time club member Bill Cater at the December 13th meeting discussed his years at West Point and some of the colorful characters that graduated and went on into distinguished careers in the military and/or business.
December 6th club member and literary agent Nancy Bell discussed the current book publishing industry and how it contrasts with self-publishing.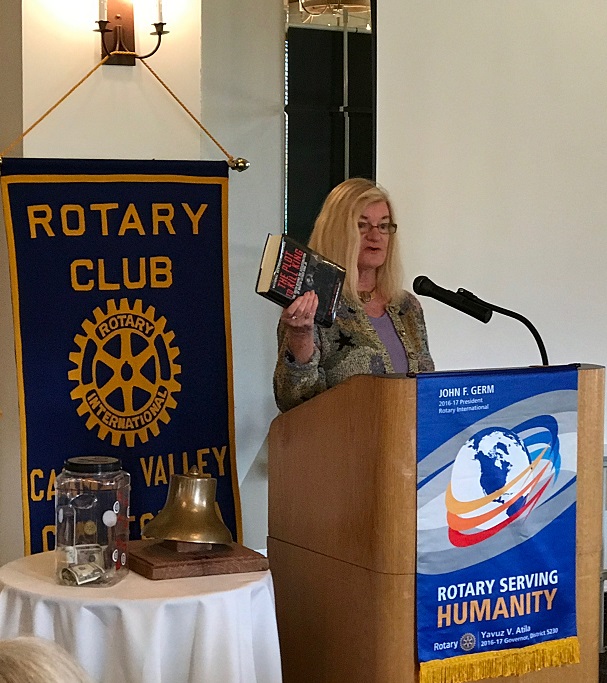 November 29th Donna Bailey discussed love, marriage, and relationships and why the dynamics of relationships are influenced by perceptions and communication abilities.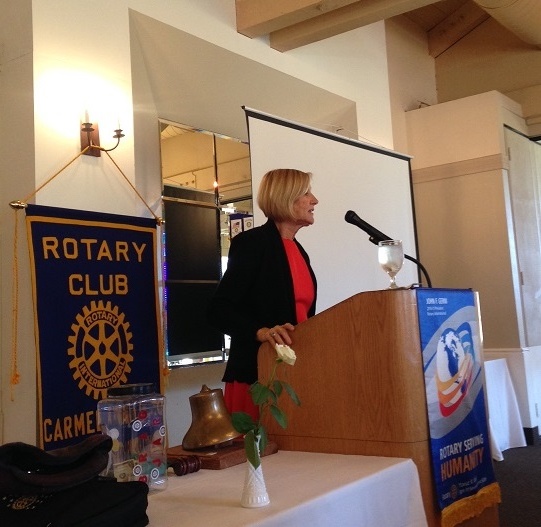 Community Projects Chair Ron Shimizu (not pictured) presented a cash donation to Terry Pershall of Carmel Valley's Angels Project. The club also donated unwrapped toys and gifts that will be distributed by Angels for Carmel Valley families.

Carmel Valley Rotary neighborhood "mini" free library exchange is open and already a success!
Past President Nancy Rushmer, Community Service Chair Ron Shimizu, and Past President Warren Kaufman complete the project!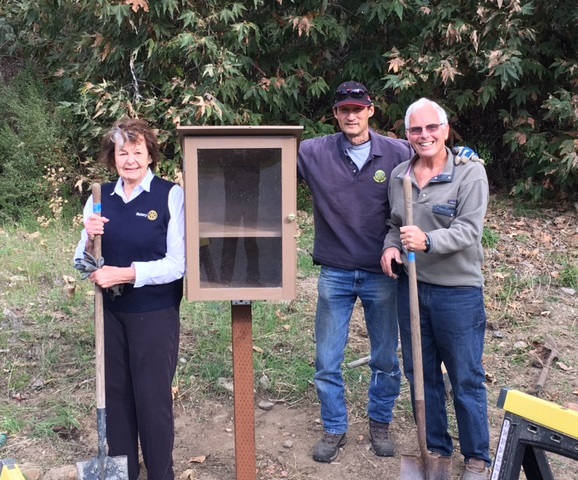 Carmel Police Chief Mike Calhoun recalled 32 years of service - including the humorous, ironic, surprising, and tragic events that occurred through those years! Chief Calhoun retires at the end of the year - best wishes Mike!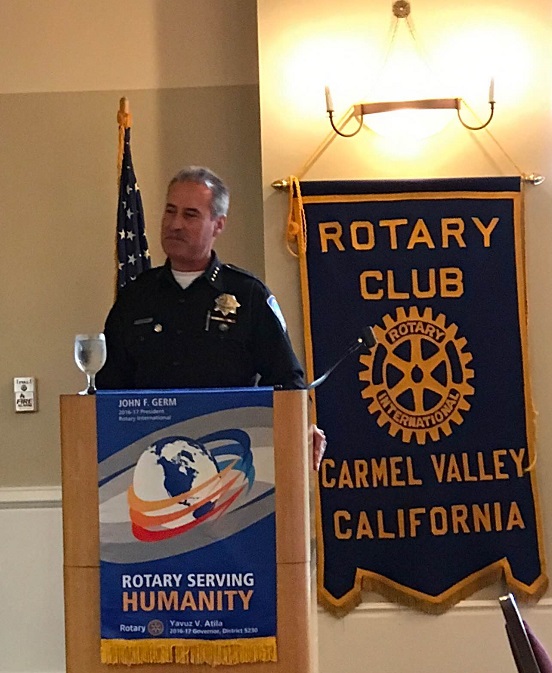 Our Carmel Valley Rotary Interact Club filled sand bags at Mid-Valley Fire Station on November 11th! Many thanks to Community Service Chair Ron Shimizu and Immediate Past President Rod Neubert for joining in!
November 8th was our annual Veterans Tribute! It was our honor and privilege to thank our club veterans, member veteran guests, and current military from DLI and NPG. Robert J. Norris, Jr. (former Marine) from Fort Ord Reuse Authority was our guest speaker.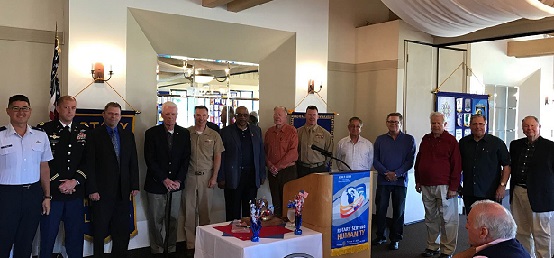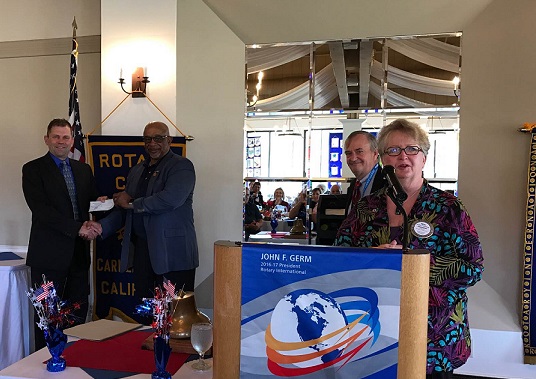 David Smarsh (Air Force Veteran), Robert J. Norris Jr. guest speaker, Kevin Kenoyer Club President Elect, and Phyllis Cleveland, Club President, present a donation to the Air Force Association.
Casey Lucius, Republican Congressional Candidate, addressed the club on October 3rd.
The club's annual putting contest on September 27th was won by Bryan Golden! Congratulations Bryan! We also surprised Bryan with a Paul Harris Fellowship - no relationship to his golf win! Rick Shea, Foundation Chair, presents.
From left to right Lewis Leader (Program Chair and tourney "master mind"), Taum Dell'Armo, President Phyllis, Bob Spadoni, and Greg Pickens enjoyed perfect weather but not a perfect game!
Carmel-by-the-Sea City Administrator Chip Rerig was guest speaker September 20th.
Russian-born artist, Ludmilla Pawlowska, now living in Sweden, exchanges club banners with President Phyllis.
Carmel Valley Rotary presents checks in support of reading programs at three area schools, part of the CVR Tony Willemsen Reading Project!
From left to right: Ron Shimizu, Club Projects Chair; Principal Jay Marden, Carmel River School; Principal Julie Kolofer, Captain Cooper School; Principal Ryan Peterson, Tularcitos; and club President Phyllis Cleveland.
Thank you to the following for answering our request for donations of tubes of Zanfel (poison oak treatment) for the fire fighters from all over the state working the Soberanes Fire (Big Sur):
President Lisse B. Jackson Rotary Club of Monterey Pacific!
President Celeste A. Barron Hanford Sunset Club!
President Tom Greer Pacific Grove Rotary Club!
President Susan Winey of the Rotary Club Visalia!
President Raul C. Rodriguez Rotary Club of Greenfield!
President Oswald Duane Fresno Rotary Club!
President Paul M. Gibson North Fresno Rotary Club!
Michael and Sharon Sheltzer of the Visalia County Center Rotary Club!
Carmel Valley Rotary Club members who gave additional donations:
Adam Jeselnick and Deecie Denison!
Thank you to Chris Wilson and Rosalie for being the central point of deliveries and distribution!!
The Rotary Club of Camel Valley
A great way to give something back to your community and
have a lot of fun while doing it!
Service above self!